Hancock County 4-H
WE WANT TO EXTEND A WARM WELCOME AND ENCOURAGE YOU AND YOUR FAMILY TO MAKE 4-H A PART OF YOUR LIFE.  4-H IS A YOUTH DEVELOPMENT PROGRAM THAT IS A PART OF THE UNITED STATES DEPARTMENT OF AGRICULTURE AND ADMINISTERED IN INDIANA BY THE PURDUE UNIVERSITY COOPERATIVE EXTENSION SERVICE.  LOCALLY, THE HANCOCK COUNTY OFFICE OF THE PURDUE COOPERATIVE EXTENSION SERVICE AND THE HANCOCK COUNTY 4-H AG ASSOCIATION, INC. ADMINISTERS THE HANCOCK COUNTY 4-H PROGRAM. 
Contact Us and Quick Links
Amber Barks, Extension Educator - 4-H Youth Development
abarks@purdue.edu
972 E. Park Avenue
Greenfield, IN 46140
Hancock County 4-H Monthly Newsletters
4-H OPEN ENROLLMENT BEGINS OCTOBER 1
The 2022-2023 4-H Program Year starts on October 1st! Traditional 4-H Members, Mini 4-H Members, and Adult Volunteers must enroll each year to participate in the program.
Register for 4-H
4-H Enrollment Questions
Enrollment in Indiana 4-H is open to youth grades 3-12 and will run Oct. 1, 2022– Jan. 15, 2023.  Mini 4-H is available to youth grades K-2 and has a $10 enrollment fee per member.  
Members have the opportunity to learn more about a subject matter that they choose to study through completing hands on activities. We refer to these as projects. In order to enroll in a project, members must sign up for them at the time of enrolling in 4-H. Each project has a manual that guides the youth through the learning process as well as a set of guidelines that helps them meet the project requirements. We provide adult volunteers and staff who are knowledgeable on that particular subject who will often times provide workshops to allow th​e youth to learn about that topic in a social environment. Each project has a beginner, intermediate, and advanced level-this allows youth to build on their knowledge each year and continue to challenge their skills. Projects are meant to be worked on over time, providing an educational opportunity for youth outside of the classroom setting. Often times, youth will exhibit and display their project at a local county​ fair in order to show the community what they have learned. 
There is no limit to the number of projects youth can sign up for with their $25 enrollment fee!
The Hancock County 4-H program offers more than 60 projects for area youth. Check out our 4-H Handbook to learn about all the opportunities to dive into topics you enjoy. This is the Handbook from last year as the 2023 4-H Handbook is not complete yet... we will post an updated copy as soon as possible!  
It is $25 per youth to enroll in 4-H for the year. If a family has more than three youth enrolled in 4-H, the max program fee is $75 per family. These fees not only cover all the manuals and educational materials needed for your projects, but it also supports the local program and enables the county program to fund further educational activities. Contact our office for details on the family discount. 

Your 4-H club in Hancock County serves as your home base and there are over 20 clubs to pick from. Your club leader will pass out your manuals, other relevant paperwork to you throughout the year, and they're a great resource to ask any questions you may have throughout the year. There is a club in every township, so you're sure to find one close by. However, you can attend any club meeting that you'd like, so you can choose a club outside of your township, if their meeting schedule is more convenient for you. 
Purdue Extension Hancock County is located at 972 E Park Ave, Greenfield, IN 46140. We are open Monday- Friday from 8:00am to 4:00pm. We are closed during County Government Holidays and voicemail is available during non-business hours. Visit the Extension Office web site at www.extension.purdue.edu/hancock for the most up-to-date information about Hancock County 4-H. Our phone number is 317-462-1113
4-H PLEDGE:
I pledge my HEAD to clearer thinking
My HEART to greater loyalty
My HANDS to larger service
My HEALTH to better living for my Club, my Community, my Country, and my World.
4-H MOTTO: "To Make the Best Better"
4-H COLORS: Green and White
4-H SLOGAN: "Learn by Doing"
THE 4 H's:
HEAD: Learning to think, making decisions, understanding the "whys", and gaining new and valuable
HEART: Being concerned with the welfare of others, accepting the responsibilities of citizenship, determining the values and attitudes by which to live, and learning how to work with others.
HANDS: Learning new skills, perfecting skills already known, and developing pride in work 
HEALTH: Practicing healthful living, protecting the well-being of self and others, and making constructive use of leisure time.
RESOURCES FOR CURRENT 4-H MEMBERS
Some projects are available on a county level only. Others are regulated by the Indiana 4-H State office and are eligible to move onto participating at the Indiana State Fair if they are selected to be promoted during county fair judging! Below is links to the project information available through the State Office. Please be sure you are also reading the Hancock County 4-H Handbook before bringing your projects to the Hancock County Fair!
Animal Science:
Communication and Expressive Arts:
Engineering and Technological Science:
Healthy Living:
Leadership and Citizenship:
Plant and Environmental Science:
Posters are displayed horizontally; 22"x28" and mounted on a firm backing and covered in clear plastic or other transparent material for members in grade 3-12. (Please note mini 4-H has different requirements) Be sure to include your exhibit identification label with your name, grade, club, and project on a 2"x4" label (may be computer generated on your own). Please check your project guidelines for more specific instructions because some projects require more information on the identification label. The 22"x28" foam core poster board is available in the Extension Office on a first come, first served basis at minimal charge.
**All posters, notebooks, and display boards must include a reference list indicating where information was obtained, giving credit to the   original author, to complete the 4-H member's exhibit. This reference list should/might include web site links, people and professionals interviewed, books, magazines, etc. It is recommended this reference list be attached to the back of a poster or display board, be the last page of a notebook, or included as part of the display visible to the public. A judge is not to discredit an exhibit for the manner in which references are listed.
A Good Poster: Attracts attention, is simple and clear, and interests someone in your project.
When forming ideas for a poster: Know the project requirements, read the manual (look for ideas), brainstorm ideas and make a list, think of a title with alliterations (repeating a sound in each word), look at other posters for ideas (but don't copy!).
Tips to Remember:
Don't use too many words.
Use a combination of illustrations and words.
Be as neat as you can.
Cut evenly, apply adhesive carefully.
Leave white space on the poster.
Make sure the poster is balanced.
You can obtain clear plastic poster sleeves at the Extension Office for a nominal cost or by the yard in the fabric stores or you can use window shrink plastic available in many hardware stores.
For hard backing you may use foam core board that is also available at the Extension Office or thick cardboard, or lightweight wood (check the size – should measure 22" x 28").
Choose colors carefully. Note the following general guidelines:
Black tends to be more formal, neat, rich, and strong.
Blue is cool, melancholy, or depressed.
Purple is considered royal, imperial.
Red stands for love as well as anger.
Orange is festive.
Yellow tends to be warm, light, or ripe.
Green is fresh, young, or growing.
White means pure, clean, and neat.
Things you should never do:
Make a vertical poster.
Use plastic food wrap to cover.
Use staples, tacks, or tape.
Use fluorescent posters.
Create a poster that is all words or all pictures.
Steps to follow when making a poster:
Read your project manual.
Read your county project requirements.
Decide on information to include on the poster.
Sketch out your idea.
Collect supplies.
Mark guidelines for lettering and pictures (lightly).
Layout letters, pictures, etc. on the poster.
Glue items down.
Clean up the poster so it is neat. Erase any guidelines that are showing. Remove excess glue.
Label size should be 2x4".
Glue poster to backing.
Cover poster with plastic.
Take your poster to the fair on the right day and time.
You can view an infomational video below! 
You will enroll them at v2.4honline.com. See more information below in the animal enrollment section.
The Indiana 4-H Youth Development Program annually awards more than $125,000.00 in scholarships to 4-H members to pursue post-secondary education. Scholarships are awarded to recognize youth participating in Indiana's 4-H Youth Development Program on their achievements and life skill development resulting from their participation in a variety of 4-H experiences. You can view the information and applications for these scholarships by clicking here. 
**We also have several Hancock County 4-H Scholarships available for 4-H members in their senior year of high school or last year of 4-H eligibility. The following 4-H scholarship applications are available with due dates listed, click on name of scholarship for details/application. 
To exhibit beef cattle, dairy cattle, swine, sheep, meat goats, dairy goats, poultry and rabbits, 4-H members must be certified through the Indiana 4-H Quality Livestock Care Training or YQCA. Indiana 4-H Quality Livestock Care Training is an annual program that can be completed with in-person trainings. YQCA is available to complete online at https://yqcaprogram.org. While this is a new requirement, it should not be viewed as just another rule but rather as an important educational opportunity for 4-H livestock members. Making this an exhibition rule is how we are ensuring that 4-H members learn about quality assurance, but it really has nothing to do with animal exhibition. This is required so youth learn best management practices with their animals. The goals of having 4-H members complete the YQCA program include ensuring that:
Youth will be more prepared to be ambassadors for animal agriculture in their role as youth livestock exhibitors.
Animals from youth livestock programs are treated with the utmost care.
4-H members are contributing to a safe, wholesome food supply.
Junior Leaders is designed for 4-H members in grades 7-12th the opportunity to develop their leadership skills. Junior Leaders provide guidance to younger 4-H members, assist with local and county 4-H activities, complete community service projects, meet new friends, and have FUN! While our youth may be most well known for their walking tacos that they sell at the fair the money they raise from this fundraiser allows them to give back to the community and provide additional learning opportunities.
Meetings are held on the first Wednesday of every month. If you are in grades 7 through 12 and want to participate, add the Jr. Leader project to your 4-HOnline profile and you will begin receiving project information and notifications about opportunities for the group! 
Questions? Email Amber at abarks@purdue.edu 
The 4-H Record of Achievement form is due to our office August 1st. Please make sure that you have turned in your records to your 4-H Leaders OR to the Extension Office if you are not affiliated with a club or if you Leader directs you to turn it in. 
Please note that our office only needs a "copy" of the 4-H Record of Achievement form (front and back!!), you should keep the original - we do not need the entire green book.  Our files are overflowing here in the office and we only need to refer to the Record of Achievement. You can submit it by email by sending it to hancockces@purdue.edu or drop a copy off at the office. 
Why do we have record sheets?  Record sheets are a good way for you to keep track of all of the things you have done while you have been involved in 4-H.  They are also what are used to select awards each year.  When you near college age, it is important to have up- to-date records so that you can be considered for various scholarships.  Record sheets also show that you have completed a 4-H project.
When 4-H members begin, every 4-Her should receive a Green Record Book and a white achievement card.  This is where they will record information throughout their 4-H journey.  Each year, you should add new information to the white  Record of 4-H Achievement  card.  Then you will put this Record of Achievement along with the General Record sheet inside your Green Record Book.
RELATED FILES
 Achievement Record- Microsoft Word Format
MINI 4-H INFORMATION
The Mini 4-H Program is designed to supplement and introduce Kindergarten, First and Second graders to the 4-H Program. Mini 4-H is open to any boy or girl who is in kindergarten, first or second grade by the spring of the current year.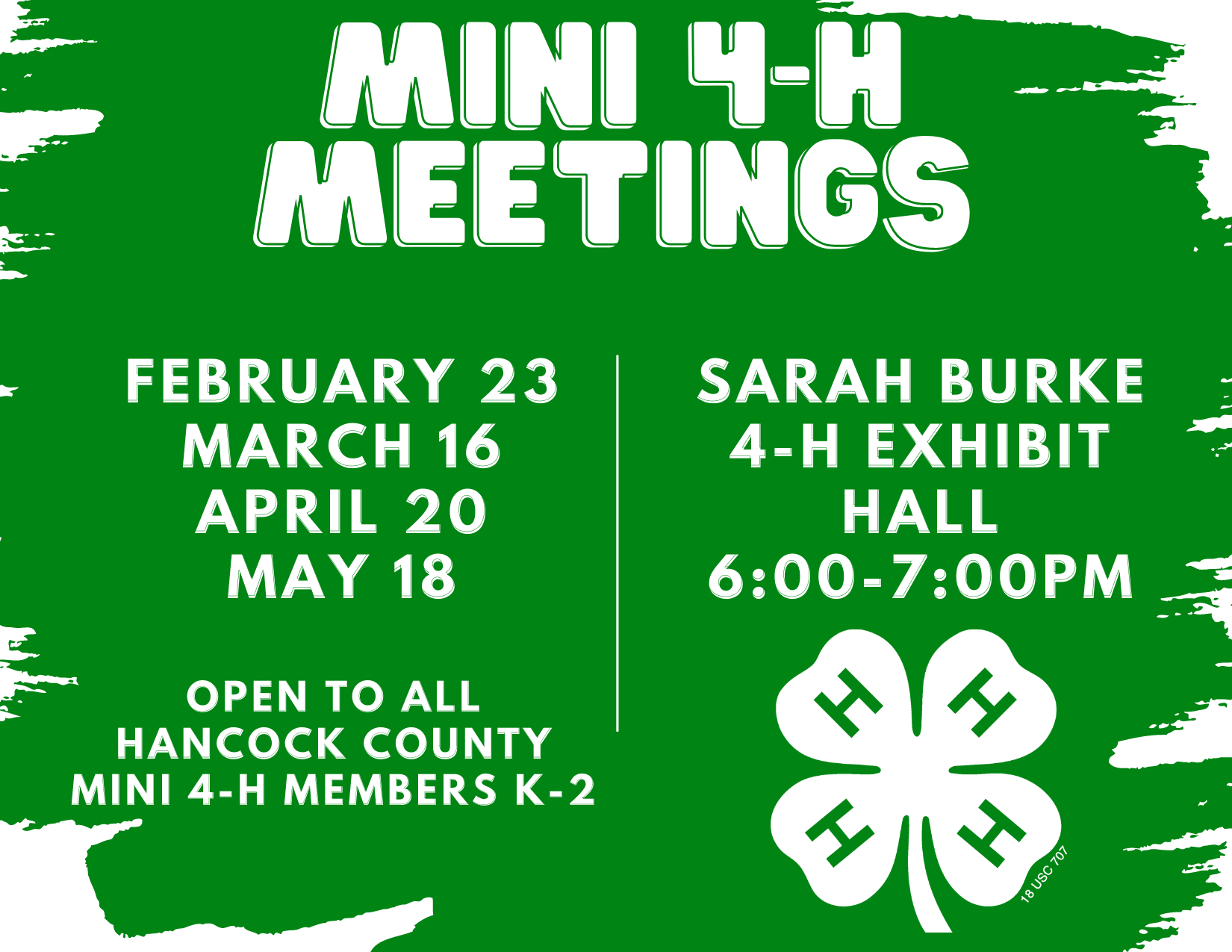 Project manuals can be downloaded from the links below. Free hard copies of these booklets are available in our office at 972 E Park Ave if you would like to pick up your copies! They will also be available at the meetings.
4-H Volunteer Information
4-H ANIMAL ENROLLMENT INFORMATION