Martin County 4-H
4-H happens year-round, sign up now to get started
In 4-H, we believe in the power of young people. We see that every child has valuable strengths and real influence to improve the world around us. We are America's largest youth development organization—empowering nearly six million young people across the U.S. with the skills to lead for a lifetime.
Contact Us
Purdue Extension Martin County
martinces@purdue.edu
2666 US Highway 50
Loogootee, IN 47553
(812) 295-2412
Martin County 4-H
This guide will answer all of your questions about 4-H!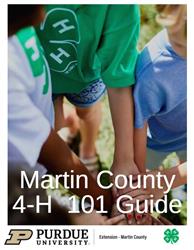 Contents include: 
What is 4-H
How to Join
Online Registration
Learning Experiences
Club Information
Projects
Awards
4-H Parents
4-H Opportunities
4-H Vocabulary
FAQ
Important Dates
Contact Information
RELATED FILES
ONLINE ENROLLMENT

The quickest and easiest way to enroll in 4-H is by completing the enrollment online HERE.
The enrollment guides below contain step-by-step instructions of how to enroll online.


Guide - New 4-H Youth Member
Guide - Returning 4-H Youth Member
Guide - New Adult Volunteer
Guide - Returning Adult Volunteer
---
PAPER ENROLLMENT
To enroll in 4-H using a paper form, print the following form, complete and return to the Purdue Extension Martin County office via the afterhours dropbox or in person during normal business hours. You mail also mail in the enrollment form. 
Form - Youth
Form - New Adult Volunteer
Form - Returning Adult Volunteer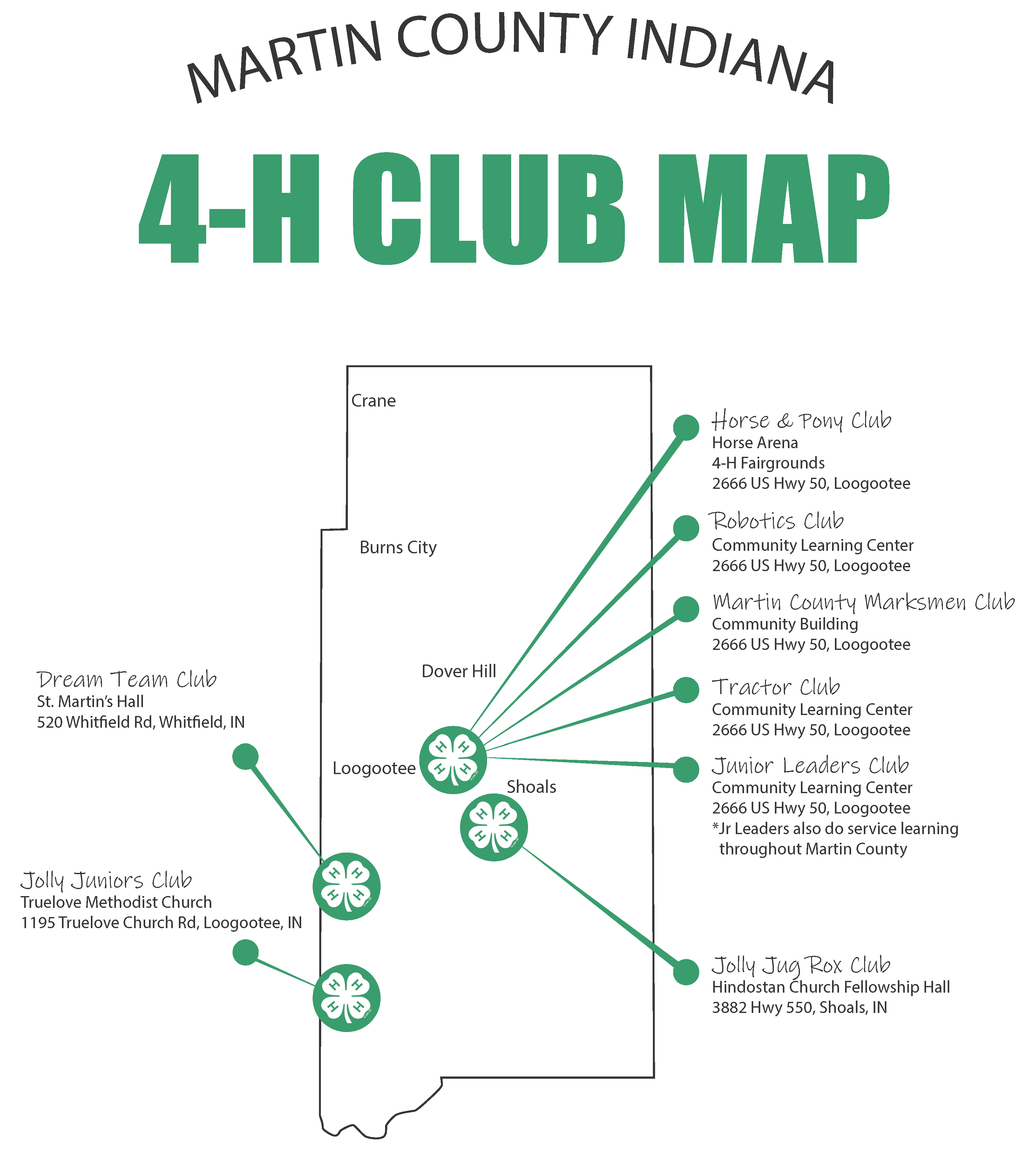 Dream Team
Jacqueline Esch (812-295-4595) jacqueline_esch@hotmail.com
Krista Sims (812-296-0457) ixray298@aol.com
Karla Eckerle (812-295-6832) keckerle@frontier.com
Horse & Pony
Tom Kerr (812-583-8436) tommyk125@yahoo.com
Amy Thompson (812-247-2508) kiltigern@gmail.com
Shelly Peterson (812-202-0787) shellybrian817@gmail.com

Jolly Jug Rox
Mimi Hawkins hawkinsm@shoals.k12.in.us
Rhonda Sanders (812-247-2096) rhondaplace@aol.com
Audra Deckard (812-247-3391) audradeckard@hotmail.com
Jolly Juniors
Kathy Lingenfelter (812-709-1424) rklingenfelter@frontier.com
Teresa Mauder (812-486-6962) tmauder@outlook.com
Junior Leaders
Mitch Green (812-709-1524) mitchgreen902@gmail.com
Rhonda Sanders (812-247-2096) rhondaplace@aol.com
Martin County Marksmen
Chrystal Maschino (812-936-9805) chrystal.maschino@yahoo.com
Tractor Club
Larry Craney (812-709-8156) craneyih@live.com
Rick Mauder (812-486-7189) tmauder@outlook.com
| | | |
| --- | --- | --- |
| DATE | EVENT | OTHER INFO |
| July 15-19, 2022 | | |
| July 14-18, 2023 | | |
| | | |
More events will be added soon!