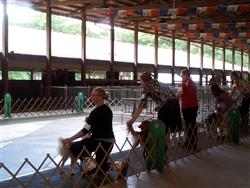 Start a Community-based Garden With Purdue Extension, from improving access to fruits and vegetables to educating people on how food is grown, community gardens offer many benefits to the place you call home. Now, Purdue Extension can help you get one started in your own neighborhood with it's Grass to Garden program!
Who can join?
Non-profit employees
Local officials
Community volunteers
Garden enthusiasts
What will I learn?
Every garden project is unique, and Grass to Garden will help you learn more than just how to grow plants-helping your program thrive by:
- Strengthening agricultural and community development efforts
- Improving access to local, nutritious foods
- Creating healthier communities, and more!
Sign up today!
COUNTY NAME: Lake County
WHEN: April 6, 13, 20, 27 at 5:00-7:30 p.m. CST
WHERE: Gary Area Career Center, live or virtual
REGISTER AT: https://www.cvent.com/d/gjqmmk
Registration deadline: April 2, 2021
Program Fee: $20
Purdue University Is An Equal Access/Equal Opportunity Employer.
If you are in need of accommodations to participate in this program please contact Rebecca Koetz at busser@purdue.edu two weeks prior to the meeting date. 
Related Files