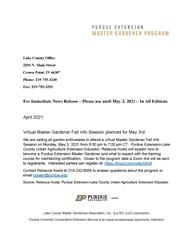 Lake County Office
2293 N. Main Street
Crown Point, IN 46307
Phone: 219-755-3240
Fax: 219-755-3251
For Immediate News Release - Please use until May 7, 2021 - In All Editions
April 2021
Lake County Master Gardeners Hold Annual Plant Sale
The 20th Annual Lake County Master Gardeners Plant Sale will be held on May 8, from 9 a.m. - 2 p.m. in the Fine Arts Building, Lake County Fairgrounds in Crown Point.  A wide variety of plants are offered for sale to the public.  Many plants are grown and offered by the Lake County Master Gardeners from their own gardens.  Plants include annuals, perennials, vegetables, herbs, house plants, bulbs, shrubs, hanging baskets, and even some trees.  Master Gardeners are available in abundance to answer any question.  The Sale also includes a "Trash to Treasures" area where "gently used" gardening items of all kinds can be purchased.
The Plant Sale is one of three fundraisers the Lake County Master Gardeners hold each year.  In their commitment to "Helping Others Grow" the proceeds of the Plant Sale help fund the Lake County Master Gardener Scholarship and Grant programs. 
Source: Veronica Williams, Chair, Plant Sale Committee of the Lake County Master Gardeners
Lake County Master Gardeners is a 501 (c)(3) corporation.
Purdue University Cooperative Extension Service is an equal access/equal opportunity institution. 
Related Files