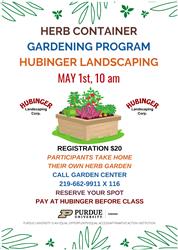 Join Urban Agriculture Educator, Rebecca Koetz for a Herb Container Gardening program
at Hubinger Landscaping on May 1st at 10 am.
Registration: $20, Call the Hubinger Garden Center 219-662-9911 x 116 to reserve your spot and pay at Hubinger's before the class.
Registration is required to reserve your spot and materials limited. 
If you require special accommodations to attend this event contact Rebecca Koetz within two weeks of the program date.
Contact Rebecca at the Purdue Extension-Lake County office 219-755-3240 or email busser@purdue.edu
Purdue University is an equal opportunity/equal access/affirmative action institution. 
Related Files