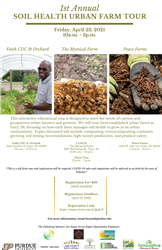 J
Educational opportunity for urban farmers and gardeners
1st Annual Soil Health Urban Farm Tour
Friday, April 23, 2021
10 a.m. - 3 p.m.
Registration Deadline: April 15, 2021
Registration Link: https://www.cvent.com/d/djq3c0
Registration Fee: $30 (lunch included)
This interactive educational tour is designed to meet the needs of current and prospective urban farmers and growers. We will tour three established urban farms in Gary, IN, focusing on how each farm manages soil health to grow in an urban environment. Topics discussed will include composting, vermicomposting, container growing, soil testing, bioremediation, high tunnel production, and produce safety.
Faith CDC & Orchard 656 Carolina St., Gary, IN 46402
10 a.m. - 11:15 a.m. 
The Mystical Farm 2467 Buchanan St., Gary, IN
11:30 a.m. - 12 p.m. (lunch included)
Farm Tour
12 p.m. - 1 p.m.
Peace Farms 3510 W. 15th Ave., Gary, IN
1:15 p.m. - 3 p.m.
This is a self drive tour and registration will be required. COVID-19 rules and regulations will be enforced as set forth by the state of Indiana.*
If you require special accommodations to attend this event or have any questions about this event, please email Rebecca Koetz - busser@purdue.edu
Purdue University is an equal opportunity/equal access/affirmative action university.
Related Files