LAKE COUNTY 4-H PROGRAM
If you are in need of accommodations to attend a program, please contact the Extension Educators 14 days prior to the meeting at 219-755-3240.
Learn new skills, make friends, and have fun in 4-H!  4-H prepares young people to be leaders in their community and around the world.   Members complete hands-on, learn-by-doing projects in areas like health, science, agriculture, and civic engagement alongside their peers and caring adult mentors.  4-H began over 100 years ago, and has since grown into the largest youth development program in the nation.  Kids and teens are invited to enroll online today!

Lake County 4-H welcomes young people in grades 3-12 in urban, suburban, and rural communities.  We also have a Mini 4-H program for grades K-2. 

4-H Pledge:

I pledge
     My head to clearer thinking.
     My heart to greater loyalty.
     My hands to larger service, and
     My health to better living.
     For my club, my community
     My country, and my world.

Interested in starting a new 4-H club in your community or helping lead an existing program?   Contact the Extension Office at 219-755-3240 to learn how you can become a 4-H adult volunteer.   All adult volunteers must complete an application and screening process before enrolling online and working with youth. 
Contact Us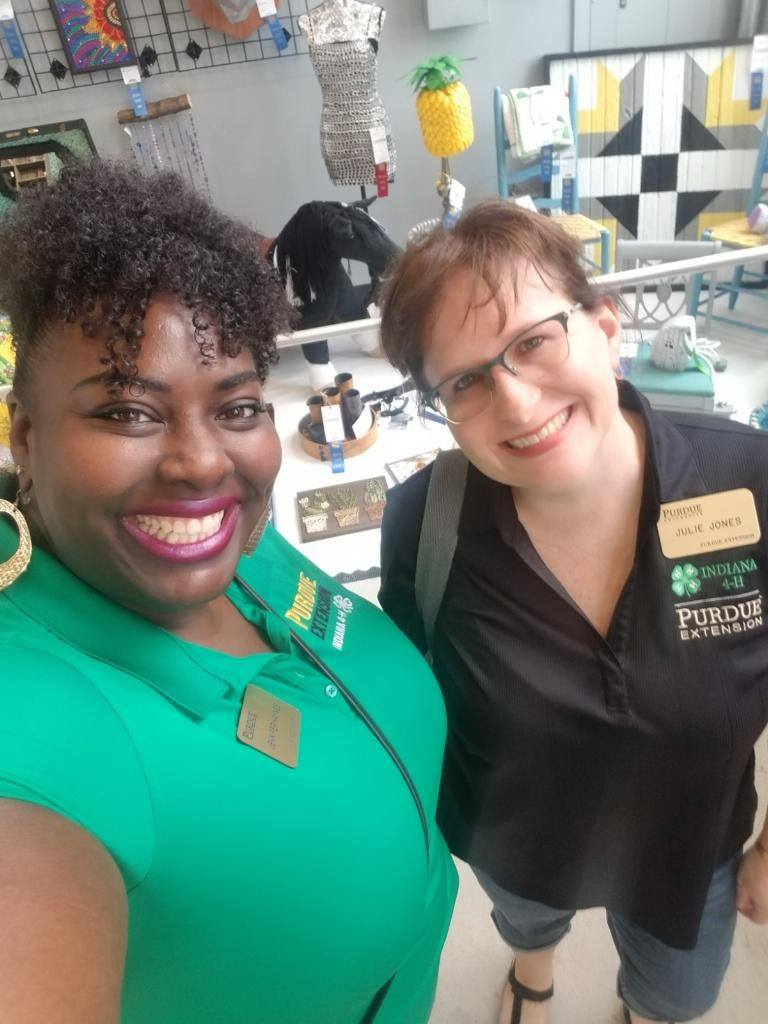 Julie Jones - Extension Educator, 4-H Youth Development
219 755-3240
jones298@purdue.edu  

Jennifer Haynes - Extension Educator, 4-H Youth Development
219 755-3240
jhaynes7@purdue.edu

4-H Information
Follow us on Facebook 
Looking for a 4-H Club to join?  Our clubs are open to all young people in grades K-12. Contact the Extension Office at 219-755-3240 for more information about these clubs or to learn how you can start a new club in your community!
 Brunswick Beavers - Dyer
Crown Clovers – Crown Point
Eagle Creek Up + At'em - Hebron
Griffith Grinners - Griffith
Happy Wranglers - Hebron
J.U.B.I.L.A.N.T. – East Chicago
Juntos 4-H - Hobart
Just Horse'n Around - Merrillville
Prairie Pioneers - Lowell
Prime Beefmakers - Lowell
RPFF – Crown Point
Rockin' Clovers – St. John
Saddle + Spurs – Crown Point
Shelby Ag - Shelby
Slippery Saddles – Crown Point
St. John Spitfires – Crown Point
The Eagles - Gary
The Lone Rangers – Crown Point
The Seekers – Cedar Lake
 4-H CLUB PURPOSE: The purpose of a 4-H club is to provide positive youth development opportunities to meet the needs of young people to experience belonging, mastery, independence, and generosity and to foster educational opportunities tied to the Land-Grant University knowledge base.
 4-H CLUB DEFINITION:  A 4-H club is an organized group of at least five youth from three different families who meet regularly with adult volunteers or staff for a long-term, progressive series of educational experiences. Lake County 4-H Clubs
Conduct a minimum of six regular club meetings per year, supplemented by project meetings, camps, fairs, and other 4-H learning activities
Select youth officers or youth leaders to provide leadership to the club
Meet in a location that is easily accessible to all participants
Are advised by at least two adult staff/volunteers who have been screened and trained
Keep records of their meetings and finances
Are chartered by the 4-H Youth Development Program of Purdue University and comply with state and national 4-H policies