4-H in Elkhart County
4-H is an extracurricular, volunteer led, family-oriented program.
Regular 4-H offers membership for youth grades 3 through 12. Mini 4-H is a free county program that offers youth in grades Kindergarten, 1, and 2 a chance to participate.
4-H is for youth from urban, suburban, and rural communities.
4-H helps young people develop life skills and learn by doing. A life skill is an ability that one can use in everyday life. The basic life skills are building self-confidence, developing an inquiring mind and making decisions, setting and meeting goals, relating to other people, developing a concern for the community, and developing leadership skills.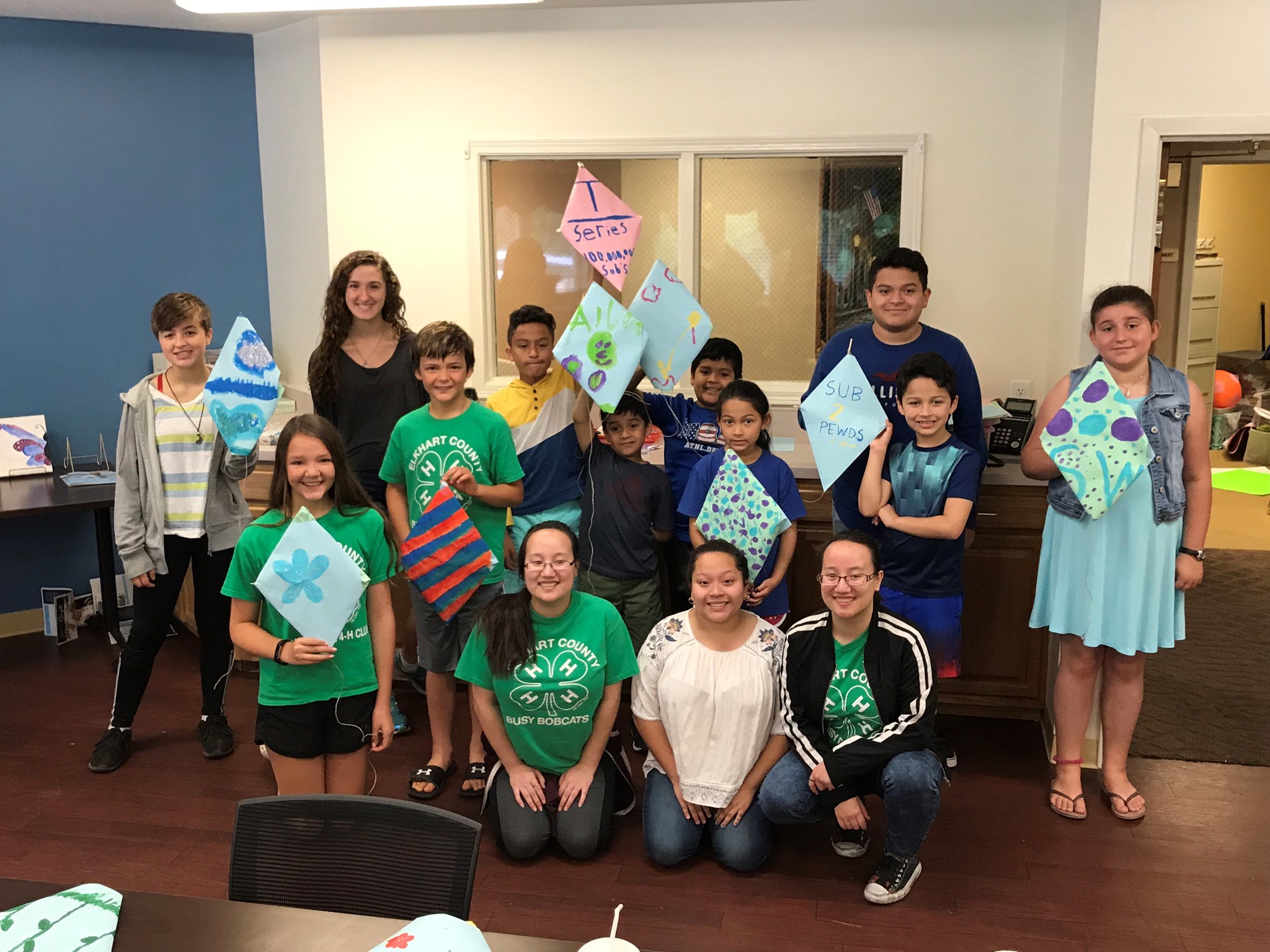 Elkhart County 4-H
What is 4-H?
In 4-H, we believe in the power of young people. We see that every child has valuable strengths and real influence to improve the world around us. 4-H empowers young people with the skills to lead for a lifetime. It's a research-based experience that includes a mentor, a hands-on project, and a meaningful leadership opportunity.
4-H programs are grounded in the belief that kids learn best by doing. Kids and teens complete hands-on projects in areas like science, health, agriculture and civic engagement, in a positive environment where they receive guidance from adult mentors and are encouraged to take on proactive leadership roles. Kids can concentrate on one focus area or they can try a variety of programs throughout their 4-H experience.
Regardless of the project area, all 4-H programs include mentoring and career readiness as core elements.
Through life-changing 4-H programs, nearly six million kids and teens have taken on critical societal issues, such as addressing community health inequities, engaging in civil discourse and advocating for equity and inclusion for all. For more than 100 years, 4-H has welcomed young people of all beliefs and backgrounds, giving kids a voice to express who they are and how they make their lives and communities better.
4-H Mission and Vision
4-H Mission: The Indiana 4-H Youth Development mission is to provide real-life educational opportunities that develop young people who positively impact their community and world.
4-H Vision: Indiana 4-H Youth Development mission strives to be the premier, community-based program empowering young people to reach their full potential.
4-H (Grades 3-12)
Online Enrollment
Paper Enrollment
Mini 4-H (Grades K-2)
Online Enrollment
 Paper Enrollment
 Download the Elkhart County 4-H Pocket Guide here.
Subject-Specific Clubs focus on a specific subject area.
General Clubs focus on a variety of subject areas.
For a map of club meeting locations, click here.
---
Subject-Specific Clubs


---
General Clubs
Bristol
Elkhart
Goshen
Middlebury
Millersburg
Nappanee
New Paris
Wakarusa
Order 4-H Project Manuals here
Download the 4-H Handbook here.
For poster projects, download the general Poster Construction Guidelines here.
Projects
Projects marked with an asterisk (*) require participation in a Subject-Specific Elkhart County 4-H Club.
Arts & Crafts Projects

*Beef
*Cat
*Dairy
*Dairy Feeder Calf (Dairy Beef)
*Dog
Foods (Baked or Preserved)
*Goat (Dairy, Meat, Pygmy)
*Horse & Pony
*Lamb (Sheep)
*Poultry
*Rabbit
*Swine
The Friday 4-H Nugget provides the latest 4-H news every first and third Friday of the month. 
General Information

Mini 4-H Welcome Event
Mini 4-H Workshops
Mini 4-H Day Camp Registration
Mini 4-H Project Manuals
Club Forms
Club Information Sheet & Instructions
Building Supervision
Fair Competitions
Livestock Update
Premises ID
Animal ID: 4-H Online
All Animal ID information will be posted shortly. All Animal ID information will need to be completed via 4-H Online by May 15, 2022.
YQCA - Youth for the Quality Care of Animals
Jr. Livestock Advisory Board
Vaccination Forms
Lease Forms
Livestock Skillathon and Outstanding Livestock Exhibitor Program
Ten-Year 4-H Members
Fundraising
Contests
Animal Science Day Camp
Forms
Download the 4-H check-in, judging, and pick-up calendar here: July 4-H Calendar