What is Community Development?
It is so nice to see how engaged each student is during the CATCH lessons. They look forward to the new physical activity or healthy snack each week. The hands-on approach that JJ uses during the lessons, works well with all of the students."
     In Purdue Extension-Lawrence County, "Community Development" is a collective term for bigger and better things happening in our community. When referring to said term, you should think of our amazing Nutrition Education/SNAP-Ed and Community Wellness programs. 
Nutrition Education/SNAP-Ed is a research-based programing that brings fun, hands-on learning that is easy to understand. Our Nutrition Education Program Advisor (NEPA), provides free nutrition education to youth and adults through our local school system and a variety of community groups.
The highly interactive lessons help participants:
Plan a nutritious meal

Be Active

Handle Food safely
Spend food dollars wisely
Improve food purchasing and preparation skills
They are given knowledge of SNAP benefits and additional community resources as well.
Our Community Wellness Coordinator (CWC), collaborates with community partners on broader community change that involves policy, system, and environmental changes. Additionally, they help to make the healthy choice the easy choice by providing resources and programming to community members.
What is your CWC doing in Lawrence County? Ask about:
Health Coalitions
Community Gardens
School & Workplace Wellness
Healthy Corner Stores
Trails & Parks
Farm to School
Farmers Markets
Active Living
Food Access
Food Pantries
Program Areas
Agriculture & Natural Resources
Contact Us
Purdue Extension-Lawrence County
lawrenceces@purdue.edu
924 16th Street
Bedford, IN 47421
(812) 275-4623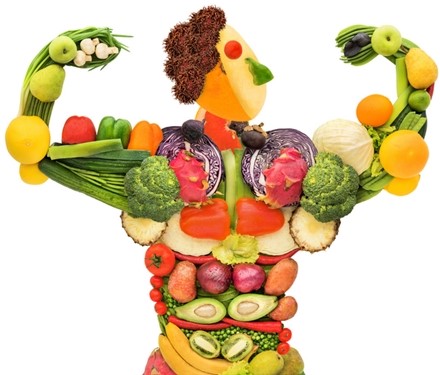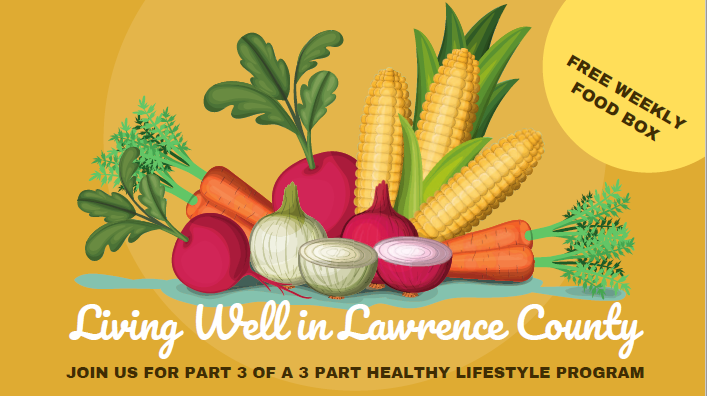 Living Well in Lawrence County
LEARN ABOUT FINANCIAL RESOURCE MANAGEMENT AND HEALTH TOPICS: INCLUDING YOUR MONEY YOUR GOALS, INTRODUCTION TO HOME PRESERVATION, EMPOWER ME TO BE CLUTTER FREE, STAYING SCAM SAFE, & RECEIVE A FREE, WEEKLY BOX OF FOOD AND EARN INCENTIVE PRIZES.
Read More
Food, Fun, 4-H Meal Kit
Food, Fun, 4-H is a free at-home, family oriented, cooking program that will offer a once a month, Meal Kit during the months of May, June, July, and August.
Read More
The Nutrition Education Program has existed in Indiana since 1994 as part of Purdue Extension. The program is funded by two federal funding streams: 1. Supplemental Nutrition Assistance Program- Education Division, (SNAP-Ed); 2. Expanded Food and Nutrition Education Program, (EFNEP).

- eatgathergo.org
Community Partnerships
Our NEPA and CWC continue to partner with community organizations to provide nutrition education to those affected in our county and the surrounding area. Partnerships like the one featured in the video above, help to bring knowledge of healthy alternatives and the know how to implement these practices. Organizations like the
Land of Limestone Master Gardeners
are essential to growing knowledge of those in our community. 
Meet Your Coordinators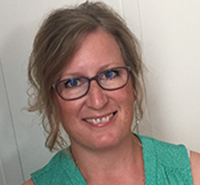 J.J. Goldsberry
Nutrition Education
Program Advisor
812.275.4623
J.J. Goldsberry is a Nutrition Education Program Advisor (NEPA) in Lawrence and Orange Counties with the Purdue Extension Nutrition Education Program. In her role as a NEPA, she partners with local agencies and schools to provide direction nutrition education to limited resource youth and adults. Prior to working as a NEPA, J.J. owned and operated a child care and preschool business for 17 years. She attended Indiana State University and I.U. Southeast majoring in Elementary and Special Education. Her experiences as a teacher, parent, and community member have helped shape and strengthen her belief in the power of education and the ability it has to empower and equip individuals with knowledge for a healthier lifestyle, family and community.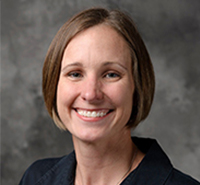 Annie Eakin
Community Wellness Coordinator
812.275.4623
Annie Eakin is a Community Wellness Coordinator (CWC) in Lawrence and Monroe counties with the Purdue Extension Nutrition Education Program. In her role as CWC, she seeks to remove barriers to healthy food and active lifestyles for those with low incomes. Prior to working as a CWC, Annie taught as a visiting lecturer at Indiana University in the Departments of Parks, Recreation, and Tourism Studies and worked at IU as the Assistant Director of Aquatics for 7 years. She has a graduate degree from IU in Kinesiology and a Bachelor of Arts in History from North Carolina State University. Her experiences as an athlete, coach, recreation professional, recreational participant, teacher and parent, shape her views of equity and inclusion and she strives to work in the communities of Lawrence and Monroe counties to further their goals of making the counties healthier and more inviting places to live.