Agriculture & Natural Resources
Harrison County Agriculture and Natural Resource Department
Welcome to the Purdue Extension Harrison County Agriculture and Natural Resources page. Please contact our office for additional information about our programs and services.
Contact Us
Purdue Extension Harrison County
247 Atwood Street
Corydon, IN 47112
812-738-4236
Meet the Educator
Miranda Edge
Purdue Extension Harrison County
County Extension Director, Extension Educator- ANR
812.738.4236
ANR Newsletter
ANR Newsletter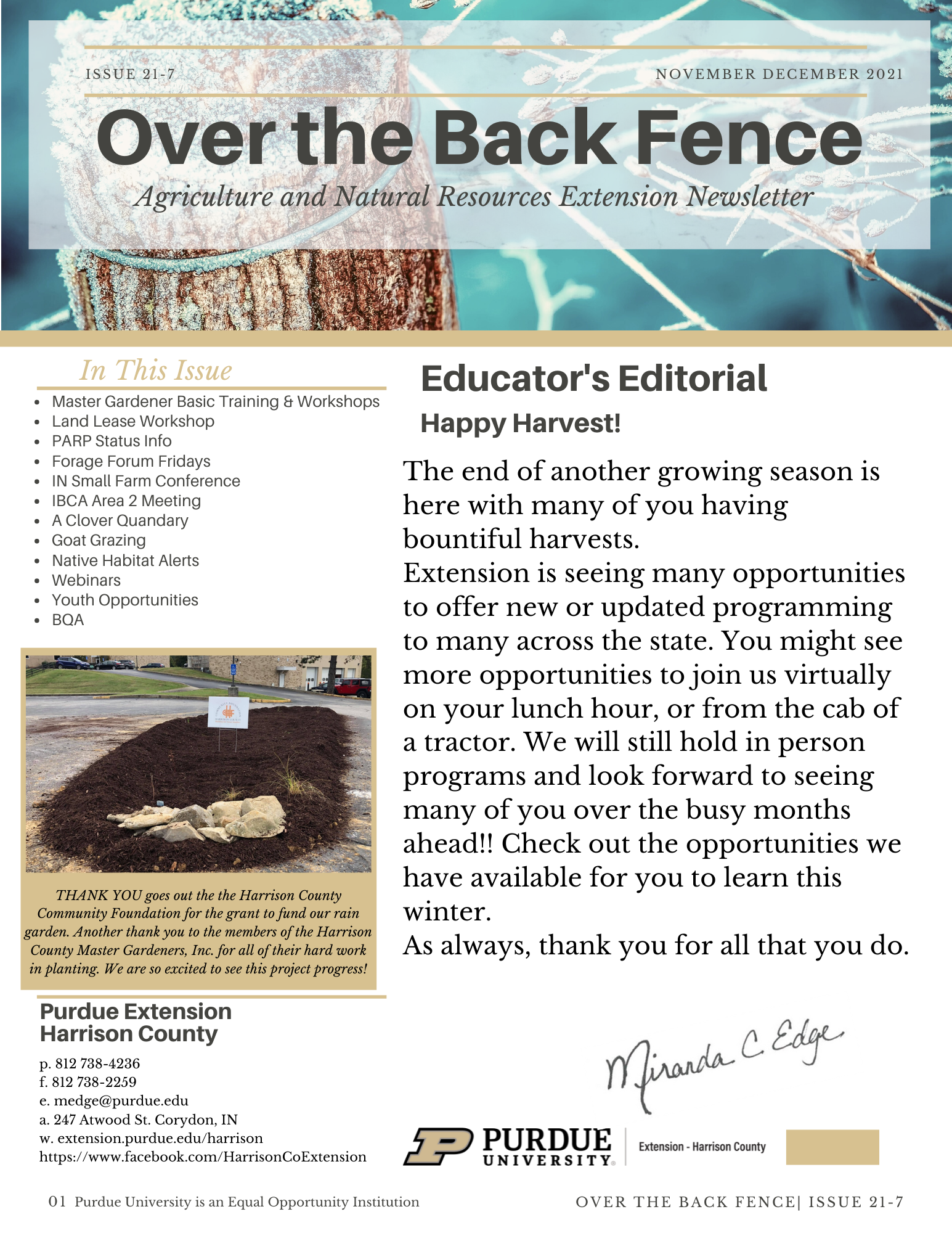 Over the Back Fence
Over the Back Fence is Purdue Extension Harrison County's Agriculture and Natural Resources Department's Newsletter. These newsletters are sent out bi-monthly. If you would like to receive a mailed or emailed newsletter to you every...
Read More
Featured Story
Featured Story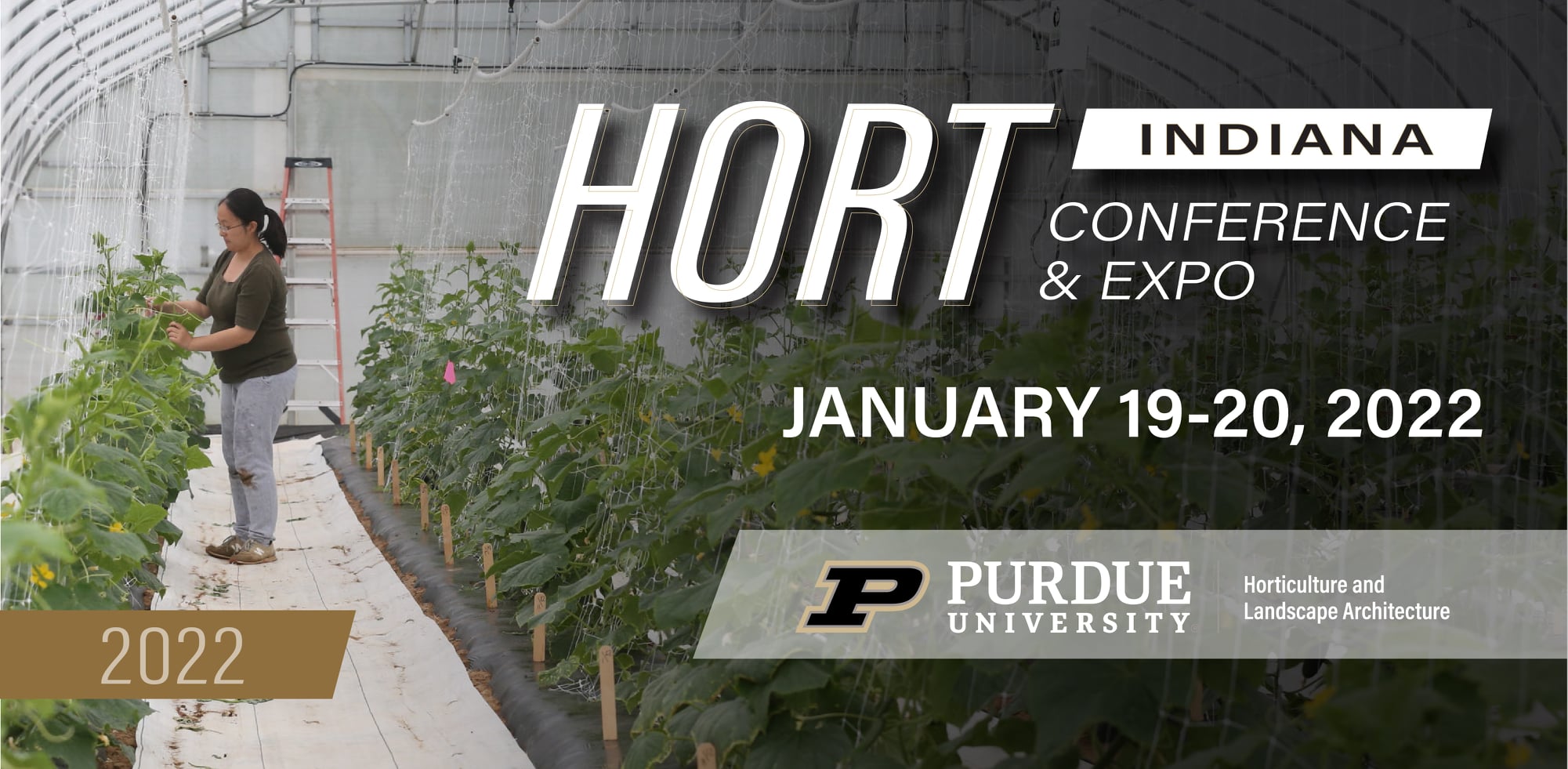 Indiana Horticulture Conference
After a year of online learning sessions by Purdue University specialists, the Indiana Horticulture Conference and Expo is returning in person on Jan. 19-20 in Indianapolis. Beginner and experienced, and small and large vegetable and fruit...
Read More
Goat Grazing Could Be Option for Invasive Species Removal
Goat Grazing Could Be Option for Invasive Species Removal

Goat Grazing Could Be Option for Invasive Species Removal
Prescribed or targeted grazing has been used on Western rangelands for many years to manage range weeds and is also used to reduce fuel and maintain fire breaks in high fire hazard areas. It has also been used in the south to help control kudzu.
Read More
Purdue Extension can help you through the process of soil testing and give you recommendations for pasture, field, or lawn renovation. Contact our office for more information!
Pesticide Applicator Licensing
The following PARP trainings will be on Tuesday, November 9, 2021:
CLARK COUNTY: 9:00 AM - 11:00 AM

Clark County Community Building, 9608 HWY 62, Charlestown, IN
RSVP to Tom Springstun at 812-752-8450

LAWRENCE COUNTY: 1:00 PM - 3:00 PM

Otis Park Bath House, 607 Tunnelton Road, Bedford, IN
RSVP to Ophelia Davis at 812-275-4623

CRAWFORD COUNTY: 6:00 PM - 8:00 PM

Crawford County Extension Office, 527 W Old State Road 62, Leavenworth, IN
RSVP to Molley Scott at 812-338-5466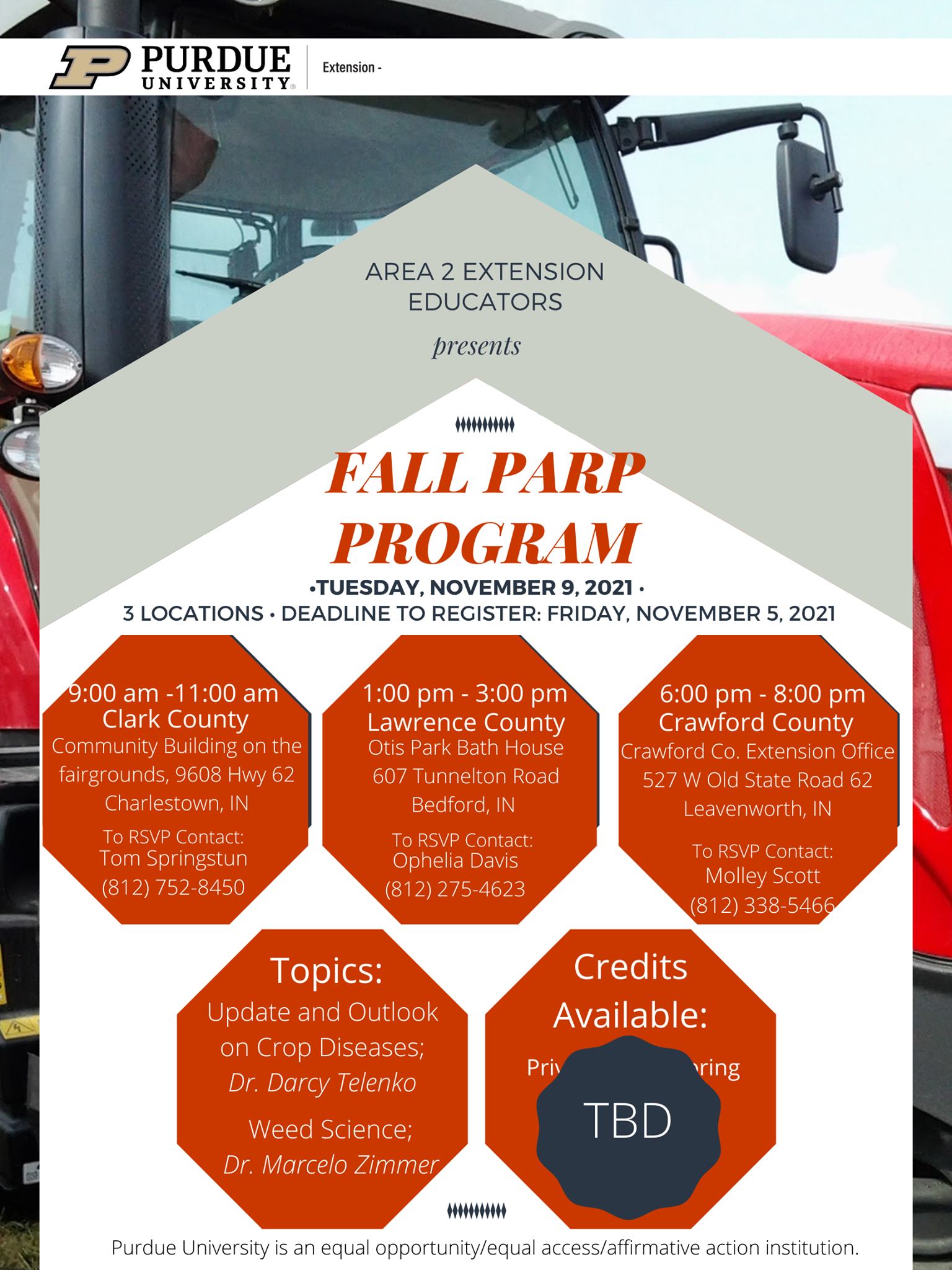 Hover your cursor over "Pesticide Programs"
Click on Applicator Login and enter First Name, Last Name, and the Last four of your SSN
Licenses can be printed (if valid for current year) by clicking the button "License".

NOTE: CCH's can be found by clicking on "Exams". Each category will be displayed along with Credits Acquired and Credits Needed.
For more information, please contact the Office of Indiana State Chemist
Harrison County Master Gardeners
The Purdue Extension Master Gardener Program is an integral part of the Purdue University Cooperative Extension Service and provides the citizens of Indiana a chance to grow.  The original Master Gardener program was created in 1972 in Seattle, Washington in response to the overwhelming demand for home gardening information. Indiana's program began in 1978 with 4 participating counties. Currently, over 50 Indiana counties have active Extension Master Gardener programs.
The Program provides a learning framework for participants to increase their knowledge on a wide variety of horticultural subjects. In turn, participants volunteer and help others grow by sharing knowledge while providing leadership and service in educational gardening activities within their communities.
For more information, go to purdue.edu/hla/sites/master-gardener/ 
Contact Miranda Edge, the County Extension Director and County Extension Master Gardener Coordinator, who will provide registration information, a copy of the Purdue EMG Program Policy Guide, a volunteer application, and agreement form.
Complete the volunteer application and agreement form and return it to the Purdue Extension Harrison County Office with registration fee payment and any additional registration information.
Get connected with other gardeners and learn more about horticulture by attending a series of weekly classes, each lasting 3 to 4 hours.
Complete the required training and pass an exam with a score of 70% or above to become a Purdue EMG Intern!
Give back to your community by volunteering at least 40 hours to be certified as a Purdue Extension Master Gardener.
For more information, please go to purdue.edu/hla/sites/master-gardener/ 
Here are our Fall Speakers coming to Purdue Extension Harrison County starting at 6:30 PM:
Oct 21- Suetta Tingler, "Marigolds Role in Day-of-the-Dead Celebrations"
Nov 18- Scott Oliver, "Bees and Blooms"
Dec 16- Ron Byerley "What's New For Day Lillies"