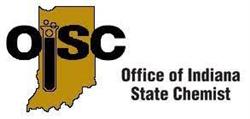 Questions about agriculture's potential role in carbon sequestration are on many ag producers' minds these days. Purdue agriculture economists Carson Reeling, Nathanael Thompson and James Mintert will discuss the opportunities and challenges of the carbon markets in U.S. agriculture for row crop producers during a webinar on Thursday, June 24th at 12:30 p.m. EDT.
Registration is free and can be completed by visiting the Purdue Center for Commercial Ag website at: https://ag.purdue.edu/commercialag/home/ Once registered, participants will receive a confirmation email with a link to view the webinar live at its scheduled time. Those unable to join live can register to receive a follow-up email after the webinar to download the slides and view the recording. For more information on carbon markets, please visit the Ohio Soybean Council's website: https://www.soyohio.org/council/carbon-markets/
Dicamba Cutoff Date Reminder
The Office of Indiana State Chemist (OISC) would like to remind all agricultural applicators that there is a June 20th cutoff date for applications of most ag-related dicamba products in Indiana.  On March 2, 2021, the Indiana Pesticide Review Board (IPRB) voted unanimously to classify all Restricted Use Pesticides (RUP) containing more than 6.5% dicamba as Highly Volatile Herbicides (HVH).
A HVH is defined in state law as any herbicide capable of emitting vapors that may cause serious injury to desired plants by reason of movement of the vapors from the area of application of the herbicide to areas inhabited by the desired plants. The IPRB has determined that dicamba herbicides used in agriculture during periods when many non-target plants and crops are actively growing and particularly sensitive to low levels of dicamba exposure meet that definition.The list of HVHs includes all herbicides containing more than 6.5% dicamba active ingredient and classified as a Restricted Use Pesticide (RUP) in Indiana.  In addition, the HVH determination will prohibit the application of all dicamba RUP herbicides to all crops for the period June 21st through August 31st.
For more information regarding the use of HVH dicamba herbicides in Indiana go to https://www.oisc.purdue.edu/pesticide/dicamba.html and click on Dicamba Highly Volatile Herbicides Frequently Asked Questions.