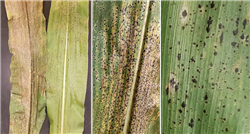 According to Purdue Field Crops Disease Specialist Darcy Telenko, it is important to continue to scout for diseases in both corn and soybeans in the coming days and weeks. Recent rains around the state have created favorable environmental conditions for the development of foliar diseases in both crops. Gray leaf spot, northern corn leaf blight, and tar spot in corn and frogeye leaf spot, downy mildew and Septoria brown spot in soybeans have all been confirmed in different areas of the state.
Telenko states that the most frequent question she receives is, "Should we make a fungicide application?" The answer: What diseases are you finding in your field? What is your hybrid/variety susceptibility and field history? What growth stage are the crops? Are you irrigating? A fungicide application can be effective at reducing disease and protecting yield, but there are a number of factors that need to consider: the field history/previous crop, the amount of disease present in the field, hybrid/variety susceptibility, weather conditions, the value of the crop, and cost of fungicide application.
One disease that is on people's mind, due to its relative newness to Indiana is corn Tar Spot. Tar Spot was first confirmed in Indiana in 2015, with little effect on corn yield. In 2018 however, an epidemic occurred that did lead to yield reduction northern Indiana and surrounding states. For 2021, new counties where active tar spot lesions have been found continue to be added to the Purdue database each week, with the northern part of the state currently having the biggest risk. Pathologists are working hard to understand this new disease to minimize losses. The good news is that a number of fungicides have been found that are highly efficacious against tar spot when timely applications are made.
For a list of recommended products and timing suggestions, the Crop Protection Network houses an excellent publication available here: https://cropprotectionnetwork.org/resources/publications/fungicide-efficacy-for-control-of-corn-diseases For information on Tar Spot, including help with identification, the following publication is very helpful: https://www.extension.purdue.edu/extmedia/bp/bp-90-w.pdf To keep track of field crop diseases as they progress around the state, follow along with the Purdue Field Crop Pathology website available here: https://extension.purdue.edu/fieldcroppathology/