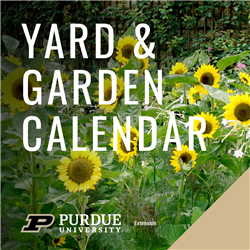 Purdue University is world-renowned for the research and education that takes place in its school of agriculture. However, oftentimes overlooked, Purdue Extension does much more than cater to farmers, and in fact offers a wide range of resources that can benefit homeowners and more diversified farmers as well. A few examples of these excellent resources can be found on the World Wide Web.
A great place to start your website bookmarking if you are interested in information for your yard, home or garden is the Purdue Extension Consumer Horticulture homepage located at https://www.purdue.edu/hla/sites/yardandgarden/:. From here you can gain access to Purdue University publications on: general horticulture, flowers, houseplants, landscape management, fruits, and vegetables to name a few. The website is also a great place go-to place for the latest timely and informative news articles generated by Purdue.
For a quick year-round reference on the basics, consider printing off Purdue's monthly garden calendar's at: https://www.purdue.edu/hla/sites/yardandgarden/publication/gardening-calendars/. These provide a general timeline of what homeowners should be doing and looking out for each season in their home, yard and garden. Checking the calendar each month can serve as an excellent reminder of when to keep any eye out for specific pests and diseases, as well as optimal planting, fertilizer application, and harvesting times. Homeowners seeking the perfect lawn this year, who might be looking for more detail, should consider subscribing to Purdue's Turf Tips: http://purdueturftips.blogspot.com, which has helpful information for both homeowners and lawn professionals.
Another newsletter that will be starting up soon is Purdue's "Fact's For Fancy Fruits," which can be subscribed to at: https://fff.hort.purdue.edu/. This newsletter is sent out monthly during the growing season and provides updates on current crop conditions, pest updates and recommendations on control, and upcoming fruit related educational programming around the state. Similarly, but in the vegetable realm, check out the "Vegetable Crops Hotline:" https://vegcropshotline.org/. Lastly, once again I would like to point out the Purdue Pest and Plant Diagnostic's Laboratory, which is a great place to see what problems are being experienced around the state, oftentimes before they make their way up to our neck of the woods. It is located at: https://ag.purdue.edu/btny/ppdl/