warren County 4-H
4-H began over 100 years ago, and has since grown into the largest youth development program in the nation. 4-H prepares young people to be leaders in their community and around the world through hands-on experiences ​alongside their peers and caring adults. Backed by a network of more than 6 million youth, 540,000 adult volunteers, 3,500 professionals, and more than 60 million alumni; 4-H delivers research-based programming around positive youth development. 4-H is delivered through America's 109 land-grant universities and the Cooperative Extension Service—reaching every corner of our nation. In Indiana, 4-H can be found in all 92 counties as delivered through Purdue Extension. Community clubs, afterschool programs, school enrichment, camps/workshops, and special programs are all ways youth across Indiana can be involved with the 4-H program.
Warren County 4-H is open to any 3rd-12th graders and Mini 4-H is available for 2nd graders. Warren County 4-H offers 30+ projects that give 4-Hers the opportunity to explore animal science, communication and expressive arts, engineering and technological science, healthy living, leadership and citizenship, and plant and environmental science! With 60+ adult volunteers to help guide and mentor our 4-Hers!
Our hope for Warren County 4-Hers is that their projects and activities with which they are involved will be positive experiences that will further their growth toward becoming responsible and productive members of society and leaders in their respective communities.
See our contact information to ask how you or your youth can be involved in 4-H!
Please scroll down for
Warren County 4-H Resources. 
4-H educator
Emily Ade
County Extension Director
4-H Extension Educator
ade0@purdue.edu 
765-762-3231
4-H PLEDGE 
I pledge
     My head to clearer thinking.
     My heart to greater loyalty.
     My hands to larger service, and
     My health to better living.
     For my club, my community
     My country, and my world.
 4-H MOTTO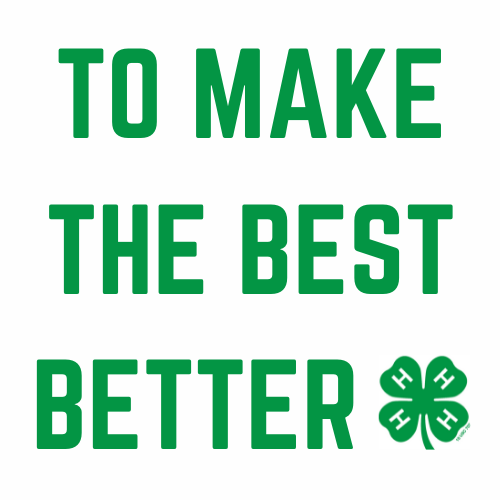 Warren County 4-H Enrollment
Warren County 4-H News and Opportunities