Welcome to Warren County 4-H
Our hope for Warren County 4-Hers is that their 4-H projects and activities with which they are involved will be positive experiences that will further their growth toward becoming responsible and productive members of society and leaders in their respective communities.
4-H isn't just for farm kids or only around during the fair... 4-H is learning, empowering, giving, doing, persevering all year round. Youth in 4-H learn to problem solve, be resourceful, intuitive, gain confidence, and develop life skills. 
Youth in grades 3 - 12 participate in 4-H. 2nd graders participate in our Mini 4-H program. When signing up for 4-H, you will see a list of projects to choose from on the 4-H Online website. That list contains all projects offered at the state level as well as a few only offered in Warren County. We DO NOT offer every state project listed. To the right is a list of the projects that we DO offer in Warren County.
There are a few projects that have multiple categories. Please select the most general project title as possible. Example: There is Foods, Foods Baked, and Foods Preserved as project options. Please select Foods.
If you see a project on the website that interests you, but it is not listed below, please sign up for Do Your Own Thing. You may enter as many projects in the Do Your Own Thing (DYOT) category as you want. If your DYOT project falls under a state project category that we do not offer, it may still go to the State Fair under that project if the DYOT judge deems it eligible. Example: Suzie is interested in Vet Science. Warren County does not offer Vet Science. Suzie signs up for DYOT and completes a Vet Science project. It's a nice project. The DYOT judge grants Suzie's DYOT project a State Fair Entry as a Vet Science project. 
If you need assistance, e-mail - ade0@purdue.edu 
4-H Information
 4-H PLEDGE 
I pledge
     My head to clearer thinking.
     My heart to greater loyalty.
     My hands to larger service, and
     My health to better living.
     For my club, my community
     My country, and my world.
 4-H MOTTO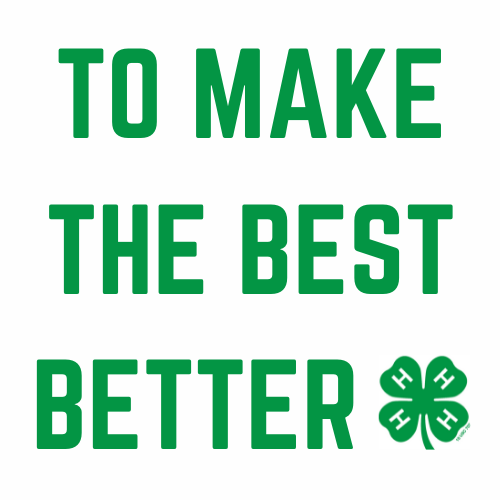 Upcoming Warren County Extension Events