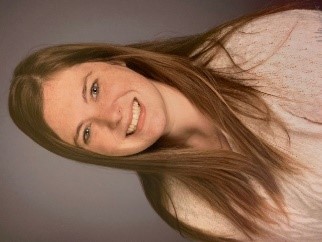 4-H Youth Development/Health & Human Sciences Extension Educator/County Extension Director
Brooke Goble is from northern Indiana in a small town of Walkerton, IN. She grew up on a Dairy farm where she was also an active 10 year 4-H member, taking over 20 projects each year. This was where her passion for working with youth began. Brooke obtained a Bachelor's degree from Indiana State University in Family and Consumer Science Education with a minor in Food and Nutrition. While in college, she worked as a 4-H Summer Intern in Clay County and eventually became a 4-H Program Assistant in St. Joseph County. While 4-H was an important part of Brooke's life, she still wanted to be a teacher and work with youth daily. For a couple years, she worked in Knox County as a teacher, before leaving and coming back to Purdue Extension and 4-H. Now Brooke loves being a part of Purdue Extension here in Pike County as the 4-H Youth Development and Health and Human Sciences Educator!
When Brooke is not working, she enjoys crafting, camping, baking, playing with her dog Bruce, and being outside with her friends and family.
FREQUENTLY ASKED QUESTIONS
How do I enroll in Pike County 4-H?
Visit v2.4HOnline.com to create an account and enroll today!
Don't hesitate to call the Extension Office or e-mail Brooke or Mandy with any questions or concerns you may have!
What are the dates for the 2023 Pike County 4-H Fair?
July 23 - 29, 2023
What are the dates for the 2023 Indiana State Fair?
July 28 - August 20, 2023
Where can I get my project manuals?
The Pike County Extension Office - Please stop by any time during our normal business hours Monday-Friday from 8am-4pm to pick up your FREE project manuals! You can also email us the Project Manual Form or Mini Project Manual Form and we can mail you your project manuals if you can't make it to the office during our office hours. 
Who can be in 4-H?
4-H is for those who are in grades 3-12 at the time of enrollment.
Mini 4-H is for youth in Kindergarten, 1st or 2nd grade at time of enrollment.
What are the 4 "H's"?
Head – for thinking, planning, reasoning
Heart – for kindness and truth
Hands – to be helpful, skillful, and useful
Health – for strength to enjoy life, resist disease and be more efficient
What are the costs involved?
There is a $20 program fee for Pike County 4-H that helps cover costs of materials and programming. Families will not pay more than $60 in the case of having more than three youth enrolled. Families should keep in mind the cost of materials for each project. Some projects, such as arts and crafts, could have very minimal costs and supplies, where projects like beef, and horse and pony can be costly. We suggest you decide as a family what type of project best suits your family's budget.
Pike County 4-H Scoop and Manual Forms