What is 4-H
Dubois County 4-H offers projects for children in grades 3-12 and supports Mini 4-H in children in grades K-2. 
4-H prepares young people to be leaders in their community and around the world through hands-on experiences alongside their peers and caring adults. Community clubs, afterschool programs, school enrichment, camps/workshops, and special interest programs are all ways youth across Indiana can be involved with the 4-H program.
Club membership is not required in order to participate in some 4-H programs offered throughout the year.
Lauren Fenneman
 Youth EducatorPurdue Extension Dubois County505 W 5th StreetJasper, In 47546812-482-1782
lhaase@purdue.edu

Upcoming Events and Important Dates
Stay up to date with the Dubois County 4-H Program
4-H Enrollment opens, v2.4honline.com
4-H Council Meeting, 6:30 pm, Clover Pavilion Office
4-H Kickoff, 6-8 pm, Clover Pavilion
October 17 – Fall Break Mini 4-H Camp, 9 am – 12 pm or 1 -3 pm, Clover Pavilion.
Youth Grades K-2 join us for some fall fun and pumpkin up for 4-H! Enjoy crafts, games, and STEM activities related to pumpkins.
Sign up at v2.4honline.com
Adult Leader Meeting, 6:30 pm, Clover Pavilion
Disc Golf Discovery, 9 am - 3 pm, Clover Pavilion
Youth in Grades 3-12 learn the basics about Disc Golf, learn some common techniques, play the 18-hole course at Dubois County Park, and leave with a new appreciation and understanding to play all the courses in the area.
Sign up at v2.4honline.com
Indiana 4-H Leadership Summit, Adults and Youth Grades 8-12, Carmel, IN
More info soon!
Dubois County 4-H Fairgrounds
Youth in grades 3-12 learn about UAV drones, how they are used, operate some drones, and learn from those in the area about careers involving drones.
Sign up @ v2.4honline.com
4-H Council Meeting, 6:30 pm, Clover Pavilion Office
4-H Volunteer Reenrollment Training, 5:30 – 6:30 pm, Center on 5th Training Room
Adult Leader Training, 6:30 – 8 pm, Center on 5th Training Room
4-H Junior Leader Meeting, 7 pm, Agaves Mexican Restaurant
4-H Junior Leader Meeting, 7 pm, Annex Fair Office
Project Information
Having trouble finding your projects? Not sure what projects require? Learn more about 4-H Project guidelines, download manuals from state, navigate project categories. 
Project Categories
Resources
Can't find your project in 4-H Online?
Select your project area. Use this guide to help find your project area for each exhibit you bring to the fair.
Project Area GuidE
Mini 4-H is a program designed to encourage positive development of children, K-2nd grade. Our mission is to help young children explore friendships outside the family; explore how things work; practice muscle control; and learn to work together on projects.
4‑H COUNCIL MEMBERS
President:  Janelle Hasenour: 812-630-2430
Vice President:  Ed Boeglin: 812-631-1138
Secretary:  Jennifer Hasenour: 812-631-9589
Treasurer:  Madi Giesler 812-661-8503      
(The above officers serve as Executive Committee.)
Nettie Boeglin: 812-719-5515
Samantha Boeglin: 812-631-8140
Wyatt Goeppner: 812-631-5904
Chad Hunefeld: 812-489-0082
Blake Lindauer: 812-639-1297
Scott Schnell: 812-631-8111
Kaleb Stenftenagel: 812-639-9277
Rennie Wagner: 812-661-7107
Heather Weyer: 812-309-1580
4-H Council Junior Leader Advisory Committee
Lance Boeglin, Jalynn Egloff, Grace Kluemper, Claire Linette, Emily Recker
2023 4-H Handbook
2023 4-H Handbook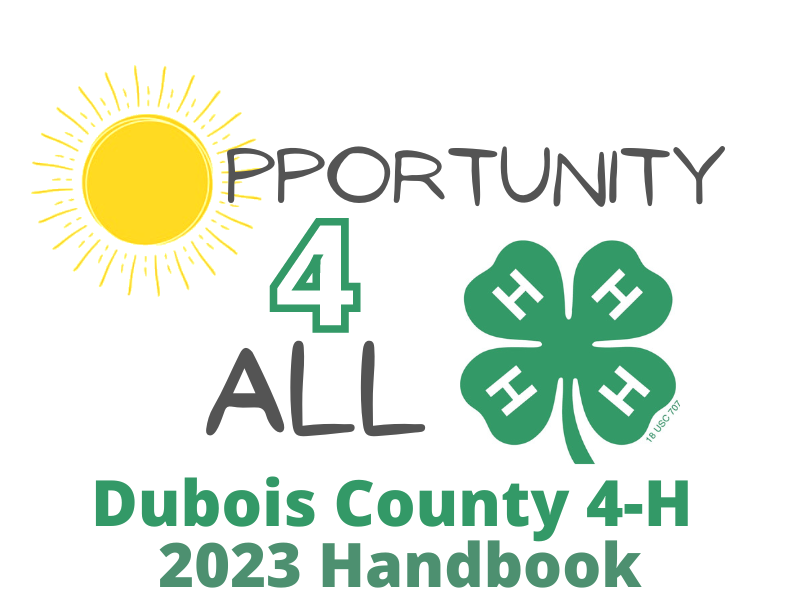 2023 Dubois County 4-H Handbook
In this handbook you will find information for Dubois county clubs, county specific project information, educator contacts, guidelines, and more. Please check the handbook for any 4-H related inquiries.
View Handbook
Juntos 4-H
Juntos 4‑H is a program that helps Latino youth (grades 8 – 12) and their families gain the knowledge and skills they need to bridge the gap between high school and higher education. 
LEARN MORE/ APRENDE MÁS