What is 4-H
Dubois County 4-H offers projects for children in grades 3-12 and supports Mini 4-H in children in grades K-2. 
4-H prepares young people to be leaders in their community and around the world through hands-on experiences alongside their peers and caring adults. Community clubs, afterschool programs, school enrichment, camps/workshops, and special interest programs are all ways youth across Indiana can be involved with the 4-H program.
Club membership is not required in order to participate in some 4-H programs offered throughout the year.
Lauren Fenneman
 Youth EducatorPurdue Extension Dubois County1482 Executive Blvd Jasper, In 47546812-482-1782
lhaase@purdue.edu

Upcoming Events and Important Dates
Stay up to date with the Dubois County 4-H Program
 Clover Pavilion, Dubois County 4-H Fairgrounds
4-H Youth in Grades 3-12 to showcase their talents and passion about specific topics this event.
Verbal Communications includes Public Speaking, Demonstrations, Informative 4-H Presentation, and Professional Persuasive Presentation. All verbal communication participants will be able to showcase at Dubois County 4-H Fair and winners will move on to present at the Indiana State Fair.
Performing Arts includes skits or sketches, vocal, instrumental, bands, dance gymnastics, puppetry, magic, and other entertainment appropriate for family audiences. Performing Arts Winners will move on to an area contest with the possibility to be selected to perform at State 4-H Trips and Indiana State Fair.
7-9 am, Sheep and Goat Barn
Topics: General questions about 4-H; also questions regarding Project Selection, Animal ID, 4-H Trips
 Adult Leader Food stand, Dubois County 4-H Fairgrounds
Topics: General questions about 4-H; also questions regarding 4-H Fair, FairEntry, Check In, Project Label Pickup Etc.
Juntos 4-H
Juntos 4‑H is a program that helps Latino youth (grades 8 – 12) and their families gain the knowledge and skills they need to bridge the gap between high school and higher education. 
LEARN MORE/ APRENDE MÁS
2023 4-H Handbook
2023 4-H Handbook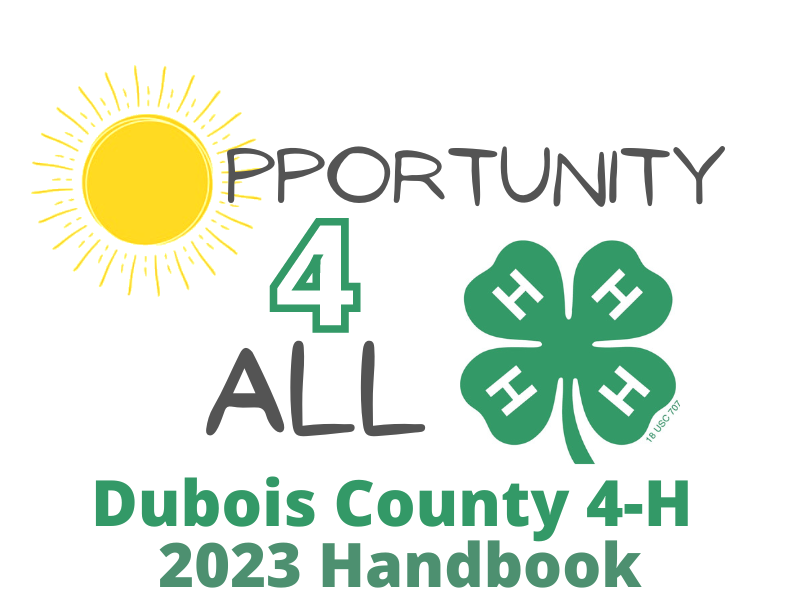 2023 Dubois County 4-H Handbook
In this handbook you will find information for Dubois county clubs, county specific project information, educator contacts, guidelines, and more. Please check the handbook for any 4-H related inquiries.
View Handbook
Resources
Having trouble finding your projects? Not sure what projects require? Learn more about 4-H Project guidelines, download manuals from state, navigate project categories. 
Can't find your project in 4-H Online?
Select your project area. Use this guide to help find your project area for each exhibit you bring to the fair.
Project Area GuidE
Mini 4-H is a program designed to encourage positive development of children, K-2nd grade. Our mission is to help young children explore friendships outside the family; explore how things work; practice muscle control; and learn to work together on projects.
4‑H COUNCIL MEMBERS
President:  Janelle Hasenour: 812-630-2430
Vice President:  Ed Boeglin: 812-631-1138
Secretary:  Jennifer Hasenour: 812-631-9589
Treasurer:  Madi Giesler 812-661-8503      
(The above officers serve as Executive Committee.)
Nettie Boeglin: 812-719-5515
Samantha Boeglin: 812-631-8140
Wyatt Goeppner: 812-631-5904
Chad Hunefeld: 812-489-0082
Blake Lindauer: 812-639-1297
Scott Schnell: 812-631-8111
Kaleb Stenftenagel: 812-639-9277
Rennie Wagner: 812-661-7107
Heather Weyer: 812-309-1580
4-H Council Junior Leader Advisory Committee
Lance Boeglin, Jalynn Egloff, Grace Kluemper, Claire Linette, Emily Recker
Upcoming Opportunities