Saturday, October 23, 2021
9:00 am -3:30 pm
Youth in grades 7-12, Adult 4-H Volunteers, and Extension Professionals are all invited to attend!
Breakout session topics will include: 
Opportunities beyond the county borders
Jr. Leaders: Learning, Growing, and Leading One Step at a Time
Inclusive 4-H
4-H Club Meeting Expo
Coaching a CDE Team
Exploring the Future of Indiana 4-H Together
Also included in the Summit is the 4-H Accomplishment Scholarship recognition luncheon and presentation of the Indiana 4-H Volunteer Awards of Excellence.
Registration is $50 per participant. Register via
4-H Online
before October 8
Thank you to our 2021 sponsors: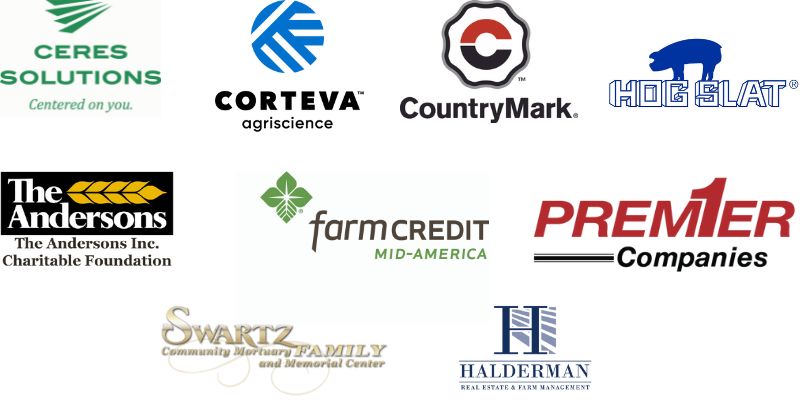 Resources
Thanks to all who joined us for the 2020 Indiana 4-H Leadership Summit - either in person or virtually! 
The 2020 Indiana 4-H Leadership Summit was a combination of a virtual and in-person experience. The Summit offered high quality educational sessions presented virtually via Zoom by experts from around the state. Youth and Adult 4-H Volunteers gathered in-person at host sites to participate in the hands-on activities.
Michelle Cummings was the Summit keynote and capnote speaker. Michelle is well known for her ability to actively engage an audience virtually or in-person. Michelle led us in several activities that you can use with your own 4-H groups!

Learn more
Also during the Summit, the accomplishments of some of our outstanding youth and adult 4-H Volunteers were recognized!
Thank you for taking time to write a thank you note to at least one of these sponsors for making the Indiana 4-H Leadership Summit possible!
Introduction
Indiana 4-H Volunteer Recognition Program
Keynote Address by Michelle Cummings 
Mental Health Wheel of Knowledge (Shannon Chipman and Angie Frost)
Brushing the Surface of Biosecurity (Courtney Stierwalt. Anna Williams, and Danielle Sands)
Working Together to Better Our Clubs, Community, Country, and World (Kelsey Guadarrama, Brian Howell, Lesley Lodmell, Pandora Woodward)
Engaging 4-H Youth Virtually: Lessons Learned (Kathleen Bohde, Kati Sweet, Katie Whiteford)
Capnote Address by Michelle Cummings
Closing Comments by Dr. Casey Mull
Mixers and Activities
2019 Resources
Schedule with Session Descriptions
Making Meetings Fun (Tony Carrell)
4-H Recordbook (Cara Harbison)
How to Plan a Week-long STEM Camp (Heather VonDielingen)
Out of County Experiences (Tony Carrell)
SPARKing an Impact in Indiana 4-H (Abby Morgan)
Supporting New 4-H Families (Katie Frew, Kathleen Bohde)
What is a CDE? (Tony Carrell, Courtney Stierwalt, Julie Loehr, Robert Kelly)
Social Media Tips and Tricks (Jenny Clark) 
2018 Resources
Schedule with Session Descriptions
Making Meetings Fun (Tony Carrell)
Positive Youth Development - Ages & Stages (Katie Frew & Liz Beiersdorfer)
Risk Management: Should I get up this morning or not? (Steve McKinley & Renee McKee)
Bringing Civic Engagement to Any 4-H Club (Lesley Lodmell & Angela Christopher)
Animal Science (Clark County Teen Teachers & Courtney Stierwalt)
Marketing Your 4-H Program (Jenny Clark)
Afterschool 4-H Programs Make a Difference!
Engineering and Technology Science in 4-H (Danielle Sands)
Plant and Environmental Science in 4-H (Alexus Maschinot)
Navigating Difficult Conversations
How Do I Know that My 4-H Club is Successful? (Arin Weidner & Brandon Rice) 
Youth Showcase
Out of County Experiences (Tony Carrell)
Positive Youth Development - Experiential Learning (Amanda Veenhuizen)
Workforce Preparation (Arin Weidner & Ron Thieme)
Healthy Living (Marion County Teen Teachers & Angie Frost)
4-H 4 Everyone Closing Session (Tony Carrell, Steve McKinley, and Angie Frost)