Indiana 4-H Ambassadors
The Indiana 4-H Ambassador program was created empower teen 4-H leaders with the knowledge, skills, and aspirations necessary to be effective advocates for Indiana 4-H Youth Development. 4-H Ambassadors' current leadership abilities will be strengthened and expanded so that they may serve as positive role models for younger youth; build meaningful partnerships with other 4-H teens, adults, and professionals, as well as community partners and sponsors; and promote the 4-H mission in Indiana.
The vision of the Indiana 4-H Ambassador program is that every Indiana teen 4-H member will have the personal initiative, program resources, and leadership opportunities to be a positive role model and a vocal advocate for the 4-H program in our state.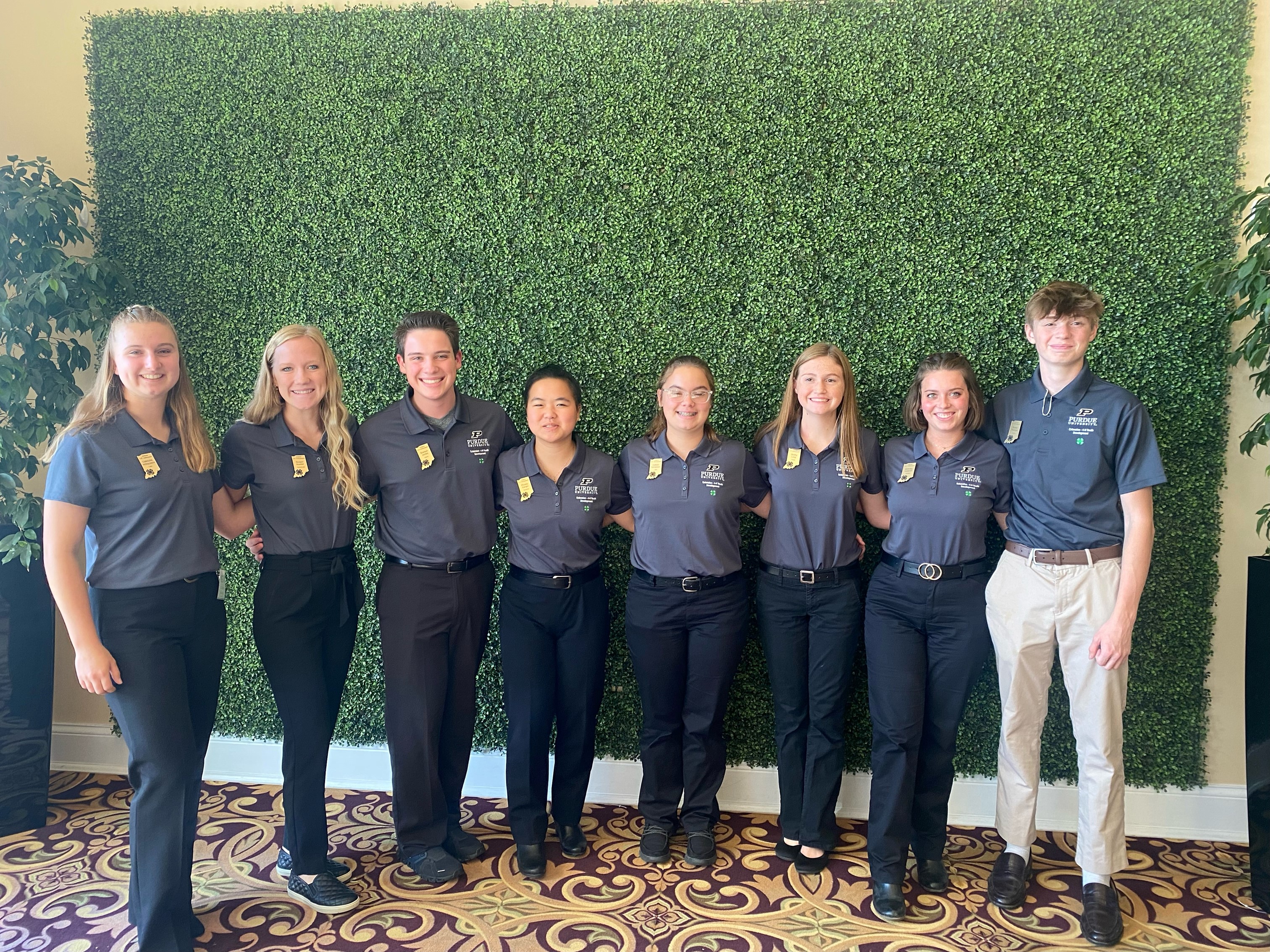 Who are the 2022-23 Indiana 4-H Ambassadors?
 Left to right: Caroline Donaldson, Reagan Koester, Branson Jordan, Phoebe Ranger, Colleen Donaldson, Shelby Lang, McKinley Underhill, Roman Peterson
Not pictured: Zeta Whitmer and Johnathan Durbin
Contact the 4-H Ambassadors
4-H Ambassadors are available to engage in local 4-H programming. Reach out now to connect with the team!
Make a request
Hear from our Indiana 4-H Ambassadors on the Clover call podcast
How are Indiana 4-H Ambassadors selected?
Indiana 4-H Ambassadors are 4-H members in grades 9-11 who have excelled in leadership and 4-H advocacy throughout their 4-H career.
Ambassadors must be members for at least 2 years before applying to the program. An application process includes a short questionnaire and video proposal. The selection committee will review all applications and invite a selection for the final interview process.
What is expected of Indiana 4-H Ambassadors?
Promote 4-H with potential members, parents, and the general public 
Help conduct 4-H events 
Organize 4-H promotional activities 
Represent 4-H in a public relations role with community partners and sponsors 
Develop personal leadership skills and self-confidence 
Develop and/or enhance skills related to leadership such as conflict resolution, facilitation, teamwork, decision-making, respect, and communication 
Accept and incorporate constructive criticism to enhance skills 
Explore and apply diverse concepts of civic engagement 
Teach others, facilitate discussions, and public speaking