Volunteers are critical to the success of the Indiana 4-H Youth Development Program. We are extremely thankful for the 12,000 adult volunteers and more than 5,000 youth volunteers and the contributions they provide. It is our privilege to provide recognition to the volunteers for the wonderful support they provide to the 4-H Youth!
Impacting the youth's experience and assisting them with preparation for the future. I genuinely enjoy just having the opportunity to meet these young individuals and get to know them while seeing their growth over time.

- Indiana 4-H Volunteer
Volunteer Recognition Opportunities and Resources
The Indiana 4‐H Volunteer Awards of Excellence recognize Youth and Adult 4‐H Volunteers who have demonstrated exemplary service to 4‐H within certain award categories. Any Youth or Adult 4‐H Volunteer who is currently active in the Indiana 4‐H Youth Development Program may be nominated for these awards.
Indiana 4‐H will recognize a Youth and an Adult 4‐H Volunteer in each of five award categories. These five categories include Excellence in 4‐H: (1) Club Programming; (2) Science Programming; (3) Healthy Living Programming; (4) Civic Engagement/Leadership Programming; and (5) Animal Science Programming. Additionally, a team award will be presented to a group of Youth and Adult  4‐H Volunteers who have demonstrated "Excellence in Youth and Adult Partnerships."
Nominations are due annually by August 15.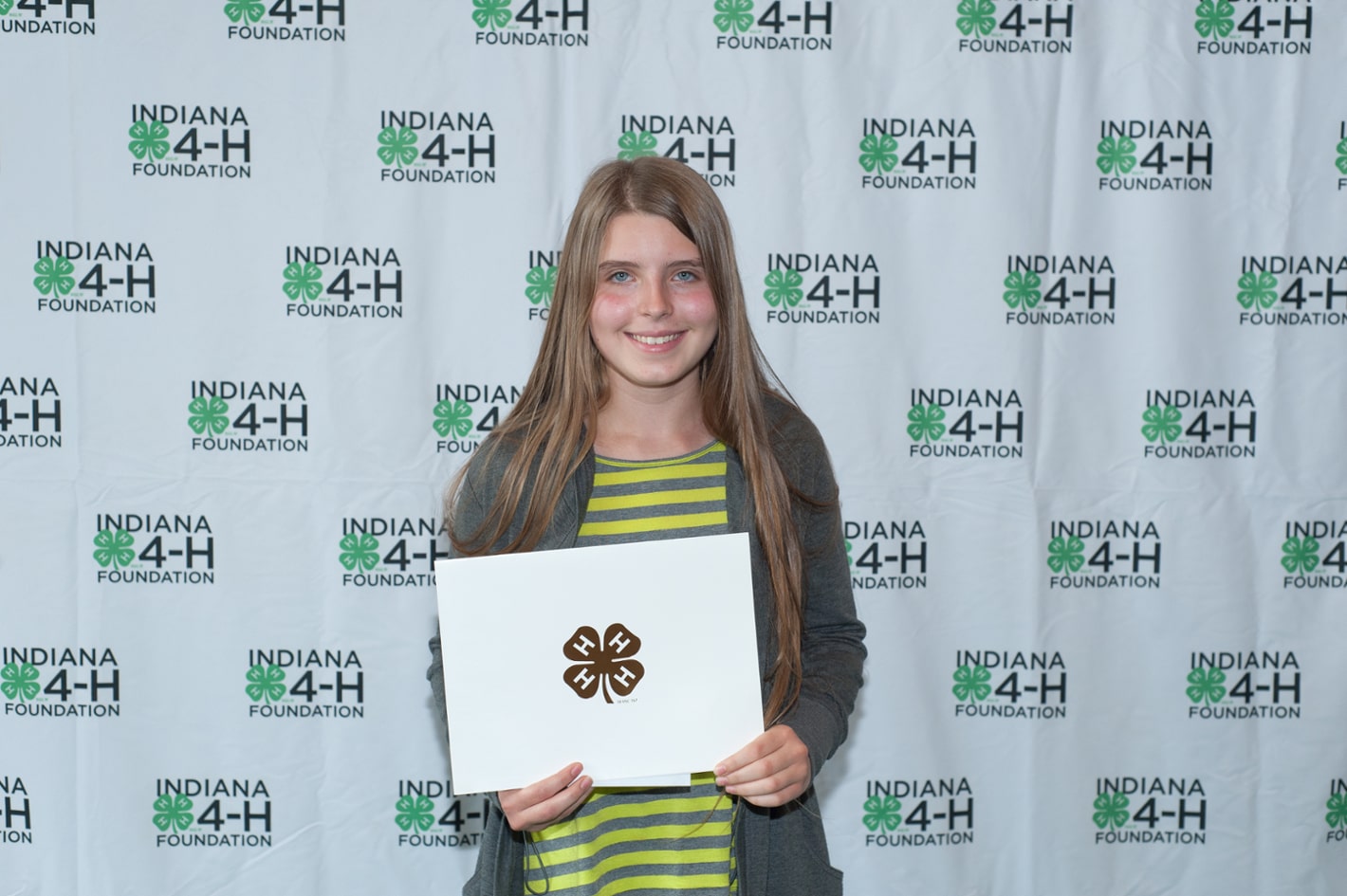 Amelia Timberlake, Crawford County, 2021 Excellence in 4-H Science Programming Award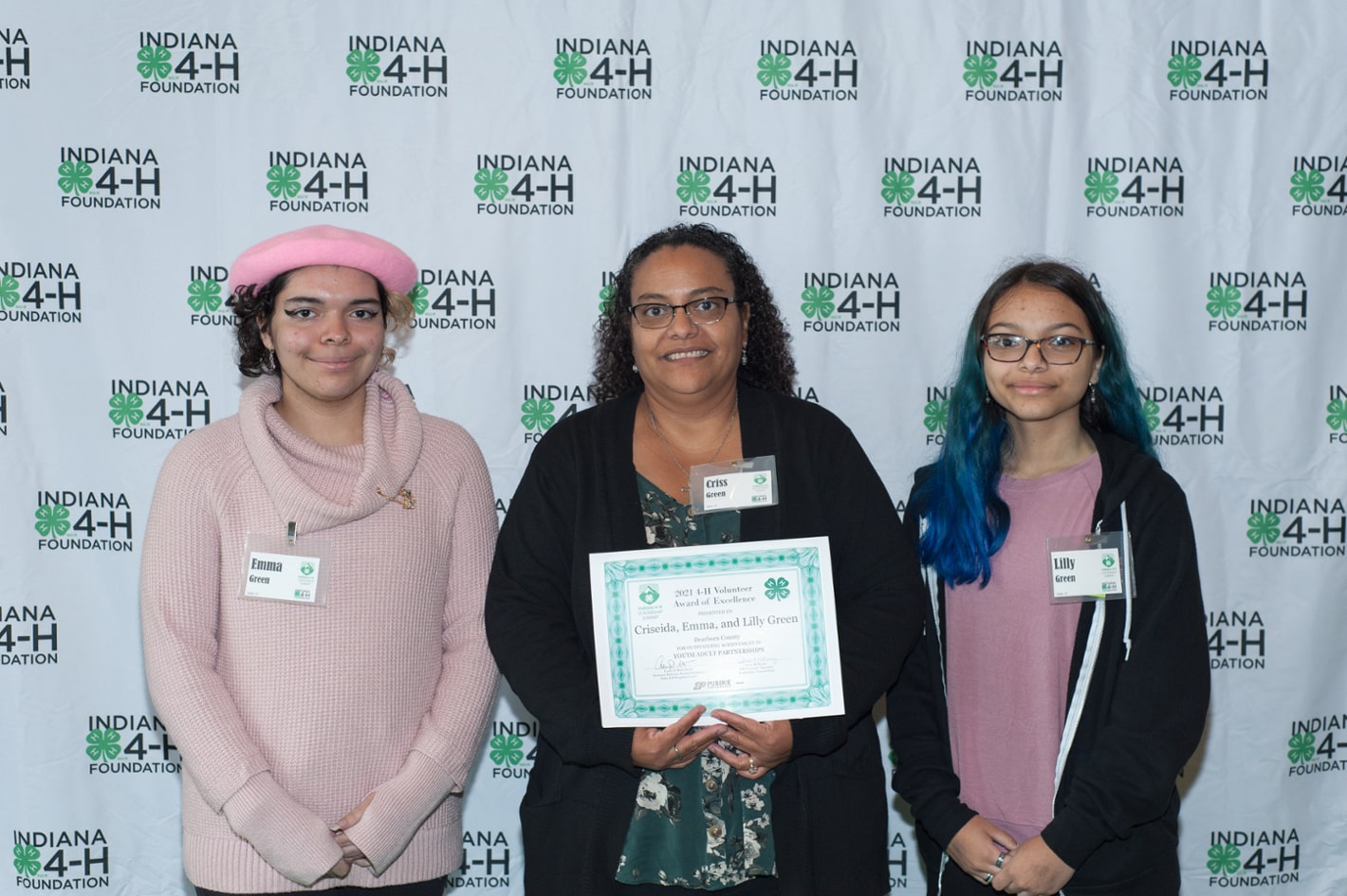 The Green Family (Dearborn County), 2021 Excellence in Youth and Adult Partnerships Award 
Each year we honor two Salute to Excellence Award recipients: (1) Outstanding Lifetime Volunteer and (1) Volunteer of the 
Year.
2020 SALUTE TO EXCELLENCE AWARD OUTSTANDING LIFETIME VOLUNTEER: Trina Copeland, Jefferson county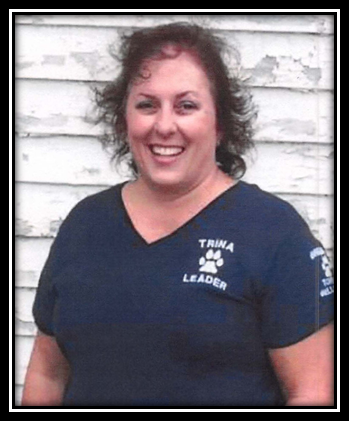 We sincerely appreciate the contributions made by the dedicated volunteers in the Indiana ​4-H Youth Development Program who have been serving for 20+ years!
In 2021 tenured 4-H Volunteers were recognized at the county level.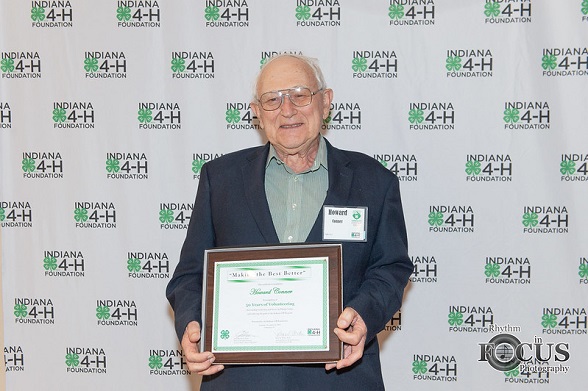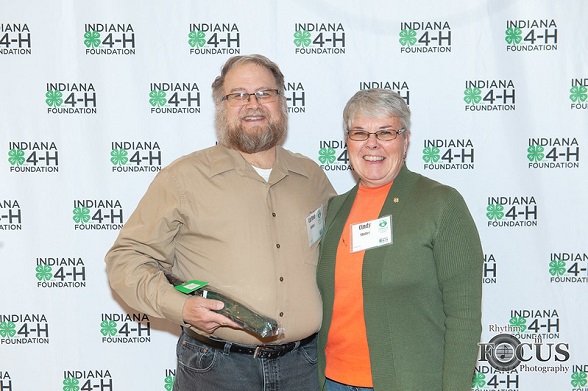 PAST EVENT PHOTOS
2016 STATE FAIR VOLUNTEER DAY​​​​​​​​
2015 STATE FAIR VOLUNTEER DAY​
National Volunteer Week typically takes place in April and is a week dedicated to fostering community engagement. Use that time as a recognition week for the volunteers that are actively involved in your community 4-H programs. 
The next National Volunteer Week is April 16-22, 2023.
2023 NATIONAL VOLUN​TEER WEEK PACKET
Don't know how to thank or recognize your volunteers? This publication from The Ohio State Cooperative Extension is sure to help.
Included below is a link for Energize, Inc. Volunteer Recognition. It provides articles about saying "Thank You" and showing appreciation to all the volunteers that make your organization's success possible.
VISIT ENERGIZE, INC.
Impact of Indiana 4-H Volunteers
​​​​​In the Fall of 2018 Indiana 4-H Volunteers were invited to participate in a study that allowed them to share the impact that volunteering has on them personally, on the 4-H program, and on their local communities. The summary of the responses for the Indiana 4-H Volunteers who responded is below. Also provided is the summary of the responses from the volunteers across the 12-state North Central Region.
Thank you 4-H Volunteers!
Sign up Today!
The Indiana 4-H Youth Development Program has a variety of volunteer opportunities available. We rely heavily on adults who care about the development of youth in order to deliver positive youth development experiences to our youth. All individuals must successfully complete a volunteer application and screening process and participate in training provided by your County 4-H Educator prior to becoming an Official 4-H Volunteer. Contact your county Purdue Extension Office
Contact Your County Extension Office