Suicide Prevention: What to know and how to help
Online Webinar
September 29, 2020; 9:00 a.m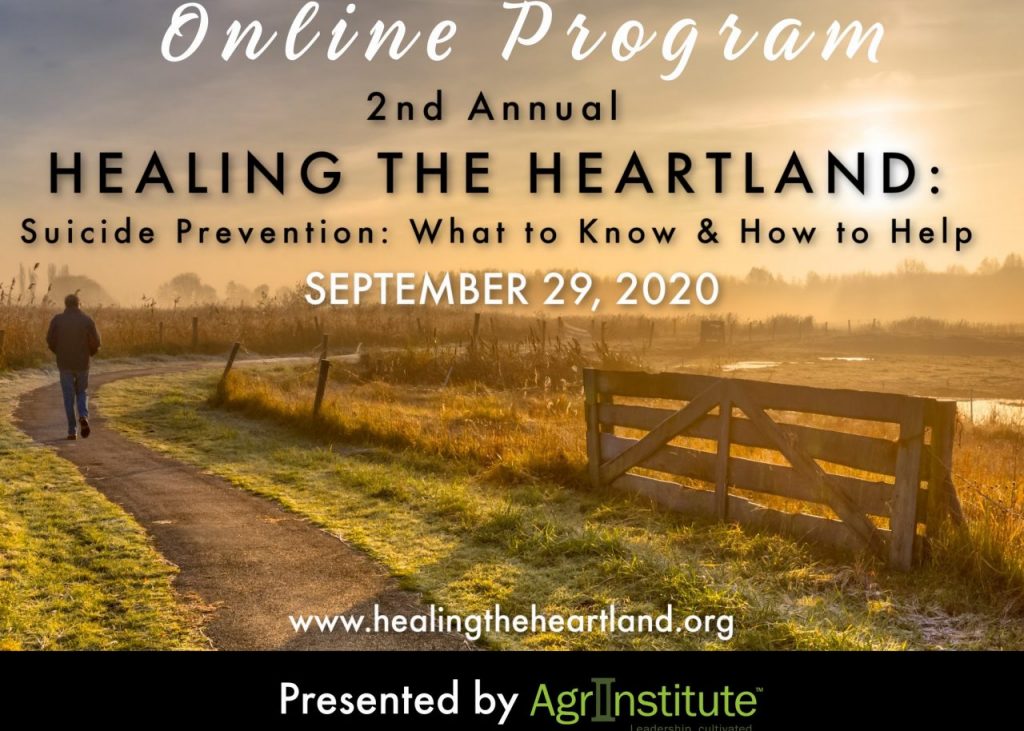 CLICK THE LOGO FOR REGISTRATION INFORMATION
Mental health issues are impacting our agricultural and rural communities each and every day. Increased understanding of the impact, resources and ways to overcome this impact is needed.   Together, we must seek to be better informed and discover solutions to support our farm families and rural communities. We can do more to engage and advocate to restore health and hope in the Heartland.
These challenges oftentimes take their toll on mental health.  We can all do better to help others and in some cases save a life.  The 2nd annual Healing the Heartland program, organized by AgrIInstitute, will feature an online "Suicide Prevention: What to Know and How to Help" program.  Dr. Jen Brandt, director of member wellbeing and inclusion initiatives with the American Veterinary Medical Association will lead the webinar focused on learning the common causes of suicidal behavior, warning signs of suicide and how to get help for someone in crisis.
Who should attend:  individuals, business professionals, representatives of service organization, anyone serving rural Indiana are encouraged to register for this life-saving training.
Content Warning:   We recognize that we are often faced with providing care and services in both the happiest and hardest of moments, that require us to bear a very real emotional burden.  We acknowledge many have been touched by suicide and that this subject is both emotional and complex.  Please know that this content is sensitive and may evoke strong reactions.  We care first and foremost about your well-being and the circumstances that you face.   It might be helpful for you to have a support person close by while participating in this training.
This symposium is being planned and coordinated by ALP Class 18 members:  Meggie Foster, CountryMark; Jackie Barber, Elanco; Somula Schwoeppe, Feeding America and Schwoeppe Dairy; Sarah Wagler, Nutrient Management Partners; Jeff Cummins, Indiana Farm Bureau and Kyle Shipman, Indiana Board of Animal Health in coordination with AgrIInstitute.
PROGRAM SCHEDULE
9 a.m.  Welcome: Bruce Kettler, Director,  Indiana State Department of Agriculture
9:15 a.m. Helpful Resources for Mental Wellness in Indiana:  Jennifer Sullivan, M.D., M.P.H., Secretary, Indiana Family and Social Services Administration
The Indiana Div. Mental Health and Addiction launched the Be Well Indiana program in 2020, a compilation of resources designed to help Hoosiers stay connected and maintain their well-being. Learn more about the resources available and their impact in rural Indiana.
9:30 a.m. Navigating Mental Health and Suicide Prevention: Help, Hope and Healing: Jennifer Brandt, LISW-S, Ph.D., Director of Member Wellbeing and Inclusion Initiatives American Veterinary Medical Association (AVMA)
Suicide is a major public health concern and among the leading causes of death in the United States. Suicide is complicated and tragic, but it is often preventable.
This seminar will address the scope of the problem, including the latest data on suicide in the United States; current research on what causes people to consider suicide, as well as what other factors put individuals at risk and protective factors that lower suicide risk. Additionally, this session will offer strategies for managing mental health and being proactive about self-care; as well as guidance on warning signs, behaviors to look for and how to get help for someone in a suicidal crisis.
11:30 a.m. Wrap-Up