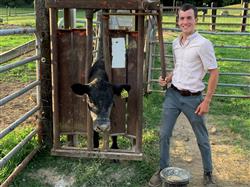 Liam Gogel displayed resiliency and responsibility as he met the challenges in 4-H this year. Success in 4-H means learning life skills and knowing that winning awards is not the purpose, and Liam understands this.
When Liam learned that his animal wasn't eligible to be exhibited in the virtual fair, he handled the situation with maturity and grace. He accepted responsibility for what happened and chose to complete his project with one of the non-judged options. When given the option to complete in a way that he could have earned a ribbon for his efforts, he responded, "... the ribbon isn't what I seek to gain from 4-H so it is of little real importance to me."
Liam's positive attitude, acceptance of responsibility, and understanding of the true value of 4-H makes him an outstanding role model and young man. Congratulations, Liam, you have achieved something far more valuable than any ribbon or trophy!