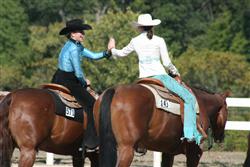 HORSE & PONY

Thursday, July 15, 2021 at 9:00 am
Friday, July 16, 2021 at 9:00 am

Leaders: Rachel Phillips (Chairwoman), Jenna Davis, Angie Gibson, and Danny Morrell.
County entries must be made in FairEntry.com by the designated deadline. Horses, trailers and campers may be brought to the fairgrounds on July 14, 2021. Horses will be released after exhibition.

RULES
1) Horse & Pony Show will run in compliance with the Horse & Pony State Handbook.
2) A Henry County Livestock Record Sheet MUST be completed and turned in at registration. A completed record sheet will allow the 4-H member to complete, however exhibition is a privilege.
3) To qualify for the awards presented prior to Grand Champion at the county fair you must attend at least three (3) Horse and Pony training meetings and sign your attendance card. The meetings must be training sessions at the 4-H grounds.
4) Member wishing to show a horse or pony must own or lease a horse by May 15. Lease agreement must be turned in to the Extension office at this time. There will be no substitutions made after this date. Records must be started at that time also.
5) A member may enroll up to 5 animals but the maximum is three animals per member to show. An animal cannot be shown by more than one member.
6) In case of sickness of a member, he may have his animal shown by another 4-H member with prior consent of the 4-H Horse & Pony leaders in halter class only!
7) All members who have met the above requirements will be supplied with an entry form for the 4-H exhibit. These must be completed and returned in accordance with the instructions by deadline set by Leaders.
8) Members may register for an unlimited number of classes as long as they qualify for the class.
9) Exhibitor is limited to one animal entry per class.
10) Exhibitor may show multiple horses/ponies in contesting classes only.
11) Champion points will be calculated based upon horse, not rider.
12) No stallion foaled before January 1, of this year will be eligible to show.
13) Any animal under 56" and under will be considered a pony. All ponies may be measured by the 4-H Leader committee.
14) Weanlings, Yearlings and two-year-old animals must be shown at height of dam, except if height exceeds dam. Animals may be measured by the show committee.
15) All 4-H members are required to wear a properly fitted ASTM or SEI standard F1163 (or above) certified helmet whenever mounted, or driving, at a 4-H horse and pony event, show, or activity. The 4-H member is responsible to see that this specified headgear is properly fitted with the approved harness fastened in place whenever mounted. Original tags must be present in all approved helmets. This policy applies to all county, area, and state 4-H horse and pony events, shows, and activities.
16) The Show Committee reserves the right to combine or cancel classes in the event there are insufficient entries.
17) If in the opinion of the judge or leaders, a member cannot handle his animal, it will not be shown.
18) Gaming horses may have numbers on the saddle pad, but they must be on the left back corner of the saddle pad.
19) There will be no riding allowed north of the big barn between it and the entry booth or around the concession stand. The first violation of this rule will bring a warning and after the second violation, the rider will be excused from the show for the rest of the day.
20) Heeled boots must be worn at all work sessions.
21) The Henry County 4-H Association and the Henry County 4-H Horse & Pony Club will enforce the rules and objectives of the 4-H Horse & Pony project.
22) Each 4-H member must be the owner or lessee of animal enrolled.
23) All 4-H animals must be in the 4-H member's personal possession and under their daily care by the enrollment deadline.
24) Failure to submit class in Fair Entry, by posted deadline, will limit the number of classes in which member can participate—1 halter & 1 performance class only. Only one horse can be signed up for each class.
25) Each member must turn in their green folder with a completed record sheet to registration office prior to receiving a show packet.
26) Versatility class will consist of 1 Halter Class, 1 English Class, 1 Western Class and 1 Contesting Class.
27) Any member leaving the show grounds with the intent of receiving medical treatment for an injury incurred on the 4-H grounds must inform a Horse & Pony Leader before their departure.

OBJECTIVES:
1) To experience the pride and responsibilities of owning a horse or pony.
2) To learn good horsemanship and an understanding of proper management for breeding, raising and training of horses and ponies.
3) To accept constructive criticism and learn new ways of training and caring for animals. 4-H member and horse may seek the assistance of a trainer to gain knowledge and guidance but the animal must not be under the daily care of the trainer.
4) 4-H members not complying with the rules pertaining to Horse & Pony will not be eligible to show at the county or state 4-H shows.

CLASSES— By entries. State Fair Entries will be in accordance with State Fair rules.

Henry County 4-H Horse & Pony -
Most Improved Beginner Member
Most Improved Intermediate Member
Most Improved Advanced Member
Sportsmanship - Beginner Member
Sportsmanship - Intermediate Member
Sportsmanship—Advanced Member
Top Hand Award
Henry County Saddle Club -
Outstanding Beginner Member
Outstanding Intermediate Member
Outstanding Advanced Member
Related Files