Purdue Extension Vermillion County
What We Do
Hello!  I am so glad you've found this page!  I am Lori Bouslog, the Health and Human Sciences Extension Educator for Purdue Extension Vermillion County.  I have been in this role since January 2018, and with Purdue Extension since December, 1985.  I work in the areas of food, family, money and health.  My teaching specialty is Financial Resource Management. 
Please take a few minutes to see what programs I offer in Vermillion County.  If you have any questions, or would like additional information, please call or send me an email.  I am interested in offering programming to meet the needs in Vermillion County. 
 To find information about statewide Health & Human Sciences Extension, please click here:  
Programs I Offer Include:
Where Does Your Money Go?
Captain Cash
Your Money, Your Goals
Money As You Grow Book Club
Strategies for Estate Planning
Dining With Diabetes
Be Heart Smart
Strengthening Families Program for Parents and Youth 10-14
A Matter of Balance
Smart Choice Health Insurance
*I am also a trained facilitator for Myers-Briggs Type Indicator and Real Colors, and would enjoy facilitating a workshop for your organization! 
Contact Us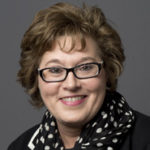 Lori Bouslog, Health and Human Sciences Extension Educator
lbouslog@purdue.edu
703 West Park Street, Suite #1
Cayuga , IN 47928
(765) 492-5336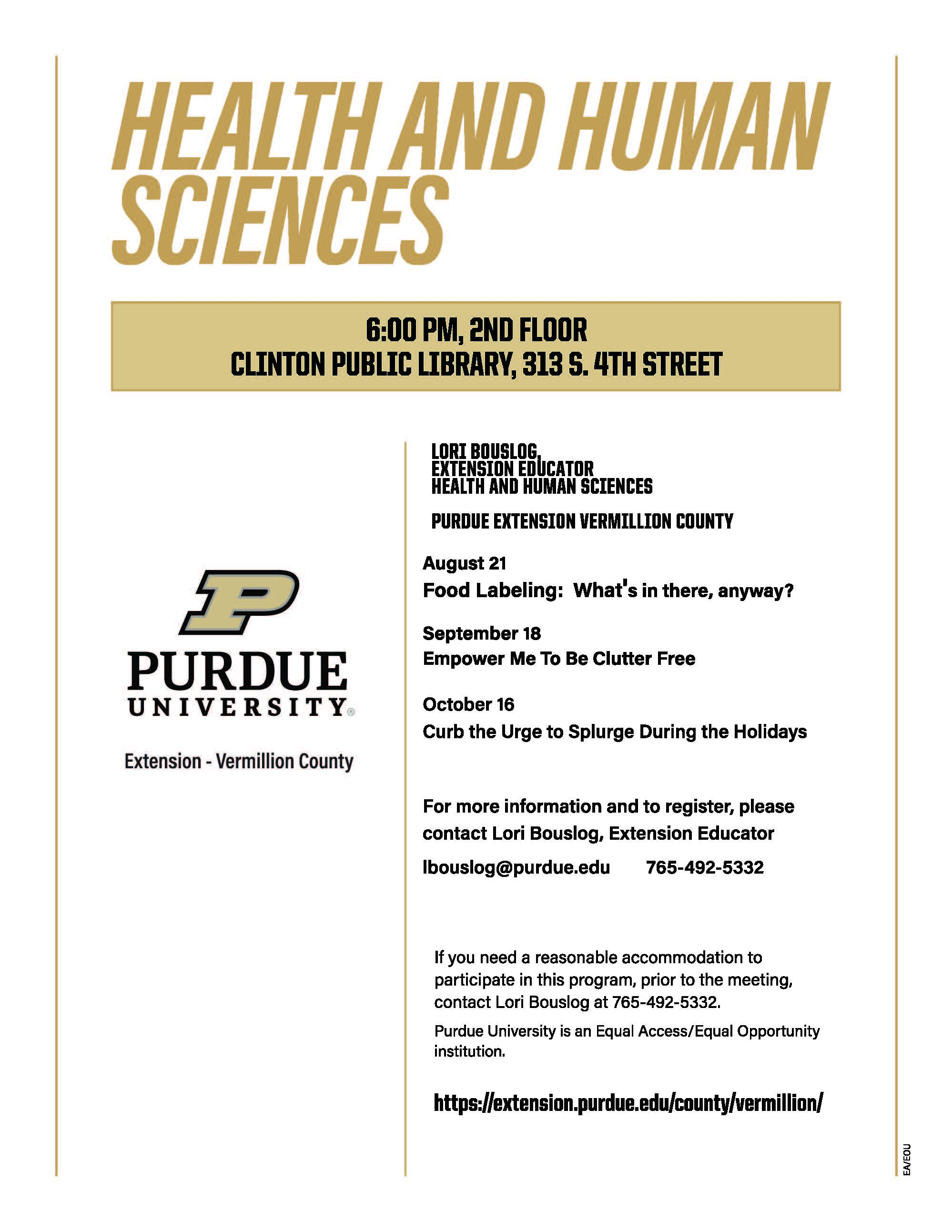 A Matter of Balance
A Matter of Balance Clinton Public Library Program Dates: Tuesdays and Fridays Oct 10, 13, 17, 20, 24, 27, 31 and Nov 3 Time: 10 am -12 pm ET Pre -Registration is Required by Oct 1, 2023 Register by email lbouslog@purdue.edu or phone at Purdue Ext. 765-492-5332
Matter of Balance Schedule
Dining with Diabetes is returning to Vermillion County in October.  The 4-session series will begin on Thursday, October 5 and continue on October 12, 19 and 26.  Presented by Purdue Extension Vermillion County, in partnership with the Vermillion County Health Department and City of Clinton, Dining With Diabetes will be from 5:00 to 7:00 P.M. each week at the Clinton Community Center, 301 South Main Street.  Dining with Diabetes also includes a three-month reunion session. Participants are encouraged to attend all class sessions.  The Dining with Diabetes program is open to those with diabetes, their family members and caretakers. The series of five sessions is free for those who are Vermillion County residents and have not previously attended Dining With Diabetes, thanks to a grant from the Cardiovascular and Diabetes Coalition of Indiana.  
The educational programs and cooking school will help adults with type 2 diabetes control their blood sugar to feel better and reduce risk of health complications. You will learn how to prepare meals that are healthy, easy to prepare and taste good. Recipes will be demonstrated, and participants will have the opportunity to taste each one. Participants will also learn up-to-date information on nutrition, meal planning, exercise and how to understand common diabetes-related medical tests. Recipes and handouts will be given to each participant.
Diabetes is a very serious and costly disease, but research has shown that those who learn to manage their blood glucose (sugar) levels, eat a healthy diet, and exercise regularly can lower their risks of complications and lead a healthier and more productive life.
If you have been diagnosed with type 2 diabetes, or know someone and are part of the support system for an individual and are interested in being a part of this program, please contact Lori Bouslog, Health and Human Sciences Extension Educator, at lbouslog@purdue.edu or 765-492-5332. Vermillion County residents are encouraged to request the discount code for the free registration by contacting Lori Bouslog before completing the online registration.  The registration link for the Dining with Diabetes series is https://cvent.me/YW4m1y.  Registration is limited for this program.  Pre-registration is required by September 28th.
The registration fee, for those living outside of Vermillion County or previous program participants, may be paid online or sent to:  Purdue Extension Vermillion County, 703 W Park Street, Suite # 1, Cayuga, IN  47928.  Checks should be made payable to the Purdue Extension Ed Fund.  The program fee includes educational classes, program materials and food sampling. Dining with Diabetes is offered statewide and is sponsored by Purdue Extension.
 Thanks!
 Lori
 Lori A Bouslog, Extension Educator
County Extension Director, Health and Human Sciences
 Purdue Extension - Vermillion County
703 West Park Street, Suite #1
Cayuga, IN  47928
Office – 765-492-5332
Cell – 217-251-8022
Email - lbouslog@purdue.edu