Noble County HHS
Abigail Creigh,Purdue Extension Home Health & Human Sciences Educator.
Abigail, our HHS Educator, is a licensed dietitian with the state of Indiana and a registered dietitian with the Academy of Nutrition and Dietetics. Abigail received her Bachelor's degree in Dietetics from Purdue University, and a Master's degree in Clinical Nutrition from Murray State University. Her 18 years of experience has been in a variety of areas within Food, Nutrition, and Wellness and during this time, she has worked in many settings including hospital inpatient & outpatient; PK-12th grade, college and university classes; sports facilities; health clinics; and employee work sites. With a significant passion for community nutrition and food safety, Abigail is excited to have the opportunity to share this passion through the work she does with Extension. Abigail has now been with Purdue Extension for over 5 years. She is a member of the Purdue Extension Food Safety Advisory Board, and holds a certification with the National Restaurant Association as an Instructor and Proctor for their food safety certification programs.
The Extension Homemakers have been busy again making a positive impact in Noble County!
The Extension Homemakers endeavor to educate, aid and assist families, farms and special interests groups in Noble County. They are a presence at various festivals, fairs and events in the area and raise money for scholarships and programs to empower families and homes.
Through donations and grants the First Book for Kids project focuses on literacy and putting books into the hands of preschool children in our area. Extension homemakers were able to deliver books to 4 locations in the county. In the past we were able to read to the children at these locations and are hopeful that we will be able to do that again when restrictions are lifted.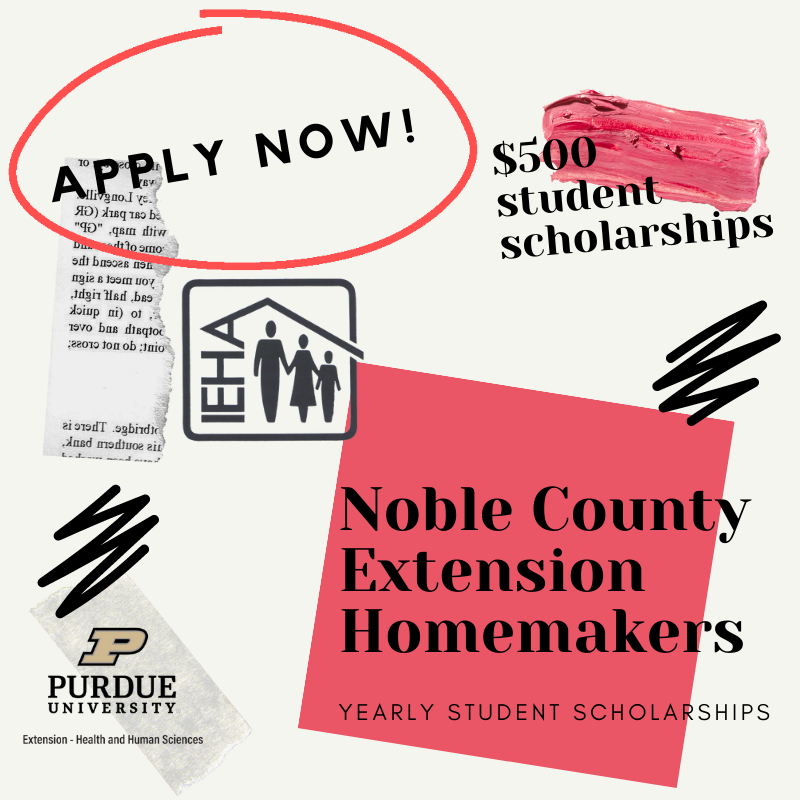 county/noble/hhs-noble-county/extension-homemakers-2023.docx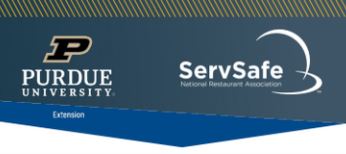 ServSafe Food Manager:
ServSafe educates food service workers about food safety. This nationally recognized program is offered in Noble county a few time a year and serves providers in various food industries.
ServSafe Food Protection Manager is their highest certification, and focuses on five aspects:
• Foodborne microorganisms & allergens
• Personal hygiene
• Purchasing, receiving, & storage
• Preparing, cooking, and serving
• Facilities, cleaning/sanitation, & managing pests
News Notes for Parents- A Purdue University Extension Newsletter for Parents of Preschoolers
News Notes for Parents- A Purdue University Extension Newsletter for Parents of Preschoolers
Local:
• Noble County Middle schoolers were engaged in a 3-day Food Challenge during 2020-21 program year. Students gained knowledge of proper handwashing, MyPlate, basic meal preparation, along with effective communication with teammates & judges. Impact included: before the challenge 54% knew all 5 food groups & 76% understood safe food handling skills; afterwards 75% of students reported knowing the 5 food groups & 82% knew safe food handling skills. Program is supported by the school's principle and FACS teacher and scheduled every year.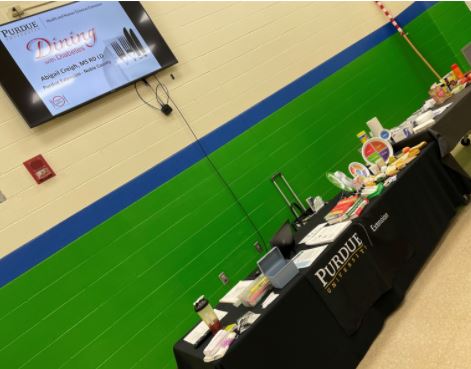 • 4-wk Dining With Diabetes, held in-person for the 1st time at Community Learning Center, the class was a success. DWD standard surveys completed. Participant shared, "Blood Sugars usually in the 200's has been averaging 140-180 since starting the program". Same individual recorded a testimony video after completing program, & shared at 3-month follow up visit that she lost 40lbs. & her A1C is down to 7.6 from a 9.7! We will continue to offer this program in Noble County and looking at partnering with local medical offices.
• Captain Ca$h was presented in-person to two 3rd grade classes. Students completed the IRB-approved surveys. Each student was provided a paperback copy of A Chair for my Mother, after the story was read in the classroom; books were purchased from county financial literacy funds.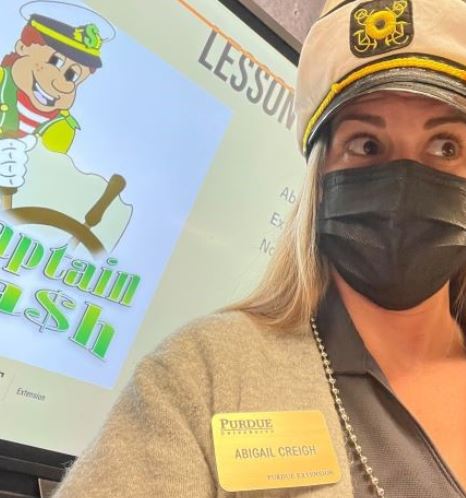 Area:
• Get WalkIN' 46 participants signed-up for e-mail program April – June. Educators shared program info as outlined by program leader. 3 month follow up survey sent for checking in on progress. We also worked with the Arc Noble County Foundations during program to assist staff in encouraging physical activity among residents who are still cautioned being in public spaces due to covid-19 & underlying health risks. In addition to program e-mails, educator scheduled 2 other events with group (via Zoom), Hydration for Health & a Walk Indoors workout session.