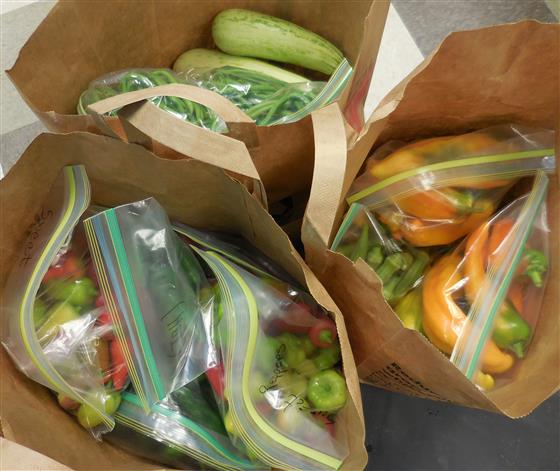 For specific questions on starting a community garden in the Indianapolis area, send an e-mail to: bmalford@purdue.edu.
 BENEFITS OF COMMUNITY GARDENING
The Many Benefits of Community Gardens
COMMUNITY GARDEN ESTABLISHMENT
Steps to Getting Started
10 Steps to Starting a Community Garden
Starting a Community Garden in Indianapolis: Steps and Local Resources to Help You Build and Grow Together (Purdue Extension-Marion County)
Starting a Community Garden (Purdue Extension - Elkhart County youtube video)
Soil Testing: pH & Nutrients
Collecting Soil Samples for Testing (Purdue publication HO-71)
Safety Information
Reusing Potentially Contaminated Landscapes: Growing Gardens in Urban Soils (EPA)
Food Safety for School and Community Gardens (NC Extension)
Soil Testing: Heavy Metals (Lead)
Anyone who has a garden in an urban environment should test the soil for lead. Lead can be toxic at high concentrations. Contamination can occur from lead-based paint that chipped off old buildings (prior to 1978) and lead from auto emissions along busy streets. Lead is not presently used in paint and gasoline to any degree, but once lead has been deposited, it does not move much through the soil and can persist for a long time. If you live within the I-465 Interstate loop, test your soil for lead.
Lead Testing in Marion County
Free soil testing for lead is available from Safe Urban Gardening Initiative, c/o Dr. Gabriel Filippelli, Department of Earth Sciences, IUPUI, 723 W. Michigan Street, Indianapolis, IN 46202.  Consult the Safe Urban Gardening Initiative: Lead Testing with Map and the Garden Safe Garden Well publication for information on collecting a sample.
Residents of Marion County can also obtain soil testing for lead by contacting the Marion County Health Department (317-221-2155) for a fee.
Lead Testing outside Marion County: Out-of-county residents should contact their own county health department. Consult local government information for a telephone number. If needed, your Purdue County Extension office can direct you to the proper contact information. Professional soil testing labs can also test your soil for lead.
Garden Safe Garden Well (Department of Earth Sciences, IUPUI) - see Related Files at the bottom of this page
Gardening on Lead-Contaminated Soils (Kansas State University)
Gardening in Urban Soil (Minnesota Department of Health)
Lead Information (ISDH)
Lead Information (EPA)
Underground Utility Lines
Locate underground utility lines before digging. Common Ground Alliance provides a free marking of the utilities. Call 811(http://www.call811.com/) before you dig or click before you dig at: http://www.811now.com/.
COMMUNITY GARDEN PLOTS 
Mayor's Garden Plots - 2400 Tibbs Ave - Tilling is provided by Indy Parks but gardeners must supply their own plants and water.  Users are not allowed to install any permanent structures or trellises. For more information, call 327-7418. Source: Indy Parks
If you know about other garden plots in the Indianapolis area that are available to the public, please contact the bmalford@purdue.edu
For available land through the City of Indianapolis Urban Gardening Program, contact the Office of Sustainability at: urbangardens@indy.gov.
Some mini-grants for start-up costs for new gardens established on city lots are available from the Marion County Master Gardener Association. After filling out the City's form, fill out their application form near the bottom of this page under Related Files.
GARDEN INFORMATION
Growing Vegetables
The 10 most popular vegetables to grow, according to the National Gardening Association, are (in order): tomatoes, cucumbers, sweet peppers, beans, carrots, summer squash, onions, hot peppers, lettuce, and peas.
For a list of vegetables adapted to growing in Indiana, click here.
Home Gardener's Guide (Purdue publication HO-32)
Indiana Vegetable Planting Calendar (Purdue publication HO-186)
Tomatoes (Purdue publication HO-26)
Additional Vegetable Publications (Purdue)
Purdue Master Gardener Vegetable Encyclopedia (Purdue) - 
Cold Temperature Tolerance of Flowers and Vegetables 
Growing Herbs (Purdue publication HO-28)
Managing Insects in the Home Vegetable Garden (Purdue publication E-21)
Common Diseases in the Home Garden (University of Missouri)
Watch Your Garden Grow: A Guide to Growing, Storing and Preparing Vegetables (University of Illinois)
RAISED BEDS
If you are just starting a community garden, it might be best not to construct permanent framed raised beds the first year. However, there are advantages to framed raised beds. If you do not have enough space in your garden plot, you can also consider growing vegetables in containers at home if you have a location with at least 6 hours of direct sunlight. The links below will provide more information on these topics.
Container and Raised Bed Gardening (Purdue publication HO-200)
Making a Raised Bed Garden (video) (National Gardening Association)
Growing Vegetables in Pots (Kansas State University)
Fertilizer Product Safety
Heavy Metals in Fertilizers (Minnesota Department of Heath)
Fertilizer Product Registration Database (OR Dept. of Agriculture)
Fertilizer Product Database (WA Department of Agriculture)
Heavy Metal in Fertilizers: Considerations for Setting Regulations in Oregon (OR Dept. of Ag)
GARDEN RESOURCES
Compost, Manure, and Mulch
Free compost to improve your soil is available through the City of Indianapolis Leaf Collection Program. You can pick up the compost at the Southside Landfill, 2577 S. Kentucky Avenue, Indianapolis, IN 46221. This self-service operation is available 24 hours a day from 7:00am on Monday through 7:00pm on Saturday (closed Sunday). Call (317) 247-6808 if more information is needed.
Begin to make your own compost to add to your garden each year. The links below provide more information on the subject.
Managing Yard Wastes: Clippings and Compost (Purdue publication ID-182)
Household Composting: Methods and Uses for Compost (Purdue publication HENV-103)
Household Composting with Worms (Purdue publication HENV-104)
Manure may be available from area horse stables for a small fee. To avoid the possible introduction of weed seed into the garden, select well-composted manure. To reduce health concerns, it is best if non-composted manure is not added to the food garden directly (compost thoroughly prior to any introduction). However, if applied to the garden, it should be worked into the soil in the fall for spring planting. This does not apply to commercially composted manures - they can be applied in the spring.
Wood chips are often available through utility companies. Quality is variable but the wood chips are usually suitable for pathways between plots. For current availability, call  AES at (317) 261-8128.
Plants
Do you know of any free plant exchanges?  Please let us know.
Rain Barrels
Rain Barrels (Marion County SWCD)
HELP FOR GARDEN QUESTIONS AND PROBLEMS
In the Indianapolis area, contact the Master Gardener AnswerLine. Call (317) 275-9292 or e-mail: marioncountymg@gmail.com.
If the problem cannot be solved via phone or e-mail, send a sample of the plant or pest problem to the Purdue Plant and Pest Diagnostic Lab office.
For other counties in Indiana, contact your local Purdue County Extension office.
IMPACT OF GARDENING
The Impact of Home and Community Gardening in America (National Gardening Association, 2009) 
What are the physical and mental benefits of gardening? (Michigan State University)
WEBSITE LINKS FOR COMMUNITY GARDENERS
Purdue Extension-Marion County Demonstration Garden: Gardeners can see award-winning All-America Selections (AAS) flowers & vegetables and vegetable gardening techniques like raised beds. It's a place for gardeners to get ideas. Gardeners can see and learn about plants adapted to Indiana and how to care for them.
Plant a Row for the Hungry: PAR is a public service program of GardenComm, formerly the Garden Writers Association (GWA).
Note: Not all of the information in the below links at the following websites is necessarily recommended by Purdue Extension.
American Community Gardening Association
National Gardening Association
Some of the pest control recommendations given on this website are NOT recommended for Indiana and/or are illegal in the state of Indiana.