Scott County ANR Information
Scott County ANR Information
Your hub for Scott County ANR resources!
Scott County ANR Information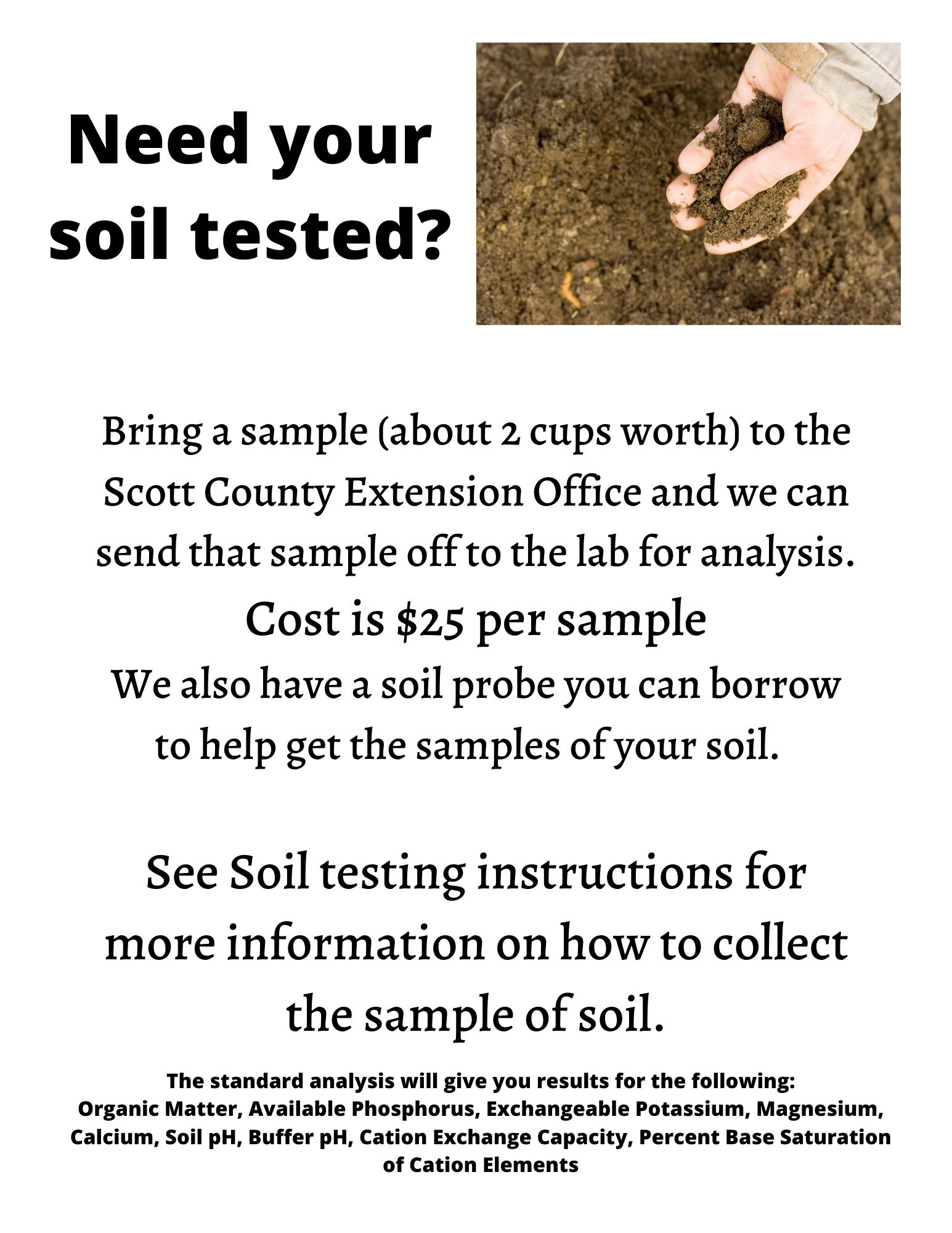 OR
Contact our Scott County Soil Squad and request a soil squad team to complete a complimentary soild test and evaluation of your small farm or vegetable garden.
Click here for more information.
Scott County Soil Squad
 If you own a small farm or garden, please utilize our new program!
This program is free to Scott County residents.  We are partnering with the Indiana Association of Soil & Water Conservation District (IASWCD) and will provide resources, technical assistance and education to small scale farms and gardeners. The core of this program is centered around promoting the 4 principals of soil health:
Minimize disturbance
Maximize soil cover
Maximize biodiversity
Maximize continuous living roots
Site Visit:
This is the initial visit with the landowner to assess their resources and discuss concerns they have about their small farm or garden.
Free Soil Sample:
A soil sample will be taken at the site visit and sent to A & L Great Lakes Laboratories for testing.  Turn around time is usually a week.
The test will determine; Organic Matter, available Phosphorus, exchangeable Potassium, magnesium, Calcium, soil pH, buffer pH (if needed), and cation exchange capacity with graphic display of results and suggested fertilizer materials.
Technical assistance:
Once your soil test is complete, we follow up with landowners to interpret soil sample test results, nutrient recommendations, best fit fertilizer, rate of determined fertilizer, &/or application times.  We will also help review options for planning and implementation of soil health practices, if needed.
Contact us:
Purdue Extension Scott County 812-752-8450
Email: tsprings@purdue.edu
https://bit.ly/ScottCountySoilSquad
If you need a plant, weed or bug identified, bring it to our office and Tom Springstun, our ANR Educator, should be able to assist you with that. 
Please call 812-752-8450 to make sure Tom is in the office and available to help you. 
You can always take some photos of the specimen and email those to Tom for ID as well at tsprings@purdue.edu
If you need to take a sample of your soil or hay to send off for analysis, we have the equipment in the Extension office that you can borrow to take those samples.  Stop by our office Monday- Friday, 8:30 -4:30 and we can loan them out to you.  (please call before you come to make sure someone else is not borrowing the equipment at that time)
The Purdue Extension Master Gardener Program trains gardening enthusiasts as volunteers to assist Purdue Extension with home horticulture education in Indiana communities. Purdue Extension Master Gardeners are "Helping Others Grow!" 
When will the next Scott/Washington County Master Gardener class be?  The usual schedule has been "train one year, skip the next year to get those MG Interns certified as Active MG's, then train again the following year".  So, since we trained in the fall of 2022, our next class will start August  of 2024 if we have enough enrollees.
Let the Extension Office know by August if you are interested in this training by calling 812-752-8450 or email Tom Springstun at tsprings@purdue.edu 
For more information about the Master Gardeners program, check out the  Purdue Master Gardeners website.