Miami County Health and Human Sciences
In HHS, the Miami County community is our classroom – where we bring university information to the local level.
Through our programs, we help people strengthen families, spend smart,  eat right, and live well.  See the list of available programs we can bring to you or your organization.  Please contact us if you are interested!
Contact Us
Purdue Extension of Miami County
1029 W 200 N
Peru, IN 46970-7526
(765) 472-1921
Cooking Matters for Child Care Providers
Cooking Matters for Child Care Providers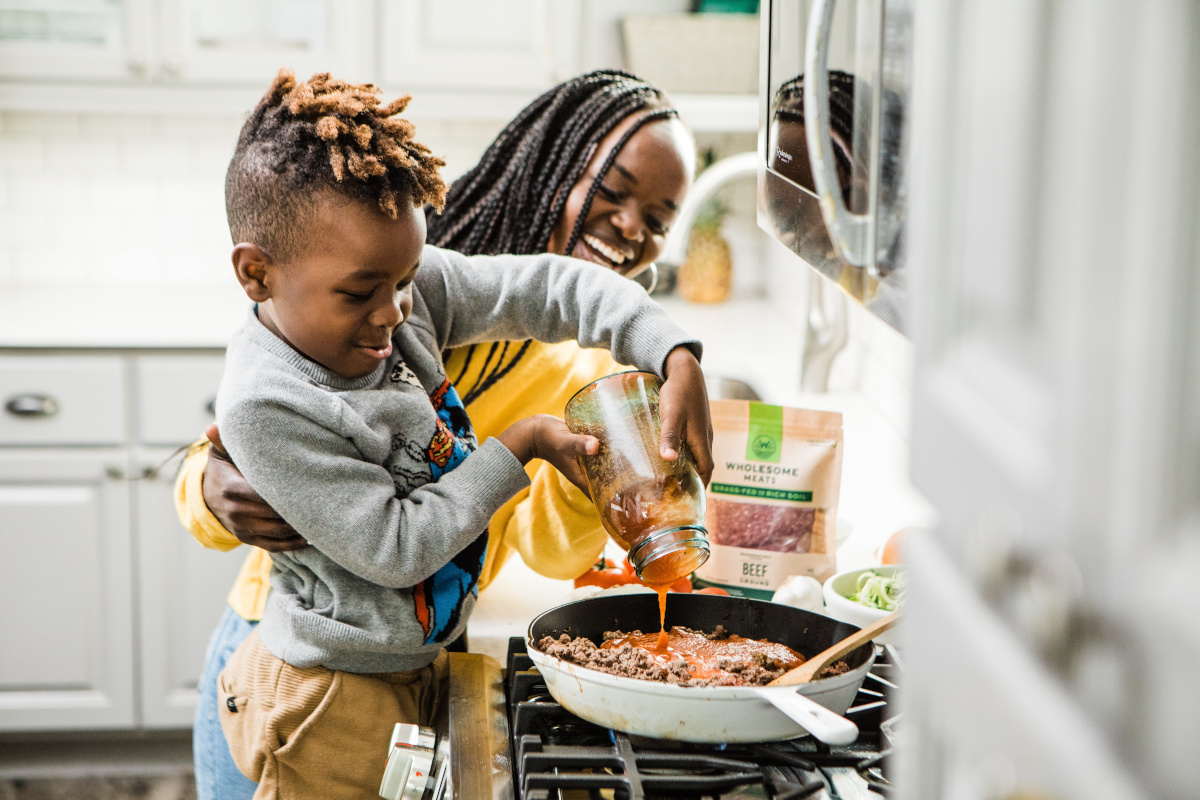 Cooking Matters for Child Care Providers
Purdue Extension is pleased to announce a new program for early childhood providers, specifically those who cook for the children. Cooking Matters will provide 7 hours of professional development on the topics of creating positive mealtime...
Learn More
Freezer Pleaser Meals Webinar
Freezer Pleaser Meals Webinar
Freezer Pleaser Meals Webinar
Join Purdue Extension Health and Human Sciences Educators Jane Horner and Mindy Mayes as they discuss freezer pleaser meals. During this webinar you will learn about resources available to help you plan ahead by creating some freezer friendly...
Learn More
Fall Consumer Education Day
Fall Consumer Education Day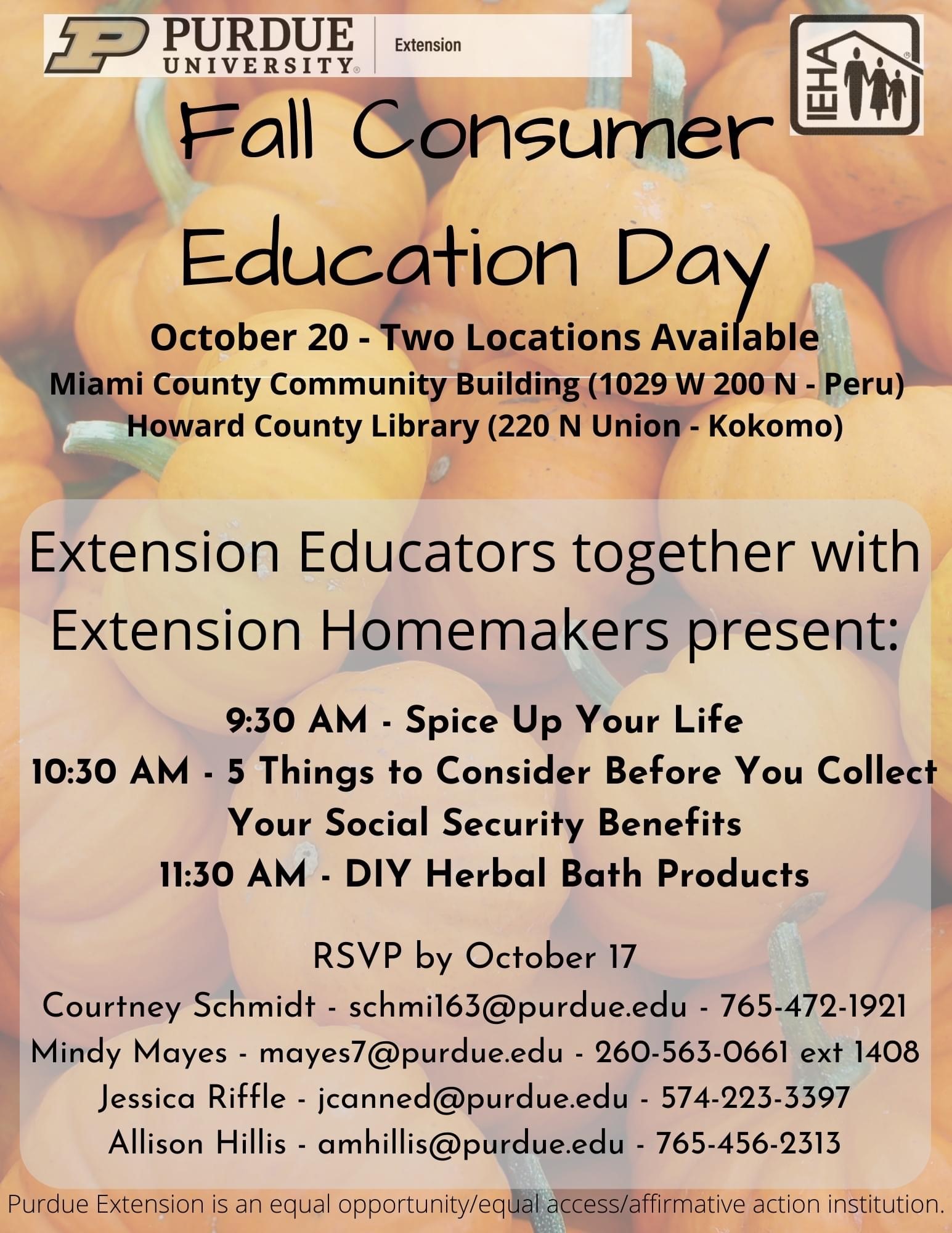 Fall Consumer Education Day
Miami, Wabash, Fulton, Howard, and Grant County Fall Consumer Education Day will be held on October 20th at the Miami County 4-H Fairgrounds. Starting at 9:30 am will be a session on making your own spice blends, 10:30 am will be all about what...
MORE INFO
Consumer Education Day
Consumer Education Day
Consumer Education Day
Purdue Extension in Miami County, in cooperation with the Howard, Grant, Miami and Wabash County Extension Homemakers, will offer three educational sessions during a "Consumer Education Day." We will offer the same sessions at the same...
MORE INFO
Get Walk IN
Get Walk IN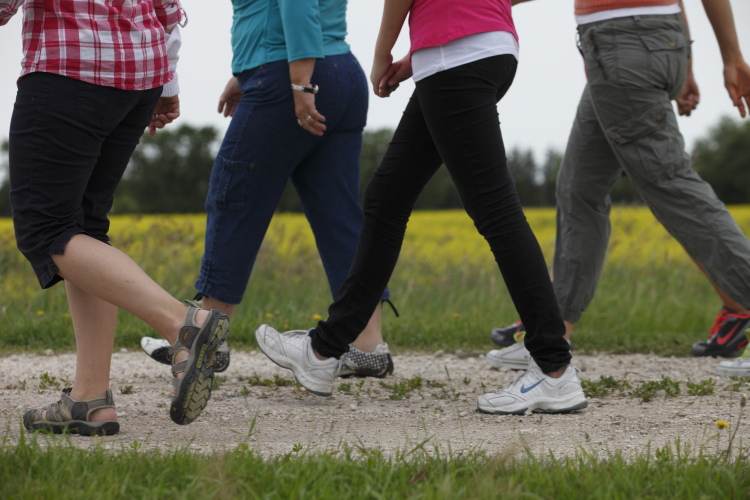 Get Walk IN Program
Need some motivation to get started but don't have time to attend a class? Get WalkIN' is an e-mail based walking program being offered through Purdue Extension in Miami County in partnership with United Way. Participants can sign-up,...
Get WalkIN'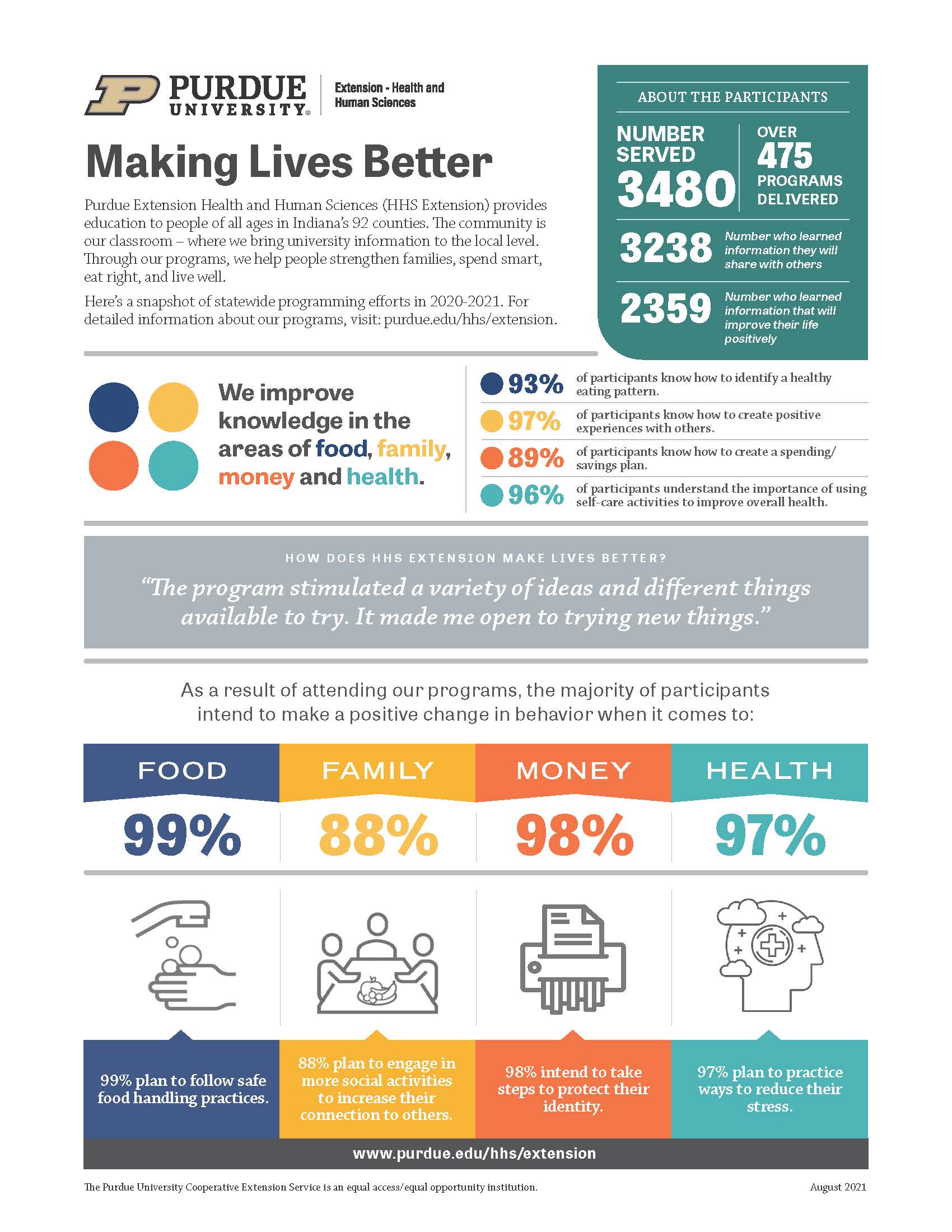 Available HHS Programming 2020 - 2021
Learn about this portable appliance- how it works, how to select, benefits, food safety, cooking tips.  Plus, we will share recipes.
Whether you are undergoing treatment, are a survivor or have a loved one that has been diagnose with cancer, it is a disease that impacts all. Fortunately, there are ways to reduce the risk, when and what cancer screening are appropriate and how to lead a healthy life as a survivor.
Learn about ways to take care of yourself or encourage others who are caretakers of others.
Using the Kelly Followership Model, learn about the different types of followers and their qualities. The lesson will then view 2 separate coaching styles.
Change the taste and appearance of your foods from "ordinary" to "extraordinary" by adding fresh herbs.
Learn about some alternative gift ideas that you can't buy at the store. You will be encouraged to think outside the box and personalize your gifts and save money as well.
Learn how to get the most nutritious food for your dollar.
A fun and interactive presentation that teaches consumers how to protect themselves from financial fraud by playing a familiar game: Bingo!
Homemade freezer meals can be just as convenient as pre-packed ones – plus healthier, tastier and cheaper. Preparing your own freezer pleasers means you can control sugar, salt, sodium intake and watch calories.  You will receive tips and recipe ideas.
The variety of foods in grocery stores increases each year. Knowing how to prepare these foods and including them in a meal plan can be a challenge. The goal of this lesson is to familiarize participants with fruits, vegetables, and whole grains that might be newly available even in rural grocery stores.
Conflict is a universal human problem. Learn three keys to better relationships in this lesson.
Learn 15 ways to enjoy this holidays while keeping spending in check.
Learn about the benefits of eating a wide variety of protein foods, including fish. Plus, you will receive healthy preparation tips, food safety tips, and tasty recipes.
Discussion techniques for heart-healthy cooking including reducing fat and sodium, while increasing fiber and potassium.
Highlight some of the holidays celebrated around the world.
When memory difficulties occur consider lifestyle as a possible factor. What can you do to enhance memory abilities?
Explores why it's important to have good friendships as we age.
Lesson includes
Benefits of Cooking Under Pressure
Best Foods to Cook
How Does a Pressure Cooker Work
Buying Considerations
How to Use
Family Mealtime Benefits
Recipes
Program will promote understanding across generations and cultures, as well as discuss ways to make connections across generations and cultures.
Program views sleep as non-negotiable by viewing the importance of sleep for our physical and mental well-being, quality of life, and safety.
Program will share ideas to modify recipes to lower fat and calories when cooking and baking.  Plus, learn how to optimize time spent in the kitchen.
Learn about the benefits of living a clutter free life. You will learn how to better manage time, resources, and rid your life of extra stress and "clutter".
Covers the basics of arthritis and tips for managing it, explore physical activity, learn about gadgets for the home that may make life a bit easier, and talk about food recommendations for those with arthritis.
It's the new craze. Coloring isn't just for children anymore, adult coloring has become very popular. Learn the benefits of coloring; like reducing stress and increasing creativity.
All of us experience stress of one kind or another. It seems to be an inevitable part of life. Some stresses may be large and some may be small, but we all have stresses in our lives. Even happy events can be challenging. The lesson teaches you ways to turn your stresses into growth, your challenges into blessings.
Do you enjoy cooking, but usually only need to cook for 1 to 2 people or have a very busy lifestyle? Learn about meals in a mug, which is the perfect solution if you are in one of these situations. They are quick and easy options for busy people and are also budget-friendly.
Explore ways to be more conscious of your surroundings and habits for a greater sense of wonder and quiet contentment.
Gift giving can be easy and economical if you make a mix in a jar for someone.
This lesson looks at my plate and its requirements for older adults.
Created by the Indiana Poison Control Center, information specifically for families on poisons and how to protect their children from them.
Created by the Indiana Poison Control Center, information specifically for seniors on household poisons, how to stay safe, and how to properly discard of old medication.
This lesson looks at the definition of poverty as well as the current poverty and health statics of Miami County.
Traveling domestic and abroad, by car, plane, etc., here are a few tips to consider.
Learn how to safely use technology to reduce the risk of being a scam victim, and how to identify and prevent common scams.
Similar to Mixes in a Jar, but looking specifically at how to create salads in a jar.
A fun and competitive approach to planning, shopping and preparing meals. Guest will compete to play a "Jeopardy" type game format. Game boards will be provided to counties who elect this lesson.
In this lesson, we will explore and identify our symptoms and triggers of stress. And then we will learn how to increase our stress soldiers so that we can develop effective coping strategies.
This can be done as a lesson, or just a display table setup. It helps participants learn to calculate sugar in their beverages, as well as the best drink choice(s). Best when paired with What's on Your Plate, but can be an individual lesson.
Need something cool, refreshing, quick and an energy booster? Smoothies and shakes, available at almost any restaurant, café, or drive through today are great for a healthy snack, light meal, or split one for a dessert! While they are not super expensive, they can cost up to $3 or $4 for something you can make yourself for under $1. This lesson will look at both the health benefits of drinking shakes and smoothies as well as cost saving tips in making them.
Learn about various types of tea, how to brew tea, tea traditions, and recipes.
Appliances today all come technology. Learn about the newest technology for your home.
Learn about dementia and tips to prevent it, as well as how to keep your home safe if there is someone with dementia.
Learn the rules of etiquette to make you feel more comfortable.
Learn more about Farmers' Markets in the United States and how to get the most from your local Farmers' Market by focusing on nutrition and food safety.  This lesion will cover the variety of nutrients that can be found in fresh fruits and vegetables as well as how to safely store and prepare them.
This lesson provides an overview to the Opioid Crisis in the United States and Indiana. This 1-hour presentation reviews terms and concepts related to opioid misuse, stigma, and recovery, as well as outlines actionable steps individuals can take to respond to the crisis in their communities.
Every "body" needs exercise, but what is keeping you from starting a program?  Muscle strength, range of motion and flexibility are things you are losing little by little by exercising and getting movement daily.
Learn about different kinds of light bulbs and what to look for when purchasing.
This can be done as a lesson, or just a display table setup. It helps participants learn about MyPlate and how to create a meal that is a "healthy plate." This lesson also reviews proper portion sizes. Best when paired with Sugar Sweetened Beverages, but can be an individual lesson.
This provides information about what to do immediately after someone dies, within a few days, and following the funeral/celebration of life. It also shares what you can do in preparation of someone's death and planning your own funeral.
Explore some of the lesser known whole grains
If the short, gray winter days set the stage for you or your loved ones to feel down, drained of energy or extra grouchy during the winter months, you may suffer from SAD, or seasonal affective disorder.
Publication HHS-789-W, Do you have a will? If not, do you know what would happen to your belongings if you die without one? This publication and workshop provides a brief explanation of how property is distributed when someone dies without a will. It also includes resources for preparing a will.
Learn 5 principles for building a happier and more meaningful life.
Where Does Your Money Go is a program designed to help consumers better understand how they spend their money.
Be Heart Smart (BHS) is a program for individuals who want to learn more about preventing heart disease by making heart-healthy lifestyle changes. This program will teach participants how to monitor risk factors for heart disease and how to make simple changes to your daily routine that can improve their heart health.
Captain Cash in an interactive education program designed to teach basic financial management skills to your students. Captain Cash includes four classroom enrichment sessions of approximately 45 minutes each that focus on earning, saving, spending, and borrowing money. Each session introduces vocabulary words and one or more basic economic concepts. Each session also includes a game or activity and a take-home handout. All lessons meet Indiana Academic Standards for math and social studies.
Empower Me to Be Clutter Free is an educational program that can be offered in one, two, or three sessions either in-person or online.
Session 1 provides de-cluttering strategies and discussies the emotional barriers that often prevents us from letting go of our things.
Session 2 addresses paper clutter.
Session 3 discusses how to store your things so that you can maintain the order you've created in your home or office. All sessions last approximately one hour.
This course module website helps consumers begin planning for retirement. Each module provides information that can be valuable in answering questions they need to consider as they begin making post-labor-market plans. The modules include specific goals for each topic, activities to complete, and resources for more information.
Planning for a Secure Retirement (purdue.edu)
This program is also available online, although face-to-face format is recommended.
Free email based walking program that spans 12 weeks, with e-mail messages being sent to participants twice weekly for the first four weeks and then weekly for the next eight weeks. These messages target principles of self-efficacy, social support, and goal setting, with the intention of increased walking among adults. Get WalkIN' aims to promote increased physical activity through walking in communities.