Fluid Power Action Challenge
Hosted by Indiana 4-H, The National Fluid Power Association (NFPA), and Purdue Polytechnic Institute.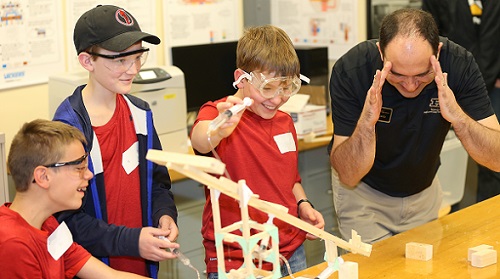 The 4-H NFPA Fluid Power Action Challenge is a team learning event that challenges youth in grades 6-8 to solve an engineering problem using fluid power. Each team will learn about design and build a hydraulic mechanism! 
Workshop Date: February 6, 2021
Challenge Date: March 13, 2021
Location: Virtual 
Challenge materials and how-to videos will be provided in a virtual format with a live virtual check-in half-way through
Registration Fee: $6/youth
Registration Deadline: January 29, 2021
Device building materials will be sent to registered teams by Feb 6.
A workshop kit, challenge kit, tool kit, and challenge layout board will be provided upon registration. Arrangements will be made with the coach to deliver the supplies. A max of 10 teams may register for this year's event. 
Beginning Feb 6, registered teams will receive a link to a cloud folder that will contain an orientation video, challenge details, building instructions for the lifter and rotator, and other useful information that will help them throughout the challenge. Approximately mid-way through, teams will meet for a virtual check-in with the 4-H Science Specialist and faculty from Purdue Polytechnic. The challenge will end on March 13, when teams will submit a video of their machine performing the challenge and a copy of their portfolio, all to be judged by local industry professionals. Awards will be announced after that date. 
Coaches will need to make proper arrangements, including safety plans, for youth to meet to complete the expectations of the challenge. 
Please contact your local Purdue Extension 4-H educator to form a team of 2-4 youth and one adult mentor. 4-H Educators and 4-H volunteers may register teams through 4HOnline. 
Make sure you are enrolled as a 4-H volunteer for the current program year

Log in and navigate to your "Family" page

Scroll to the bottom of the page. You'll find a box that will allow you to enroll in an event

Choose your name from the "Register a Member" drop down box

Choose "Fluid Power Challenge" from the "Event" drop down box

Click "Register," then add the members of your team on the page that follows