Fluid Power Action Challenge
Hosted by Indiana 4-H, The National Fluid Power Association (NFPA), and Purdue Polytechnic Institute.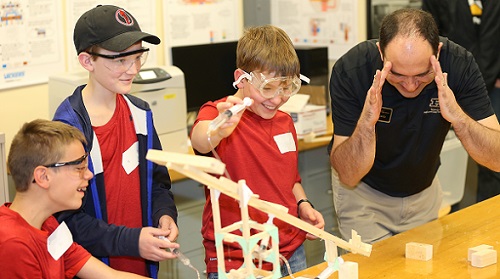 The 4-H NFPA Fluid Power Action Challenge is a team learning event that challenges youth in grades 6-8 to solve an engineering problem using fluid power. Each team will learn about design and build a hydraulic mechanism! 
Workshop Date: February 25, 2023
Challenge Date: April 1, 2023
Location: Knoy Hall, Purdue University 
Registration Fee: $40 per team (teams are 2-4 youth)
Registration Deadline: February 10, 2023
Device building materials will be available on Feb. 26 at the workshop.
Upon arrival, a workshop kit, a tool kit, and a challenge layout board will be provided. A max of 10 teams may register for this year's event. 
Beginning Feb 6, registered teams will receive a link to a cloud folder containing an orientation video, challenge details, building instructions for the lifter and rotator, and other useful information that will help them throughout the challenge. Approximately mid-way through, teams will meet for a virtual check-in with the 4-H Science Specialist and faculty from Purdue Polytechnic. The challenge will end on March 13, when teams will submit a video of their machine performing the challenge and a copy of their portfolio, all to be judged by local industry professionals. Awards will be announced after that date. 
Coaches will need to make proper arrangements, including safety plans, for youth to meet to complete the expectations of the challenge. 
Please contact your local Purdue Extension 4-H educator to form a team of 2-4 youth and one adult mentor. 4-H Educators and 4-H volunteers may register teams through 4HOnline. 
4-H Online Event Registration: Fluid Power Challenge
 For Volunteers

: login to your family account and click View next to your name.

For Educators/ Staff

: Either log in to your family account (educator) or locate the educator or volunteer you wish to begin registration for and click on their name. (They must be in Approved status or a Participant role)




Click on Events and then on Register.
Locate the "2023 Fluid Power" event, select it, and click Next.
Select the appropriate registration type name followed by Start Registration
Select the contest you want to register for.
Fill out the information required and applicable.
Select the method of payment and then confirm the registration. The only option for this event is check.
You will then click Finish on the Confirmation screen to submit.