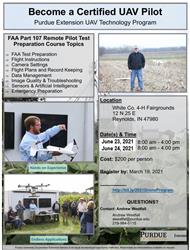 Are you interested in becoming a Commercial Unmanned Aerial Vehicle (UAV) remote pilot or are already flying without the Federal Aviation Administration (FAA) Certification but would like to obtain your license? You're in luck! This June, Purdue Extension will be hosting its UAV Signature Program. This program is intended to prepare participants for the FAA Part 107 Remote Pilot Knowledge Test, which is a requirement to pass if you are operating a UAV on a commercial basis. It will also be teaching participants useful UAV applications as well such as making flight plans, managing data, setting up your camera and more.
UAVs, also known as drones, are providing numerous benefits to Indiana's environment and economy. In the agricultural sector, they are helping farmers and agricultural professionals gather more precise data and translate it into efficient, profitable and long-term success in the areas of: crops, natural resources, and livestock. They are also providing numerous benefits to other industries as well through their ability to improve the marketing opportunities of a business, and providing analyses of structures, real estate and more.
The UAV Signature Program will be held on June 23rd and 24th from 8:00 a.m. – 4:00 p.m. EST. The cost of the program is $200 per person. Registration for the program is required and can be done online with the following link: http://bit.ly/2021DroneProgram
To learn more about UAV's, their uses, and legal requirements, please visit the website: https://extension.purdue.edu/uav/ For information regarding the March program, please contact Andrew Westfall of the Purdue Extension Office of White County at: 219-984-5115 or awestfal@purdue.edu
Monticello Farmer's Market Dates
Just a friendly reminder that the Monticello Farmer's Market is off and running and will be held every Saturday through October 2nd in the parking lot of Rugie's Dugout (1210 N. 6th Street) from 9:00 a.m. to 1:00 p.m. Beginning on June 1st, there will also be a Tuesday evening market that will run until August 3rd and will be located at Constitution Plaze (110 N. Main St) from 5:00 p.m. to 7:00 p.m.
For more information on the Monticello Farmer's Market, including vendor applications, WIC/SNAP benefit information, and product availability, please follow their Facebook page or the website: http://monticelloinfarmersmarket.weebly.com/