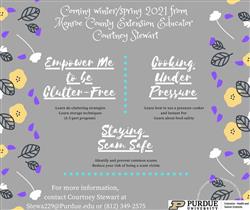 Monroe County Health and Human Sciences Educator, Courtney Stewart, presents 3 classes this January for you to attend.
Thursday, January 7th at 4pm is "Empower Me to be Clutter-Free" free on Zoom. Adopt de-cluttering strategies and learn helpful storage techniques.
Monday, January 25th at 11am is "Cooking Under Pressure" free on Zoom. Learn about how to use a pressure cooker and Instant Pot and learn about food safety.
Tuesday, January 26th at 3pm is "Staying Scam Safe" free on Zoom. Reduce your risk of being a scam victim and learn to identify and prevent common scams.