Community Planning for Agriculture and Natural Resources: A Guide for Local Government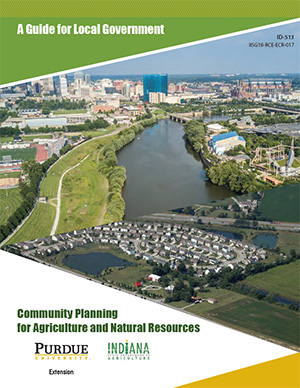 Community Planning for Agriculture and Natural Resources: A Guide for Local Government is available as a free, downloadable electronic resource. The series was funded by the Indiana State Depart
ment of Agriculture and developed by Purdue Extension and the Indiana Land Resources Council.
The entire series can be downloaded as a PDF at no cost. To purchase a printed copy, please visit the Purdue Education Store.
Each section of the guidance document series is described below, with a direct link to a downloadable PDF.
For questions, please contact Kara Salazar at salazark@purdue.edu.