Large farm equipment is beginning to travel local roads for fall harvest operations. As a driver, it is easy to get frustrated when you're in a hurry and you're stuck behind something going less than 25 miles per hour, but try to take a breath and be patient. Safety is important to everyone, farmers and drivers.
Ed Sheldon and Bill Field, Purdue agricultural safety & health specialists, recently reported that the theme for this fall's observance of National Farm Safety and Health Week is "Protecting Agriculture's Future". Find info and additional resources at www.necasag.org.
They said that farming remains one of the most hazardous jobs in America, with a fatality rate many times higher than the average for all other occupations. In addition, research indicates that at least one in every nine farm families will experience a farm injury requiring medical treatment each year, some of which result in permanent disability.
In conjunction with National Farm Safety & Health Week, the Purdue Agricultural Safety & Health Program released its "2021 Indiana Farm Fatality Summary with Historical Overview." The program has been monitoring farm-related fatalities in the state for nearly sixty years and publishes the summary annually to keep the public aware that agricultural production is still one of the most hazardous occupations in the state and the U.S. The summary is available at www.INPrepared.org. Summaries from past years are also available.
Sheldon and Field said that in 2021, at least 20 people died in farm-related incidents throughout the state. The 20 fatalities were well below the fifty-year average of 29.7 fatalities per year. One victim was a child, while 8 were over the age of 60. Although the declining average number of fatalities is encouraging, we should never become complacent. Fatality numbers vary from year to year.
The Purdue specialists pointed out that two of the most significant contributors to the reduction in the frequency of Indiana's farm-related fatalities, beyond the introduction of safe technology, have been the increased capabilities of rural emergency first responders and rapid access to high-quality emergency medical services. Injuries that were not survivable 20 or 30 years ago are being successfully addressed by better-trained first responders and rapid deployment of air transport medical services.
Every county has suffered multiple farm fatalities from 1980-2021. Elkhart and LaGrange counties, home to the largest Amish/Old Order communities in the state, have experienced more farm fatalities than any other.
One thing that every new Indiana driver learns about in their driver's manual is the meaning of Slow Moving Vehicle (SMV) emblems displayed on farm equipment and other vehicles. An SMV emblem is a triangle shape, with an orange fluorescent center and red reflective borders.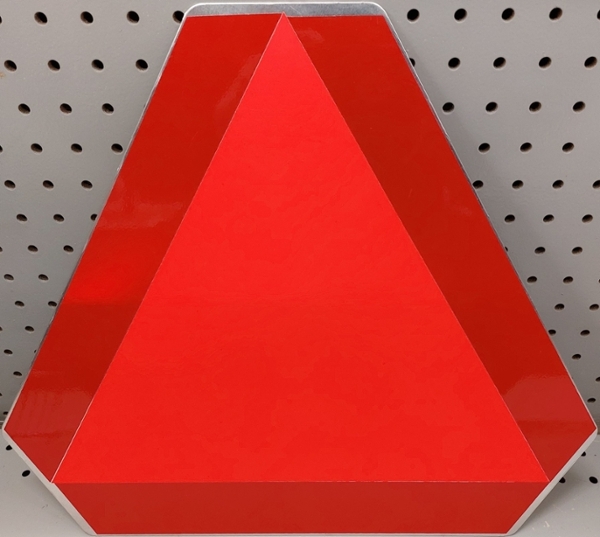 Equipment and other vehicles displaying this emblem are capable of speeds no faster than 25 miles per hour. Driving at road speed, the gap between you and the equipment will close quickly, so immediate caution and slower speeds are prudent.
Farmers should recheck the condition of SMV emblems to make sure they are still fluorescent. Over time, these emblems can fade and become less noticeable. Other road-related safety equipment, such as headlights, taillights, flashing lights, hitch pins, tires, and wheel bearings also should be checked.
Safety is always an important consideration for everyone, whether at home, on the road, or on the farm. Take time to be safe and share the road this fall.