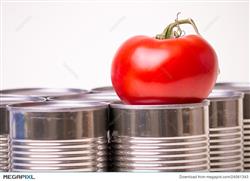 The risk of infection by the virus from food products, food packaging, or bags is thought to be very low. Currently, no cases of COVID-19 have been identified where infection was thought to have occurred by touching food, food packaging, or shopping bags. It is always important to follow good food safety practices to reduce the risk of illness from common foodborne pathogens.
Handling packaged foods
When unpacking groceries, refrigerate or freeze meat, poultry, eggs, seafood and other perishables within 2 hours of purchasing.
Do NOT use disinfectants designed for hard surfaces, such as bleach or ammonia, on food packaged in cardboard or plastic wrap.
If reusable cloth bags become soiled, follow instructions for washing the, and dry them on the warmest appropriate setting.
Handling and cleaning fresh produce
Do NOT wash produce with soap, bleach, sanitizer, alcohol, disinfectant or any other chemical.
Gently rinse fresh fruits and vegetables under cold, running tap water.
Scrub uncut firm produce (e.g., potatoes, cucumbers, melons) with a clean brush, even if you don't plant eat the peel.
Salt, pepper, vinegar, lemon juice, and lime juice have not been shown to be effective at removing germs on produce.
Meal kits and delivery
Because of the COVID-19 outbreak and increases in demand, some deliveries have been delayed.
If you have a meal kit or frozen prepared meal delivery, check the temperature of any food that is normally kept in the refrigerator or freezer (such as milk, meat, and eggs) immediately after it is delivered, using a food thermometer and make sure the food is 40oF or below.
Refrigerate or freeze your delivery as soon as possible.
To help prevent the spread of COVID-19, pay online or on the phone when you order (if that is an option) and accept deliveries without in-person contact whenever possible.