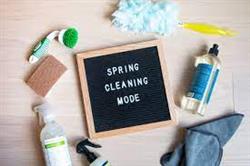 It's spring cleaning season again! National Cleaning Week was March 28 – April 3, 2021. But we can still celebrate everyone who organized, swept, vacuumed, dusted, disinfected or otherwise cleaned their homes during National Cleaning Week. A recent survey by the American Cleaning Institute found that 90% of Americans take part in spring cleaning. Still home because of the pandemic? Join the trend and roll up your sleeves!
              What is the priority space to clean this spring? According to the American Cleaning Institute survey results, it's the kitchen!
              If the kitchen is on your spring cleaning list too, keep these best practices in mind:
Work from the top down – Look up first and clean stove ranges and cabinet knobs. Work your way down, cleaning door frames, light switches and counters, followed by getting low and cleaning the baseboards and floors.
Don't skip the appliances – To keep appliances running efficiently, clean your dishwasher filter, under the fridge and in the oven. Don't forget to five the inside of the microwave a scrub as well.
Tackle the food – Move on to the fridge and pantry to clean out expired condiments, dusty herbs and spices or spoiled leftovers. Wipe down shelves and pullout fridge drawers to soak in soapy water.
Reassess placement – Are there appliance you don't use often? Or are you past your early pandemic baking phase? Consider moving seldom used pieces to a closet or other storage area. Or, if you haven't used them in a year, consider donating the.
Take these tips, along with what we've learned over the past year of staying at home and fo forth and clean!