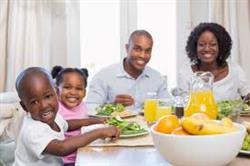 Ready to feed your 6 to 24 month old? Mealtime can be a messy and fun learning experience. Your child may have about 3 meals and 2 to 3 snacks every day. Having a routine can help children know what to expect when it is time for meals or snacks.
Here are some routines and tips for mealtimes:
Clean
Wash your child's hands before mealtime.
Tip: Worried about a mess? You can put newspaper or plastic mat on the floor under your child's high chair or booster seat. This can help with cleanup.
Be Safe
Sit your child in a safe place. A high chair or booster seat are good options.
Strap your child into the high chair or booster seat.
Watch children at all times to make sure they are safe.
Focus
Face your child toward you or other family members at the table.
Limit distractions. Avoid letting TV, videos, cell phones, or pets distract your child from eating. These can also distract you too. Focus on your child during mealtimes.
Talk with your child during mealtimes. This can be a fun time, and it is important for your child to have your attention.
Tip: Mealtimes do not have to be long. Mealtimes can last 10 or 15 minutes, or for as long as your child can pay attention.
Fingers, spoons, forks, and cups
When babies first start eating foods, you may use a spoon or they may use their fingers. Never five your child cereal or other foods from a bottle. When feeding cereals or pureed or mashed foods to your child, use a spoon.
As children get older, they will develop different skills to help with mealtimes. Your child will start to use fingers to pick up food. This helps your baby develop fine motor skills. Offer your baby finger foods that are small enough to pick up and soft enough to chew. Here are some examples:

Small cooked noodles
Small pieces of bread
Small pieces of soft, ripe peeled fruit or soft cooked vegetables.
Small slices of mild cheese or crackers.

Tip: Are you worried about breaking dishes or cups? Use dishes and cups that are not breakable and do not have sharp edges.
Family Meals
Sitting down as a family for mealtime can teach your child how to eat and helps your child develop social skills.
Give your child healthy food options at each meal.
Tip: Want your child to try new foods? Model healthy eating. It can help your child learn what to do.
Amount
Let your child decide how much to eat. Your child does not have to finish all the food on the plate or drink all the liquid in the cup or bottle.
General rule for portion size for your child is one tablespoon per year of age. So for example, if they are two start with two tablespoons of macaroni and cheese, 2 tablespoons of vegetables, etc.
Tip: Watch your children for signs that they are hungry or full.

Pushes food away
Closes his or her mouth when food is offered.
Turns his or her head away from food.
Uses hand motions or makes sounds to let you know he or she is full.