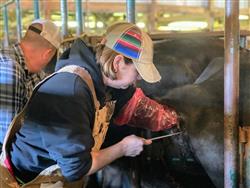 17 Earned Artificial Insemination Certification
OSGOOD, IN – Managing the breeding of cattle herds can be a daunting task, but participants in the 2021 Artificial Insemination Certification School gained knowledge, experience and confidence that will benefit their breeding operations in the future. 17 participants attended the school hosted by Purdue Extension and Select Sires on April 15th & 19th. Class was held via zoom on April 15th to allow participants to get the lecture portions of the school from their computer or device. That information was applied hands-on at Cox Livestock in Osgood, IN on April 19th. Participants were able to use the knowledge gained in the classwork portion of the school and get their hands dirty – using gloves of course! The ability to practice insemination on live cows with the guidance and expertise of county extension educators and Select Sires professionals gave the participants the ability to become comfortable with a practice that is most often outsourced on the farm. "I feel very comfortable doing this now, it was great to get in there and really feel what's happening inside [the cow]" said one participant.
Conventional insemination is the practice of turning a bull out into a pasture of cows and hoping for the best. Many farmers utilize this practice and let nature run its course. Others, however, take special interest in the genetics, timing and fertility of their cattle herds. Artificial insemination is the practice of calculating estrous cycles then inserting a straw filled with semen directly into an open cow's cervix. The process of artificially inseminating cattle increases conception rates and allows farmers more control over their calving seasons. After attending the training, participants can choose to inseminate their own herd using the techniques they learned. This Artificial Insemination certification school is hosted each year by Purdue Extension. To secure your place on the waiting list for the next offering, call Jill Richards at Purdue Extension – Ohio County 812-438-3656. Purdue University is an equal access, equal opportunity, affirmative action institution.