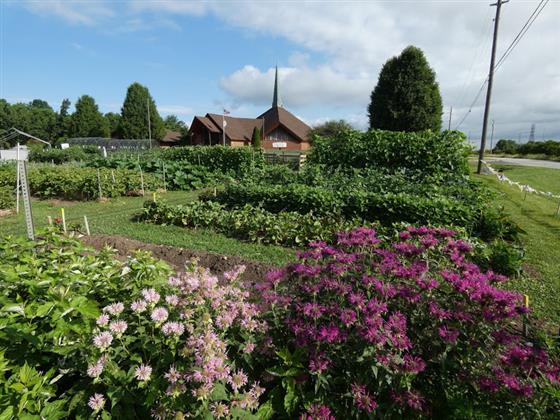 T
2020 Highlights For Bethany Community Gardens
Bethany Community was started three years ago with assistance from Purdue Extension Marion County and the 'Growing Together Grant' funded by the Purdue Extension Nutrition Education Program in partnership with the Purdue Extension Master Gardener program. Each year has been better than the last! 
Bruce Bye, one of our co-coordinators of the garden, prepared the following updates:
On October 13th, volunteers harvested and cleared the vegetation off of the last four of our 52 beds in Bethany Community Gardens, and planted clover and rye cover crops on these remaining beds.
The size of our community garden remained at 10,000 square feet, with an additional 20 individual plots (50 square feet each) which are rented for $20 per season, and 6 raised beds for educating the children who attend the Paths to Quality Level 3 daycare called Bethany Early Learning Ministry. 
Our total harvest was 5,047 pounds in 2020 compared to 4,900 pounds in 2019. All of these fresh organic vegetables were donated to two food pantries, Hunger, Inc. and Servant's Heart, and to our garden volunteers.
72 different individuals volunteered this year, with many of these individuals typically helping every other week, while others helped twice each week. Counting as a "volunteer" each time an individual came to help, in 2020 we had 688 volunteers, and they helped a total of 1,851 hours.
Our major financial sponsors are: Marion County Farm Bureau, Community Hospital South, and Lowe's of Beech Grove.
Our major working partners are: Marion County Purdue Extension, South Indy Quality of Life, and the Indianapolis Neighborhood Resource Center. 
Our January 2020 application to Neighborhoods, USA (NUSA) was based on 2019 accomplishments. In April 2020, we were honored to be selected the NUSA  2020 Neighborhood of the Year in the Multi-Neighborhood Partnerships category.  Thank you to everyone who made this possible.