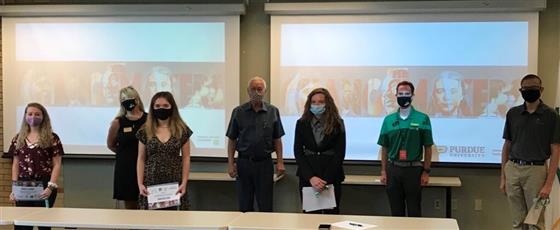 I hope to not only make Indianapolis a better place, but also to inspire other large cities to consider changing their ways to help save our planet." 
This was Anzie W's goal when she started the Changemakers program in May. Changemakers, a program offered by Purdue Extension Marion County 4-H and adapted from 4-H Kosovo in Eastern Europe, encourages teens to use research, informational interviews, and community input to create a solution to a problem they see in their county. 
Anzie worked with her partner, Makayla G., to create a comprehensive, research-based plan to tackle the issue of improper recycling in Marion County. From May to August this summer, Anzie and Makayla attended six virtual sessions and three in-person sessions to learn how to combat their issue through community service, meeting with community leaders, and asking themselves how to solve the issue they were interested in. The three other teens that participated in the program chose other problems they saw in Marion County to focus their efforts on. Mikayla A. and Madline A. created a one-day 'camp' for youth and parents to learn basic care for pets to help reduce the number of adopted pets returned to animal shelters due to a lack of knowledge on how to care for these pets. Matthew R. worked on a plan to make and distribute first aid kits and instruct 4-H clubs and Boy Scouts troops on how to perform basic first aid and react calmly in emergency situations. 
At the teen's last session, they presented the 'pitch' for their projects to a board of community leaders for feedback. At the end of the first round of this program, all participants reported that 4-H had inspired them to volunteer in their community and that they had met leaders in their community because of 4-H.
Dustin Homan, a 4-H Educator for Purdue Extension Marion County, led these teens throughout the program and says that Changemakers focuses on six main components: life skills, critical thinking, problem-solving, analyzing data, and facts, public speaking, and positive community impact. These skills translate into career success, community empathy, and teamwork later in life. The program is offered to teens in middle and high school and although there is not a set timeline when the next round of Changemakers will happen, please email Dustin at homan3@purdue.edu if Changemakers interests you or you want more information.