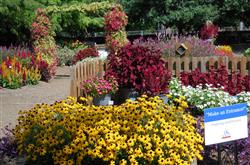 Purdue Extension-Marion County Demonstration Garden, located about 350 feet E of Discovery Hall in the NW corner of the Indiana State Fairgrounds (next to the DNR Amphitheater). The theme this year is: Make an Entrance! We have a design challenge to show how we use All-America Selections (AAS) award-winning flower and vegetable varieties to make a stunning entry. This space is both a demonstration and display garden where we primarily grow annual flowers and vegetables, but also feature some perennial flowers. Twelve different Extension Master Gardeners volunteered this year, eight of them on a regular basis. We thank all of the Purdue Extension Master Gardeners in Marion County who plan, plant, harvest, and maintain the demonstration garden in Indianapolis each year! The garden would not be possible without all of their efforts, including our major donor, the Marion County Master Gardener Association (MCMGA).
"The garden demonstrates how to grow food and ornamental plants," says Steve Mayer, Extension Educator-Horticulture, for Purdue Extension-Marion County. "Gardeners can see and learn about plants adapted to Indiana and how to care for them." Gardeners can also see award-winning All-America Selections (AAS) flower & vegetable varieties as well as vegetable gardening techniques, like raised beds. Gardeners can get ideas from our showcasing of the latest AAS award-winning varieties, from the only official AAS Display Garden in Indianapolis (since 2013) and one of less than the half-dozen in Indiana.
We entered the All-America Selections Display Gardens Design Challenge for the third time in 2019. The theme was Re-Use Recycle Re-imagine. For the third year in a row, we won 1st place among AAS Display Gardens in the U.S. in the 10,000-100,000 visitor category.
The best time to visit the garden is between early August and mid-September. However, the garden will continue to be open to the public for viewing until frost. It is open during daylight hours each day. This year's plant list and map are available online, as well as the garden Facebook page and Twitter.