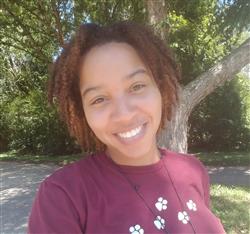 What was the "aha moment" that got you interested in working with Purdue Extension?
The "aha moment" that got me interested in working with Purdue Extension was that Extension Educators use research in the real world. Prior to learning about Extension, I had experience with research, and it was my understanding that research leads to more research. Once I learned that research could be used to help others I was sold.
Where did you go to college and what was your major? 
I have a Bachelor of Science in Animal Sciences and a Master's of Science in Youth Development and Agricultural Education, both from Purdue University, West Lafayette.

What is the app on your phone you can't live without?
The apps on my phone I can't live without are Libby and Pinterest. Libby is an app that lets me check out digital books from the library, so I always have something to read on my phone. And Pinterest is an oasis of all my interests. That app always has content I want ready and waiting for me.
Who inspired you most in your career?
The people that inspired me most in my career, were all the Educators, staff, and community members I met during my internship wit Purdue Extension-Marion County my junior year of undergraduate. Extension showed me the real world application of research, then everyone I met during my internship was genuine and passionate about helping their community in Marion County (or their own county, the state of Indiana, etc.). That showed me a network I wanted to be apart of.
What is your favorite restaurant?
I don't have a favorite restaurant, I prefer home cooked meals. However, if you look at my Uber Eats app it would say I like to eat Graeter's Ice Cream the most. I have enjoyed being able to get ice cream delivered.
What do you tell Alexa to play most often?
I would not tell Alexa anything. I read "Robopocalyspe" by Daniel H. Wilson, saw the movies "iRobot" (2004) with Will Smith and "Eagle Eye" (2008) with Shia LeBeouf. The robots are waiting to rise up. My phone already knows too much from the apps I use.
What is one word you would use to describe PEMC?
One word I would use to describe PEMC is community.
It's your last dinner party on earth, you can invite 3 people that are not of blood relation to join you at your table. These people can be alive or dead. Who are they?
Last dinner party on earth, 3 people not of blood relation I would invite to my table are Micheal Jackson, Beyonce, and Oprah. It would be a dinner where I could just sit and listen to them talk while enjoying my meal.
Last question, do you believe in ghosts? What about Aliens?
I don't believe in ghost cause I figure there would be more of them "about". Though I've been told ghost only appear to people that really believe. Aliens are real. The galaxy is huge (from what movies have taught me)! Though I don't think they see Earth as worth a visit (yet). 
Alex Pettigrew
Urban Agriculture Educator
Purdue Extension-Marion County
317-275-9274
apettig@purdue.edu