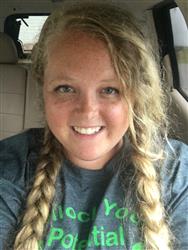 Rachael Smith joined the Purdue Extension Marion County (PEMC) office in February as a 4-H Youth Development Educator. Read below for a Q&A with Rachael, covering topics ranging from her career achievements to her dinner party dreams.
What was the "aha moment" that got you interested in working with Purdue Extension?
I had always loved working with youth and almost switched my major to education my final semester of undergrad. Once I realized I wasn't on the right career path, I sat down to reevaluate my idea of the right job. I remembered the summer that I was an extension intern in Hendricks County and a light bulb just sort of lit up! After a few months of applying and interviews, I got my first position in Southern Indiana, then once I was comfortable with my love for 4-H, I found a position closer to family with the right focus (4-H!). 
Where did you go to college and what was your major? 
I have a BS in Food Science from Purdue University and a MS in Strategic Communications from Purdue University. I bleed black and gold!
What is the app on your phone you can't live without?
Google Maps. I know bits and pieces of Marion County, but it's going to take me a loooooong time to feel comfortable just knowing where to go based on street signs. 
Who inspired you most in your career?
My very first supervisor when I was in the food industry ended up being an amazing mentor. In a very money-driven corporate world, he was consistently focused on my education and growth in the business. He knew I was fresh out of school and wouldn't be the best scientist, but he pushed me to attend every educational opportunity to learn about the industry and build my skills. He really taught me how to grow from failures.
What is your favorite restaurant?
Being back in a big city, I would say it is anything with sushi. I haven't found my favorite sushi place yet, but I know I'll nail one down eventually!
What do you tell Alexa to play most often?
Baby Shark. I'm living with my brother, sister-in-law, and 18-month-old niece while I am house shopping. We listen to Baby Shark daily. And I know all of the dance moves!
What is one word you would use to describe PEMC?
Influential.
It's your last dinner party on earth, you can invite 3 people that are not of blood relation to join you at your table. These people can be alive or dead. Who are they?
Obama (duh), Emma Watson (would love to pick her brain), and Jimmy Buffet (I need to be friends with this man, he owns a sailboat)
Last question, do you believe in ghosts? What about Aliens?
Ghosts, yes. My brother just bought a 5 bedroom house in Fishers and I have heard and seen multiple ghosts out of the corner of my eye. I'm going to have to start naming them!
Rachael Smith
Extension Educator - 4-H Youth Development
Purdue Extension-Marion County
Discovery Hall, Suite 201
1202 E. 38th Street
Indianapolis, IN 46205
o: 317-275-9268
smith630@purdue.edu