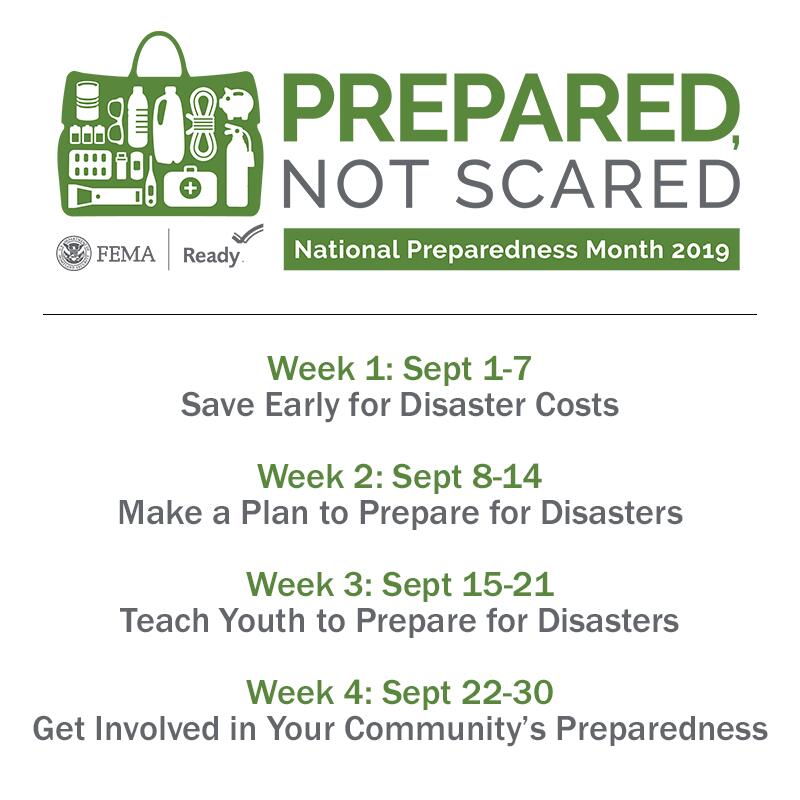 This September is National Preparedness Month (NPM). The Extension Disaster Education Network (EDEN) has committed to participate in NPM to increase preparedness throughout the U.S. The event, now in its fifteenth year, is a nationwide, month-long effort hosted by FEMA's Ready Campaign, to promote family and community disaster and emergency planning now and throughout the year.
NPM's key message this year is "Prepared, Not Scared." In the event an emergency, you need to be self-reliant for three days without utilities and electricity, water service, access to a supermarket or local services, or maybe even without response from police, fire or rescue. Preparing can start with four important steps:
Be informed about emergencies that could happen in your community, and identify sources of information in your community that will be helpful before, during and after an emergency
Make a plan for what to do in an emergency
Build an emergency supply kit
Get involved. Preparedness is a shared responsibility; it takes a whole community.
This year's National Preparedness Month focuses on turning awareness into action by encouraging all individuals and all communities nationwide to take small steps each week to become better prepared. The weekly steps include: save early for disaster costs, make a plan to prepare for disasters, teach youth to prepare for disasters and get involved in your community's preparedness.
For more information about the Ready Campaign and National Preparedness Month, visit https://www.ready.gov/september. To receive preparedness tips straight to your phone, text PREPARE to 43362 (4FEMA).