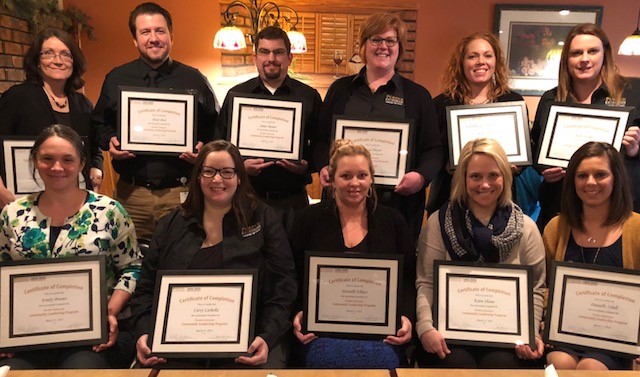 Congratulations to the 2018 class of Leadership Vigo County, a program provided by Purdue Extension Vigo County, who graduated last month! The graduation ceremony was held at a local restaurant and Kristi Whitacre, Purdue Extension Community Development Educator and Leadership Vigo County Program Leader, congratulated participants as she passed out their certificates.
After researching the high rate of children in poverty in our community, the participants of this leadership class started a community project to provide needed supplies for the elementary school's greatest needs. The participants raised nearly $2,000 in donations of cash, new sweat pants, and school supplies and presented them to the school principal in February. She was very appreciative of the efforts.
Leadership Vigo County has a successful curriculum of 11 sessions and a Statehouse visit. The sessions in the program are: Getting to Know My County, Identifying My Leadership Style, Interpersonal Communication, Exploring Diversity in My County, Managing Conflict, Getting Involved in My County, Serving on Nonprofit Boards, Economic Development in My County, Exploring Education in My County, Learning How County Government Works, and Building a Healthy Community. The participants learned from their personal experiences and self-assessments, small group activities and discussions, current community leaders, online leadership webinars, and real-life applications during the six-month program. Each participant had more than 100 hours of time invested into the program. The program collaborated with more than 20 local organizations to provide guest speakers, different locations and valuable perspective for the classes.
After the six-month program, 100% of participants reported increased knowledge in topics presented. 88% reported an increase in their confidence to volunteer in the community and 89% noted an increase in confidence in taking on leadership roles in community organizations. 89% reported they expanded their connections with others in the county. 100% would recommend the program.
Strong community connections were established, as revealed in these comments: "the program provided a valuable opportunity to get to know other passionate people in my community as well as identify resources and learn about leadership building."
"The variety of topics, speakers and even program participants ensured that there was plenty to learn and appreciate. I am sure I will utilize my notes and the resources provided in the future."
"It was nice to get involved in a local program which taught me more about the demographics of the county."
"I liked the accessibility to community leaders that are experts in their fields and being able to talk with them in the panel discussions."
"I really did learn a lot about myself and how to lead more effectively which was my goal."
Kristi Whitacre is a Purdue Extension Community Development educator for Vigo County.She can be reached at kwhitacr@purdue.edu