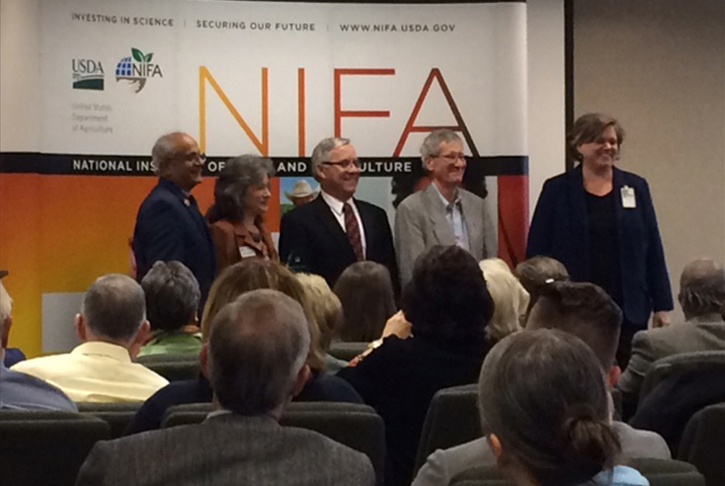 The national Stronger Economies Together program (SET) has earned a National Institute of Food and Agriculture (NIFA) Partnership Award for Multistate Efforts.
The award was presented during a NIFA Day of Appreciation event Thursday, October 22 in Washington, D.C. The award honors work aligned with NIFA's strategic goals that supports the mission of the U.S. Department of Agriculture.
SET is a nationwide program of USDA Rural Development in collaboration with the four Regional Rural Development Centers and their land-grant university partners, including the Purdue Center for Regional Development. The Stronger Economies Together program enables communities and counties in rural America to work together in developing and implementing an economic development blueprint for their multi-county region that strategically builds on the current and emerging economic strengths of that region. Seventy-five regions in more than 28 states have participated in SET since the program was founded in 2010.
Bo Beaulieu, Purdue Extension Community Development Program Leader, Director of the Purdue Center for Regional Development and Former Director of the Southern Regional Development Center, is a member of SET's national organizational team and co-founder of the program. Beaulieu was honored during the awards banquet along with his colleagues from the Southern Rural Development Center and USDA Rural Development.
In Indiana, two regions consisting of 11 counties were selected this year to be part of SET. Professional staff from the Purdue Center for Regional Development and Purdue Extension will coordinate and provide leadership to the State Resource Team, composed of individuals from state and federal agencies, universities and other organizations with expertise in community and regional development. The Purdue Center for Regional Development will also provide the data for all 24 regions across 11 states that are participating in the current round of this program.