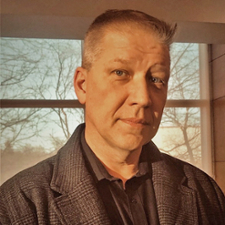 Dallas Evans
Purdue Extension Educator, Marion County, Community Development
Marion County
Dallas Evans is a native Hoosier and was raised in the small town of Grabill, Indiana. He went on to study at Ball State University and graduated with a Bachelor of Science in Anthropology and Geology. While attending graduate school, majoring in Archaeology, Dallas accepted an opportunity to work for The Children's Museum of Indianapolis as a natural history curator and STEM educator.

In a career spanning over 20 years, he worked in informal education creating programs, workshops, and exhibits. He helped produce well-known galleries such as ScienceWorks, Treasures of the Earth, and Dinosphere and managed a functioning Paleo Prep Lab.

While doing fieldwork in rural South Dakota, Dallas became interested in the ways that communities evaluate, innovate, and thrive. He is excited to begin his work with the Purdue Cooperative Extension Service and be an advocate for building strong and healthy communities.

Dallas resides in Carmel with his wife, an ardent ten-year 4-H member, and his two daughters. Sharing their home are also various snakes, frogs, tortoises, axolotls, as well as a bearded dragon, ferret, and an exceedingly patient cat. Dallas likes to garden, work on art, discover new sushi restaurants, and search for cool rocks in his spare time.