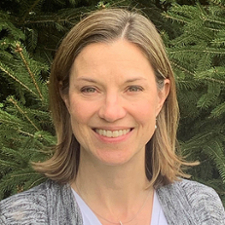 Andrea Hatfield
Purdue Extension Educator, Boone County, Community Development, Agriculture & Natural Resources
Boone County
765.482.0750
Andrea Hatfield serves as the Extension Educator for Community Development and Agriculture & Natural Resources in Boone County. She also serves as the County Extension Director. Andrea joined the Boone County team in May of 2022; however, she began her Extension career as a 4-H Youth Development Educator in Hamilton County.
Andrea grew up on a traditional farm in southern Indiana and was active in many extracurricular activities, including 4-H. She has always enjoyed helping others learn, which led her to earning her BS in Agriculture Education and her MS in Curriculum and Instruction, both from Purdue University. While raising a busy family, Andrea served in numerous volunteer leadership roles within her community, and also owned her own business for several years.
Andrea understands the value of helping a group learn to work as a team, whether that is in a volunteer role or within a business. As a trained Real Colors Facilitator, she is able to assist others in understanding each other better and improving their communication. Utilizing her experience in working with the public, training volunteers and staff, and managing resources, Andrea is looking forward to helping groups meet the needs of their communities.