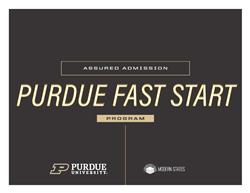 Purdue launches Fast Start program for Indiana high school students
Partnership with Modern States.org can help families save thousands of dollars a year on college tuition
Free online courses and exams can save students up to one full year
Five exams can save almost $11,000 and assure admission into Purdue
Partnership with ModernStates.org philanthropy and Klinsky family creates affordable "on-ramp to college" for all Indiana residents and sets a new role model for nation
WEST LAFAYETTE, Ind. — In a move aligned with Purdue University's land-grant mission, President Mitch Daniels announced Tuesday (Feb. 18) the Purdue Fast Start program, designed to help Indiana high school students earn access to up to a year of college credit through free online courses and the corresponding College Level Examination Program (CLEP) exams. The program is the result of a partnership with Modern States.org, a philanthropy dedicated to making a college degree more affordable and accessible. Modern States will offer the free, high-quality online courses and pay the test fee for up to 10,000 CLEP exams taken by those enrolled in the Fast Start program.
Fast Start is available to all residents of Indiana but will be especially beneficial to students in rural Indiana and those enrolled in inner-city schools that often lack access to the full offering of Advanced Placement courses, and those for whom college education is less affordable. Purdue will assure admission to students who pass a minimum of five CLEP exams through the program.
"Too many young Hoosiers miss out on college either because of its cost or simply a disbelief that they can succeed there," Daniels said. "Our Purdue-sponsored high schools are one attempt to open a new pathway to Purdue, and this new venture is another, with special relevance to rural and small-town youth."
Steve Klinsky, CEO and founder of Modern States, said, "Modern States and my family are pleased to partner with Purdue to make college more attainable for students throughout Indiana. Purdue has long been a leader in innovations to help students, and we hope this effort will both help families throughout the state and create a model for many other universities nationwide."
The College Board, which administers Advanced Placement exams as well as the CLEP exams,                           announced earlier this month that the biggest shortage of advanced placement courses is in rural America. The Fast Start program is an on-ramp to helping these students attain their educational goals, leading to better jobs and higher earnings for their lifetimes.
 "Purdue continues to lead in making college more affordable for all families," said David Coleman, CEO of the College Board. "In this visionary partnership with Modern States, Purdue opens up college pathways for all students. At this time when lower- and middle-income families are struggling with the cost of college, the College Board strongly supports the use of CLEP to speed students toward successful graduation."
CLEP exams can help students receive credit for up to 30 hours of general education courses, or about one full year of college credit. However, many students have been blocked in the past by lack of courses to learn the material and the $89 test fee per course. Today, ModernStates.org provides the necessary courses for free to everyone; the more than 30 courses are like a digital public library, and a new $1 million gift to Purdue from Steve and Maureen Sherry Klinsky will cover the cost of 10,000 CLEP exam fees for Indiana students. Maureen Sherry Klinsky is a trustee of Modern States.
Fast Start will allow Hoosier students to take the online courses and CLEP exams at no cost, meaning a participant could easily save their family thousands of dollars on tuition by providing the equivalent of a full semester or even a year of college for free. Passing five CLEP exams – the equivalent of one semester – can save students and their parents a semester, and almost $11,000. Passing 10 CLEPs – the equivalent of one full year – can save more than $21,000. Every individual CLEP passed is a big savings as well. The Fast Start option also can move them toward early graduation and early entry into the workforce.
Purdue Fast Start will offer support to high school students enrolled in the program, helping guide them through taking courses and tests, and navigating admittance to Purdue. The students also will have access to Purdue alumni and friends for mentoring if desired. Once Fast Start students accept admission into Purdue, they will be known as Klinsky Scholars. The program officially launches in the fall of 2020, with the first students being granted admission for the fall 2021 semester.
As Purdue Fast Start  begins outreach to prospective students this spring, Purdue Extension, which has offices in every Indiana county, will be a vital resource in helping reach students and their families.
"This is a great opportunity for us to improve the lives of Indiana residents by working with students to increase educational attainment all across the state," said Jason Henderson, senior associate dean and director of Purdue Extension.
ModernStates.org, with 200,000 registered users, is the largest "free college for credit" program in the nation. Students can access the Modern States expansive library of online courses, taught by top college professors, at no cost. The professors who teach Modern States courses include experts from Johns Hopkins, Columbia, Tufts, George Washington University, American University, State University of New York and other leading universities. 
Those who successfully complete a Modern States course will receive a voucher to pay for the corresponding College Board CLEP exam and be reimbursed for test center fees. Students who pass a minimum of five CLEP exams are then assured admission to Purdue.
Administered by the College Board, CLEP exams are similar to Advanced Placement exams. CLEP has historically been taken by adults, especially active duty military and veterans. Passing scores on CLEP exams are accepted for credit by more than 2,900 colleges and universities, and the exams have been used for more than 50 years.
For more information, go to the Fast Start website at http://purdue.university/faststart, or call 765-494-1776 or (for hearing impaired) 800-743-3333.