To download a PDF of the newsletter, click here. 
To download a trifold fair schedule, click here. 
To purchase grandstand tickets, click here. 
To see the Homemaker's Food Stand Menu: click here. 
Sullivan County Extension N.E.W.S. (News from Extension Worth Sharing)
History of Sullivan County 4-H Fair
A poster with information on the history of Sullivan County Fairs was found in the Extension office recently. We hope you enjoy reading some highlights from the poster as much as we did!
4-H Club work started in Sullivan County in 1916. By 1925, 4-H Club Exhibits were becoming an annual affair, with the first Sullivan County Fall Festival being held that year. 4-H Club exhibits have been occurring ever since, and the first time it was called a 4-H Club Fair was in 1936.
From 1927 to 1939, activities at the fair were divided into three areas: Home Economincs Exhibits, Judging and Demonstration Contest, and Agriculture Exhibits. During the first few years, the demonstrations contests and Dress Review (think "Fashion Review") were held in the Sullivan County Court House Auditorium. While exhibits were displayed at various sites over the years, the agriculture exhibits found their first home at the first fairgrounds in 1939, which was located north of town. At this time, the exhibits were housed in tents. 
The next location of the fairgrounds, which was on North Section Street was purchased by the Sullivan County Council in 1939, and a government appropriation was used to build a building for use by 4-H and National Youth Administration groups. In 1940, two open barns for livestock were built, as well as one closed building for the Home Economics Exhibits. In the next twelve years, two more livestock barns were built, the swine barn was concreted, a community building was constructed, and the livestock show arena was constructed. In addition, a grandstand arena was built in those 12 years.
Of all the local community fairs held during the 1920s and 30s, only the fair at Carlisle survived. In 1950, the Carlisle fair was named the "Sullivan County Fair at Carlisle".
After the name change, it only continued for a few more years. After 1954, the only fair left in operation in Sullivan County was the 4-H Fair, which continued to grow with the largest exhibit numbers being in the late sixties and into the seventies.
The fairgrounds location on North Section Street was sold in 1985 to the Southwest School Corporation for $350,000. This money was set aside for the creation of a new fairgrounds. The County Commissioners provided the current site for the 4-H Fairgrounds, as well as an additional $34,500 to build the plan for the new 4-H Fair buildings and barns. In the first five years, five exhibit barns, a covered livestock arena, an enclosed exhibit building, a community building, a horse show arena, a Home Economics meeting room and food stand, the Curry Nomads concession stand, a grandstand arena, and the Horseman's Association food stand were built.
Today,  Sullivan County has over 400 4-Hers and 80 volunteers that help our program be successful year round. In addition to the county fair, 4-Hers have the opportunity to go to 4-H Camp, participate in Performing Arts and other area contests, travel to Purdue University's campus to learn about careers and meet 4-Hers from across the state, and they continue to be involved with local 4-H Community clubs.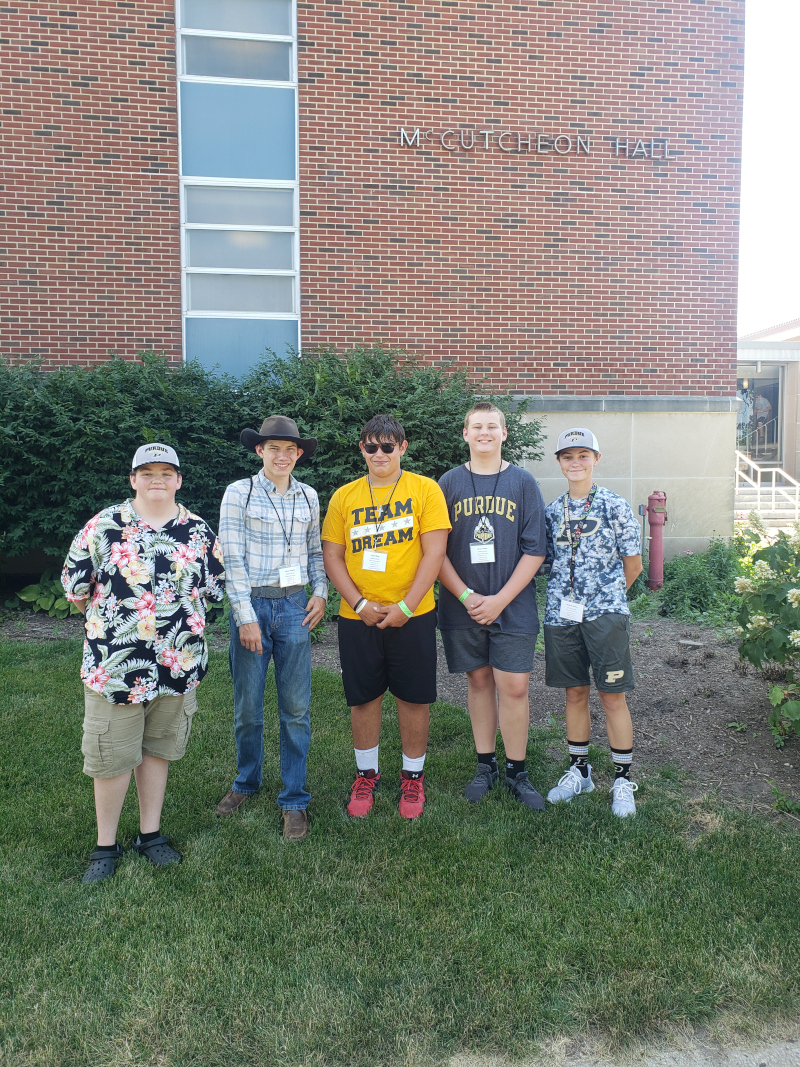 2022 Sullivan Co. 4-H Round Up Delegates
Corban Hitt, Tanner Cloutier, Caden Bays, Carter Tomey, Madison Arthur
 Indiana Extension Homemakers Association
Sullivan County president's message
Sullivan County Extension Homemakers are ready for the fair.  Noodles are MADE!  We will be open Saturday 16 for sandwiches at lunch and Sunday for lunch.  Monday through Thursday we will serve from 11 am to 6 pm. See the flyer enclosed in this newsletter for the menu and prices! You can also check Facebook for specifics.
Hope to see you fair week,
Becky Cole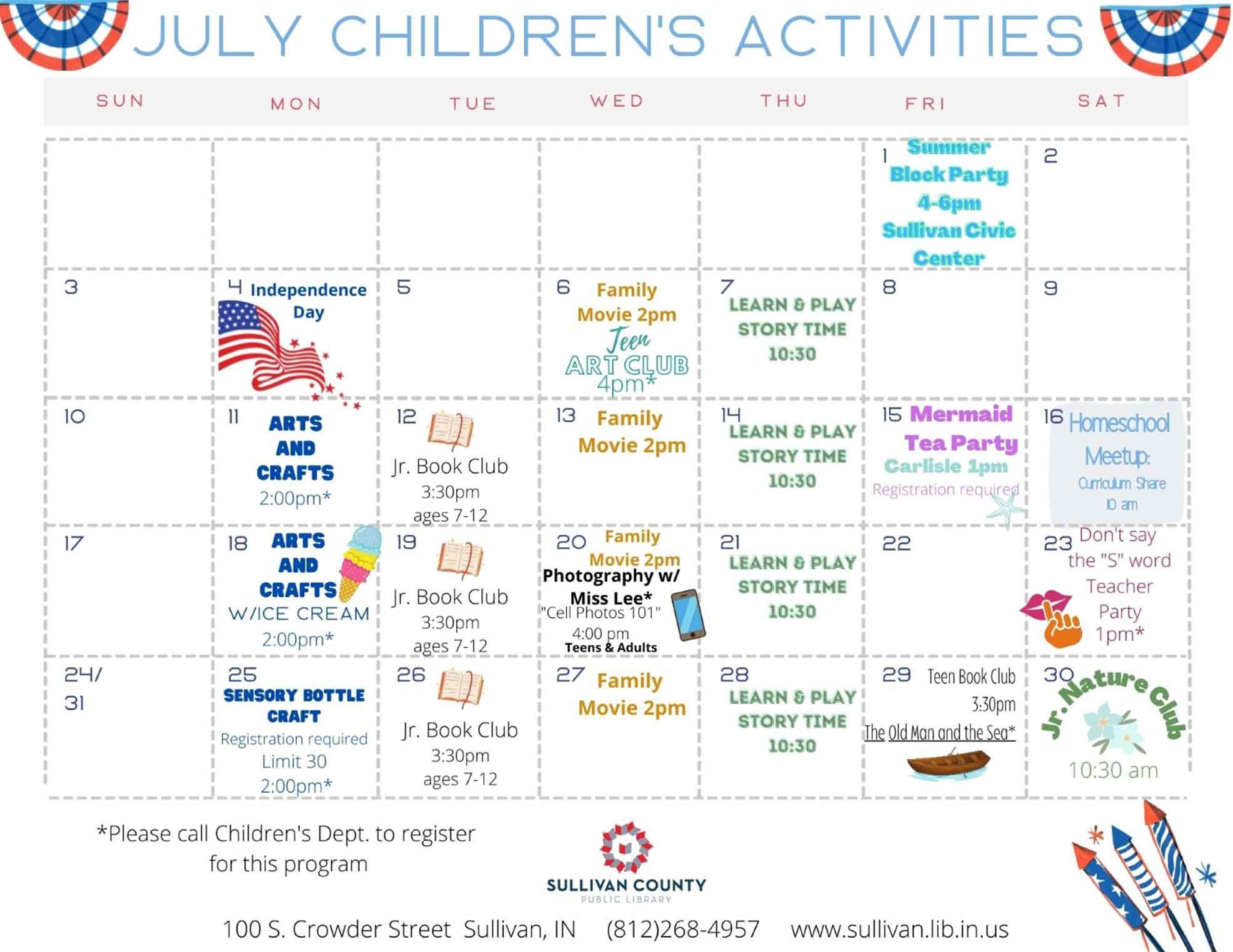 Office Closed
The Extension office will be closed on July 4th in observance of Independence Day.
 Open Class
Open class guidelines can be picked up from the Extension Office during regular business hours: Monday through Friday from 8 am to 4 pm.
The fruit specialty for this year is peach.
You can also find the open class guidelines on our website at: tinyurl.com/sullivanopen22
 Important dates:
July 2: Poultry Blood Testing from 9-11 am
July 4: Extension office closed
July 12: Basketball Hoop Shoot at Sullivan Middle School: 4:30 PM Grades 3-6 arrive, 4:45 Grades 7+ arrive
July 13 and 14: Non Perishable Check In by Club—See schedule at the end for what day your club checks in
July 15: Livestock Check In from 5 to 10 PM—See schedule
July 16: Perishable Check In 9 AM to 11 AM and All project Conference Judging (all static come to get judged this day)
July 16-21: Sullivan County 4-H Fair
July 29-August 21: Indiana State Fair
 Sullivan County 4-H Shooting Sports 2022
There are three disciplines having in-person workshops to choose from this year: muzzle loading, rifle and shotgun. Workshops will continue through week of July 11. 
A 4-Her may choose to complete a discipline that is not having workshops by exhibiting at the county fair.
Bring your own eye and hearing protection. Everything else is provided.
All workshops are at the Sullivan Conservation Club, 6:30-8 p.m.
Rifle workshops are on Mondays and the last meeting is July 11.
Shotgun workshops are on Tuesday and the last meeting is July 12.
Muzzle loader workshops are on Wednesday. No meeting on July 6, the last meeting is July 23.
For more information, contact the Extension office at 812-268-4332. (M-F 8a-4p)
 Sullivan County 4-H Horse and Pony 2022 Clinic Schedule
All clinics start at 6 pm
 July 6th: Western Riding and Reining - Dr. Whitman
July 13th: Pre-Fair Meeting, Stall Assignments, Q&A, etc
Livestock Superintendents
Beef—  Adam & Adair Everhart                  249-5776
Cat & Horseless Horseman—Mary Bowen 398-5452
Dairy Cattle—Kailee Cloutier                      240-5759
Dog—Jill Snyder                                               798-0554
Goat— Ann Case                       249-6292
Horse & Pony — Amy Holman                    564-8021
All Poultry— Kevin Chambers           249-0986
Rabbit—Michelle May                       249-8705
Sheep—Levi Baker                       249-2261
Swine—Alan Badger                       240-1784
Fairboard Contact Information
Kenny Thrasher- 4-H Building Events            239-1321
Shelby Swalls- Grandstand Arena Events           243-7559
Nathan Wible - Building & Grounds 564-0166
Dusty Lovelady - Commercial Vendors 201-3742
Alan Badger- Publicity and Advertising         240-1784
Ashley Abrams - Security & Parking 241-7754
Lance Unger - Exhibit Building & Fun Night 249-2413
Ann Case - Open Class & Exhibit Building 249-6292
Tim Wilson - Livestock Projects 249-7911
 Junior Leaders
Our adult leaders for 2021-2022 are Becky Scott, Bobbi Kincaid, and Brooke Stefancik (4-H Youth Educator). Questions about Junior Leaders can be answered by calling the office at
812-268-4332, and you can also use the private message option in the Remind app to message Brooke. 
 Junior Leader t-shirts are ordered! You will get a remind message and e-mail when they are ready to be picked up. Please bring exact change ($12) or a check if possible when you pick up your shirts. Checks can be made to: Sullivan County Junior Leaders
Upcoming Meetings:
July 12 7 to 8 PM - Vote for next year's Board of Directors and Fair set up (dress for outdoor work)
Sign ups for volunteering at the fair were sent on the remind app and sent in an e-mail. Please sign up to help where you can, and remember that those helping Saturday morning can check in early!
 YQCA
All 4-H members enrolled in livestock projects (beef cattle, dairy cattle, swine, sheep, meat goats, dairy goats, poultry, including game birds, waterfowl, and pigeons, and rabbits) are required to complete Youth for the Quality Care of Animals (YQCA) annual training to exhibit animals. 
To register go to : yqcaprogram.org.  The parent will create a profile and then add the child in the appropriate age group. 
There are no more in person trainings in Sullivan County. You can look for other counties' in person trainings on the yqcaprogram.org website, or you can choose to take the online training. If you choose to take the online training, please send the 4-Hers certificate of completion when it is finished to bstefan@purdue.edu for our records.
State fair exhibitors must take a copy of the completion certificate for each check in they are going to for each livestock show. If you are showing multiple species, take one copy for each species.
 Sullivan County 4-H Dog Workshops
4-H dog project workshops are on Tuesdays at 5:00 pm in the show arena at the Sullivan County 4-H Fairgrounds.  Each dog must have a 4-H vaccine paper before the clinic.  You can pick one up at the Extension Office.  Each dog must also have a choke chain collar and a 6 foot leash.  If you have any questions, please contact project superintendent, Jill Snyder, at 812-798-0554.
Tips for a Fun Fair from the Extension office and Club Leaders
Static Project Tips
Make sure you have your general record sheet complete before fair, and you attend your club's book signing to get your leader's signature.
Double check you project guidelines, many are updated this year (do not look at old handbooks!)
Get poster sleeves and backing from the Extension office, we even have some for photography salon prints
Arts and Crafts—Please make sure your project has a secure wire hanger on the frame. This will hold your project up for display at the fair. It should not be taped on, as it will be supporting the weight of your project in the building all week!
Bring extra supplies in case you need to fix a project during check in.
Livestock Project Tips
In Fair Entry, you let us know how many pens you needed for your animals. Bring enough supplies to give all animal pens grain/hay and water during the fair. Swine will be provided water.
Prep, clean, and get ready your show clothes before the fair. Some may find that a garment bag is helpful to keep everything clean and handy the day of the show. Don't forget to pack safety pins, hair supplies, show equipment, etc for both you and your animal!
Only 3 prong plugs are allowed for use in the livestock barns! Please do not use any 2 prong extension cords in any barn, if you do, they may be taken down by a Fairboard member as they are not safe outdoors.
If applicable, be ready to confirm what animals are going to auction or on a ship truck when you come to livestock check in on Friday, July 15th from 5 to 10 PM.
Call your livestock superintendent in early July if you need help with clipping advice before fair. Some animals may need clipped a few weeks before fair to allow imperfections to grow.
Garden Exhibitors
The garden plot judge will visit your plots this year on July 11 (plots are being judged live, and not in photos). Be ready to tell the judge about your garden. Call the office if you would like to have your garden plots judged for 2022, or if you have any questions.
 Poultry Blood Testing
Testing will be on Saturday, July 2 at the Fairgrounds from 9 AM to 11 AM.   Any chicken over  one year old or not purchased from a NPIP certified poultry hatchery will need to be blood tested for Pullorum-typhoid disease.
4-H Club Dinners
All Week: Grab a famous pork burger and more from the Curry Nomads Stand by the Livestock Arena!
Saturday, July 16: Baked Potato and Salad Bar Dinner by Grand Champion Sycamores
Monday, July 18: Pork BBQ Sandwhich Dinner by Haddon Blue Ribbon Hustlers
Tuesday, July 19: Jonah Fish Fry by Lads and Lassies and Junior Leaders
Wednesday, July 20th: Pork Chop Barbeque Dinner by Gill Go Getters
 Club Meeting Dates
Curry Nomads
All meetings at Shelburn American Legion
6:30-8:00 pm
July 5 Food Stand Clean-up (the food stand is located on the Sullivan County 4-H Fairgrounds)
October TBA Cookout
November/December TBA Community Service Projects 
Like the Curry Nomads 4H Club Facebook page.
 Turman Lads & Lassies
Meeting at the church at the corner of 63 and 154 beginning at 6:30 pm
July 12 book signing
  Grand Champion Sycamores
All meetings will begin at 6pm
July 14, 4-H Building
Join the Grand Champion Sycamores 4-H Club
Facebook page.
Old Oak/Old Hickory
Meetings are the 2nd Thursdays of the month at Hymera Ruritan (118 S Main St, Hymera) at 7 pm
July 14
Like the Old Oak-Old Hickory 4-H Club Facebook page.
 Cass Champs
Meetings at the old Dugger Community Building at 6 pm
July 12 (book signing)
Sept. 13
Patti Brenden is the new club leader. Patti's phone is 812-699-9912, and email is pbrenden@live.com.
 Super Champs
All meetings are at the 4-H Building in the meeting room, 7-8 pm
July 5 record book signing
 Gill Go Getters
All meetings will be at 7 pm at the Community Building in New Lebanon. 
July TBA - book signing
 Haddon Blue Ribbon Hustlers
Meetings at the Carlisle Community Building at 7:00 pm.
July 12 Book signing 
 New Fair Website for 2022 Fair!
We hope to see you at the fair on July 16-21. The fairboard has created a new website to help keep our 4-H fair strong and attract attendees from across the state. You can purchase grandstand tickets and see the fair schedule on the website. You can also find information on renting the 4-H building.
The link is sullivancounty4hfair.com
Agriculture News
From Purdue Specialists—
Western Bean Cutworm Moth Season Begins
From Dr. Krupke and Dr. Obermeyer
Pheromone trapping began for western bean cutworm moths (WBC) this past week (June 24). Though not initially impressive, this is just the beginning of an extended moth emergence and flight, with peak activity expected 2-3 weeks from now. Those in high-risk areas, i.e., sandy soils, high moth flight and western bean cutworm history, should be gearing up for field scouting of corn, even those with Bt-traits.
Remember that WBC larvae are no longer susceptible to most of the Bt traits in our corn hybrids (including those in SmartStax hybrids) and therefore scouting, followed by timely insecticide sprays are really the only reliable control option for the vast majority of producers in the zone where this insect is common. This is principally the northern tier of counties in Indiana, extending into Michigan and parts of Ohio. Only Bt hybrids expressing the Vip3a toxin will offer reliable control of this pest, so be sure to know what you have in your field and scout as needed. See this handy Bt Trait Table to check where your hybrids fit in terms of the pests managed. We will have additional updates in upcoming weeks, particularly if counts rise and eggs and larvae are found. Until then, happy scouting!
 Is Your Hay Too Hot?
Excerpt from Keith Johnson, Purdue Specialist
Much hay has been made in Indiana the last two weeks and much forage remains to be harvested. It is important to package hay at the correct moisture content to avoid excessive heating of bales when in storage. Target moisture to begin baling hay without an effective preservative is 20 percent, 18 percent and 17 percent for small rectangular bales, large round bales, and large rectangular bales, respectively.
It is quite normal for a temperature rise to occur after hay is packaged, but anything greater than 125 degrees F should be intently monitored. My observation has been that hay producers are watchful of the possibility of "hot" hay for several days after it is put into storage. After this time, the hay may be assumed to be okay and not monitored again. With hay storage structure fires, it may take three to four weeks before spontaneous combustion occurs. It is important to note temperature for an extended period of time and not just for a few days.
 Upcoming Events
Call the Extension office for more information on any events below.
July 7 - Mid Season Diagnostic Workshop at Purdue DTC, Click Here for information
July 9 - Daylily Sale by Hamilton County Master Gardeners
July 29- Purdue Small Farm Education Field Day
August- Office of the Indiana State Chemist "Clean Sweep" Free Pesticide Disposal around Indiana
August 23- Tree Risk Assessment Renew Course Online with Lindsey Purcell
August 24- Timber Sales 101 Hardwood University at SIPAC in Dubois, IN
September 1: Forage Management Workshop at Feldun PAC in Bedford
Lawn and Garden Calendar
Propagate houseplants by taking cuttings from vigorously growing plants. Place the cut end in rooting media (such as perlite, vermiculite, or peat moss soil mix). Enclose in plastic and keep out of direct sunlight.
Do not plant bare-root or ball-and-burlap stock at this time of year. Container-grown plants still may be planted, but only if you can keep them well watered.
Remove water sprouts (sprouts from the trunk) and suckers (sprouts from the roots) from fruit trees.
Mow grass one-half inch higher than usual during the dry, summer months to help conserve soil moisture. Do not mow when the lawn is under severe drought stress.
Start seeds of broccoli, cabbage, and Brussels sprouts to transplant later for a fall harvest.
Complete succession planting of bush beans and corn.
July is a good time to fertilize strawberries with 0.5 pound of actual nitrogen per 100 feet of row.
The foliage of spring-flowering bulbs can be removed safely after it fades. This also is a good time to lift the bulbs for transplanting or propagation.
Fond Farewell
Brooke Stefancik, current 4-H/ Ag Educator, will be leaving her position at the end of the county fair, July 22, to pursue a Ph.D Education at the University of Geogia in Tifton. She will be researching grazing beef cattle and making baleage with alfalfa interseeded into bermudagrass fields.