4-H INFORMATION
St. Joseph County is currently hiring ONE 4-H Educators.  Go HERE to apply.
2021-2022 4-H Handbook PDF
Find the 4-H Calendar
Find Clubs
Find Projects
Find Mini 4-H 
YQCA:  See more details below or go to yqcaprogram.org to learn more and earn your certification.
Online Enrollment
4-H Fair Entry - Video Instructions or Paper Instructions
4-H Opportunities
10-Year Members - THERE WILL BE A 4-H 10-YEAR RECOGNITION PROGRAM AND DINNER ON FRIDAY, JUNE 10, 2022.
Scholarships/Awards 
4-H Scholarships - Most are DUE JANUARY 25th, 2022 - Please read thru individual scholarship to find the Due Date.  HERE.
Trips 
___________________________________________________ 
4-H Volunteers
 Volunteer Opportunities within St. Joseph County (Click here)
New Volunteers
Returning Volunteers 
Youth Safety and Reporting Child Abuse 
Club Forms 
Financial Activity Report - Coming Soon in 2021
Fundraiser Application - Coming soon
Covid-19 Safety Plan - WORD DOC
4-H Animals
 Premises ID
All 4-H livestock youth are required to obtain a premises ID from the Indiana State Board of Animal Health (BOAH).
Visit BOAH's FAQ page for more details.
Obtain a Premises ID from BOAH by visiting their website

 

HERE.
Animal ID: 4HOnline
All Animal ID information will be posted shortly. All animal ID information will need to be completed via 4-HOnline by May 16, 2022. (Only this year because May 15th is a Sunday).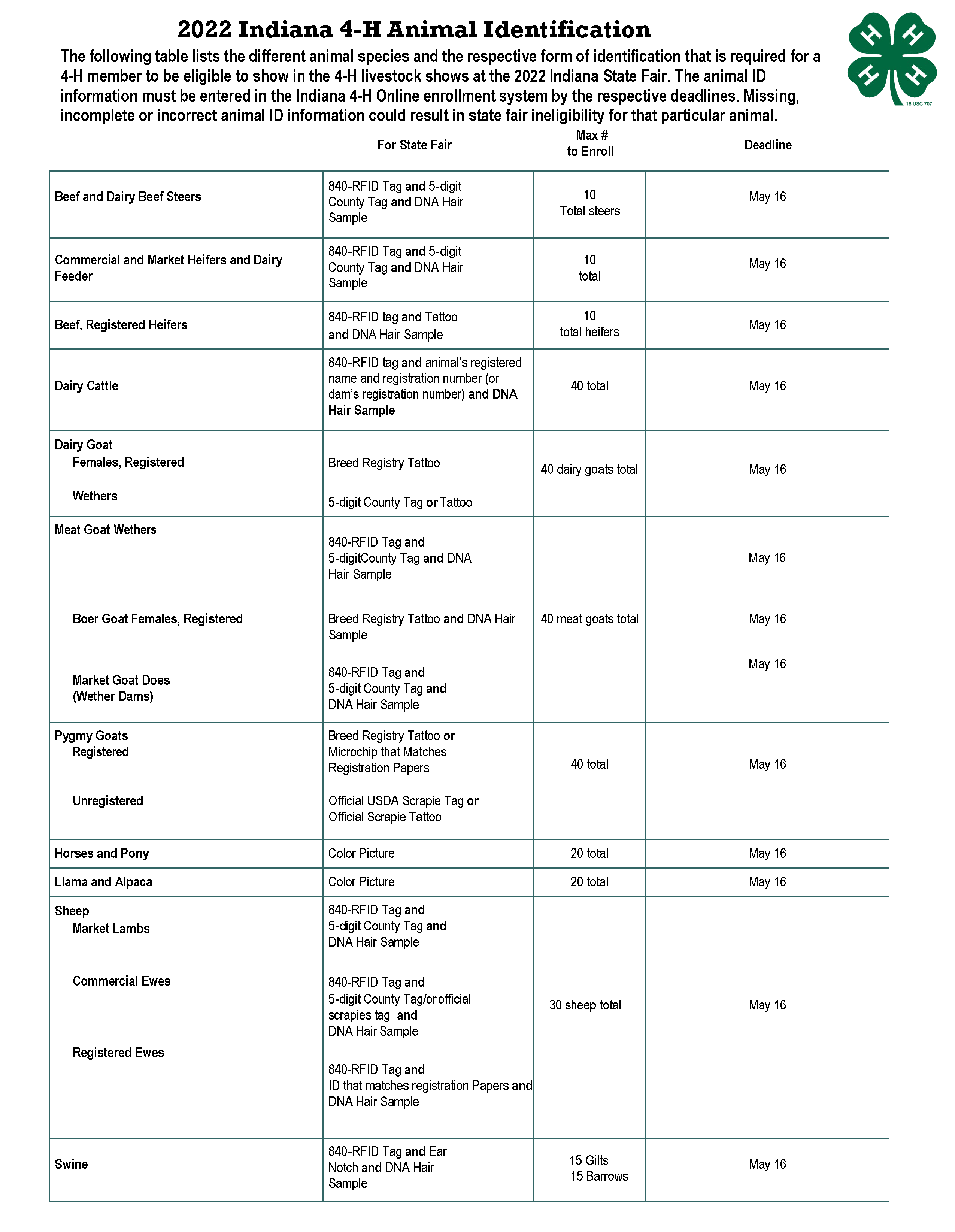 In order for your animal to be eligible to show at the St. Joseph County 4-H fair and/or the Indiana State Fair, your animal needs to be identified on the 4HOnline database. 
YQCA - Youth for the Quality Care of Animals
All 4-H members enrolled these livestock projects: Beef, Dairy, Dairy Feeder, Goats, Lambs, Poultry, Rabbits, and Swine will need to participate in the YQCA program in order to be able to show at the St. Joseph County 4-H Fair and/or the Indiana State Fair.

 

The completion deadline is JUNE 1st, 2022 to show at the Fair.  This is a solid deadline.  To sign up go to

 

http://yqcaprogram.org.  

Vaccination Forms
Lease Forms
________________________________________________ 
St. Joseph County 4-H Fair
 Visit the 4-H Fair website at https://www.4hfair.com