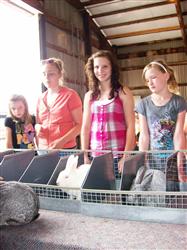 RABBITS


Mini - Sunday, July 11, 2021 at 9:00 am
Sunday, July 11, 2021 at 9:30 am

Committee: Valerie Boggs (Chairwomen), Cindy Smith, Katelyn Boggs

RULES

Rabbit Ambassador Contest
Rabbit Educational Poster 22" x 28"
Illustrated Rabbit Display
Exhibit 1-25 rabbits cared for since May 15.

1) All rabbits must be delivered to Memorial Park Saturday, July 10, 9:00 a.m. – 2:00 p.m. or 4:00 p.m.- 8:00 p.m. Cage set up will be 9:00 a.m. Mini 4-H rabbits will be judged at the beginning of the regular 4-H rabbit show on Sunday, July 11, 2020 at 9:00 am. The Mini exhibitors gain the opportunity to present their project to a judge and are a part of the 4-H show. Absolutely NO rabbits will be accepted on the day of the show
2) All 4-H exhibitors will pick up their rabbits at release time -1 hour after the show. No rabbits will be released early.
3) Crossbred animals are acceptable for Mini 4-H'ers only, although purebred animals are recommended.
4) All rabbits must be an approved breed and variety as outlined in the A.R.B.A. Standard of Perfection. All rabbits must have a legible permanent tattoo in the left ear and this tattoo must be entered on the Rabbit entry form and in 4honline. The rabbits must be tattooed prior to entry into 4honline. Tattooing is available at Rabbit Club meetings. No tattoos will be done by a leader after entry deadline. No tattooing will be allowed the day of check in or show.
5) All exhibitors may also exhibit one rabbit in the costume class. Both mini and regular 4-H will show together.
6) All entries will be entered online. It is each members' responsibility to make sure online entries are correct. Any animal entered incorrectly (color, sex, tattoo, etc.) will be switched to exhibition class and not eligible for awards. Exhibition class will be after Best in Show and Reserve Best have been awarded. Late entries follow the rest of livestock late entry guidelines. Rabbits entered in the 6 class must be placed in Fair Entry prior to the show.
7) All rabbits will be housed in assigned cages. Cage numbers will be given at check-in.
8) DO NOT dump rabbit cage trays behind barn or in the grass.
9) Any rabbit showing any signs of illness will be sent home at check-in and not be permitted to stay or be shown.
10) All members are responsible for cleaning their assigned cages, dumping their own trays in designated dumping area AND breakdown of cages. Failure to participate will affect eligibility for the Herdsman Award.
11) In order to be eligible for Herdsman awards, members must exhibit good sportsmanship, proper show etiquette at the judging table, proper care & cleanliness. They must attend a minimum of three meetings. For those that share a tray with another member – It is each member responsibility to work together to get the tray cleaned.
12) Zip ties, padlocks or any type of device is not allowed to be placed on any rabbit cage that will prevent the cage door from being opened.
13) Each exhibitor is responsible for feeding and watering their own animals. Containers will be provided.
14) If possible, each 4-H'er must exhibit their own rabbit. Otherwise, rabbits will be shown by another 4-H'er designated by the member and approved by Rabbit Chairperson. Any rabbit brought to the judging table by an adult who is not an appointed helper, will be returned to the cage and not judged. Adults are not permitted to talk to the Judges.
15) For eligible meat rabbits, auction form will be due 1 hour after completion of show. Ambassador winners are strongly encouraged to enter the State Fair Ambassador Contest. If the winners of respective division decline to participate, the runner—up can participate. Winners should make their decision prior to the end of the fair and inform leaders.
16) A Henry County Livestock Record sheet MUST be completed and turned in with green folder.
17) All poster and non-rabbit exhibits must be entered at project entry time on Wednesday, July 7, 2021 from 5:00 – 8:00 p.m. at the Smith Building. Judging will take place on Friday, July 9, 2021 from 6:30 – 8:30 p.m. Proper footnoting listing reference material on 3x5 card on back of the poster should be included. The exhibit must not be larger than 24x24 if not a poster.
18) The 4-H'er can create an exhibit on a topic from the project manual but cannot repeat the exhibit.

BREED CLASSES
• Senior Buck - (over 6 months)
• Senior Doe - (over 6 months)
• 6/8 Buck - (6 to 8 months of age– for appropriate breeds)
• 6/8 Doe - (6 to 8 months of age—for appropriate breeds)
• Junior Buck - (under 6 months of age)
• Junior Doe - (under 6 months of age)

MEAT CLASSES
Rabbits MUST be purebred and must be raised by the 4-H member. All breeds will show together and all rabbits will be weighed day of show. Meat pen has a limit of 2 entries per member. Fryer should have a limit of 3 entries per member.
• Pen of 3—must be same breed and variety-age limit 10 weeks. Minimum weight 3.5 lbs. Maximum weight 5.5 lbs.
• Single fryer—age limit 10 weeks. Minimum weight 3.5 lbs. Maximum weight 5.5 lbs.
• Single roaster—age limit under 6 months. Minimum weight over 5.5 lbs. Maximum weight 8.5 lbs.
• Single stewer—age limit 6 months & over. Minimum weight over 8.5 lbs. & up.
• Weights will take place during Check-in. on Saturday, July 10, 2020 from 9 a.m. – 2 p.m. and 4 p.m. – 8 p.m.

FUR CLASSES
All breeds show together, exhibitors can only enter one rabbit for Fur.
• White Fur- any white or variety with a usable white portion of the pelt.
• Colored Fur– all non-white colors
• Rex Fur
• Wool Fur

Costume Class
1 entry per exhibitor

SPECIAL AWARDS
Best in Show (BIS) Reserve Best in Show (RIS)
Best 4 Class Best 6 Class
Best of Breed (BOB) Best Overall Fur
Best White Fur Best Colored Fur
Best Rex Fur Best Wool Fur
Champion Meat Pen, Res. Champion Meat Pen
Champion Fryer, Res. Champion Fryer

SPECIAL AWARDS
Champion Roaster, Res. Champion Roaster
Champion Stewer, Res. Champion Stewer
Best 4 Class & Best 6 class will compete for Best in Show & Reserve Best in Show (Only 2 Rabbits)
Best of Breed trophies will be awarded to breeds with 5 or more entries, unless there is a sponsor for a designated breed.
Additional awards may be posted in the Rabbit Barn.

Rabbit Ambassador (as follows):
Novice: Grades 3-4
Junior: Grades 5-6
Intermediate: Grades 7-8
Senior: Grades 9-10
Master: Grades 11-12
Corinne Stokes Memorial Herdsman Award -
Judged upon: Sportsmanship in barn and at judging table; citizenship, time spent with rabbits, proper care and cleanliness. You must also attend a minimum of 3 Rabbit
Club meetings to be considered.
Junior—Grades 3-7
Senior—Grades 8-12

AUCTION RULES FOR RABBITS:
1) Members limited to one pen of roasters, stewers, fryers or meat pen of three.
2) Only meat pen of three in Sale of Champions.
Related Files